Rain
Purbarn Gales N' Golden Rain
[Ch Purbarn Xtra Thunderstorm (JW) (SGWC) x Purbarn Purbarn Come Together (SBN) (SGWC)]
2CC's, 2RCC's, JW, Sh CM & SGWC.
DOB: 8th July 2001 DOD: 14th January 2016

Hips 3 : 7 = 10. Elbows 0 : 0. Eyes checked and still clear 2015.

On Christmas day 2015 we noticed a bit of blood in the water bucket, we then started checking in mouths only to find that Rain had a small cancerous lump on the side of his lower jaw. We knew that cancers of the mouth tend to spread rather rapidly so we also knew that it may not be long before it would restrict him from eating and drinking, but he did remarkably well even when it had spread right across under his tong he continued to manage to eat and drink and he continued to bring back sticks from his morning walk. But sadly it became necrotic and would often bleed particularly when he was eating so eventually we had to make that dreadful decision to say goodbye to our gentil boy who so nearly became a Champion but not quite, but he will always be a champion in our eyes ! Now chasing Pheasants above the clouds with many of his ancestors including his Sh Ch daughter Willow and his Ch sire Storm.
Rain at 14 years & 2 months has now got a new playmate in 9 week old Shade playing tug with a ragger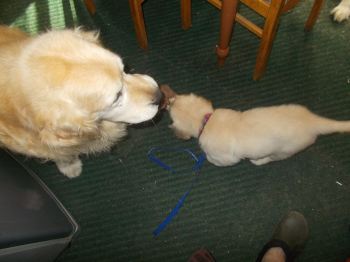 Although Rain maybe getting on in years he likes to keep his retrieving skills in good working order by collecting sticks.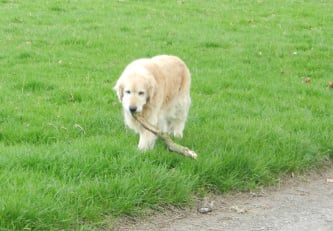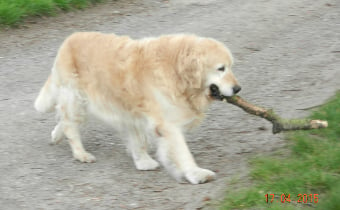 Rain is now an old man & although he enjoys his retirement he still likes to bring something home from his walks with the rest of the Purbarn Pack, bringing back logs which can be burned on the log-burner, so he still has his uses ! Only a few weeks before Christmas 2013 he had to have a major op to save his life. It was found he had a large tumor on his spleen which had caused the spleen to rupture which in turn meant he was bleeding internally. Our Vets did the emergency op and managed to save his life. The resilience of dogs never ceases to amaze us & he was wanting to chase our tame Fantail Doves only 3 days after coming home & now is back to collecting logs for the fire again, long may this continue !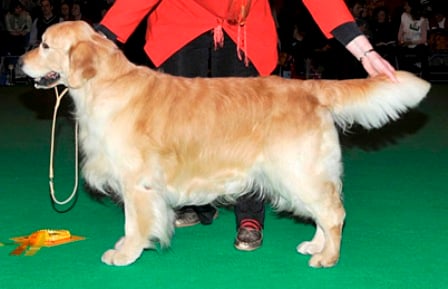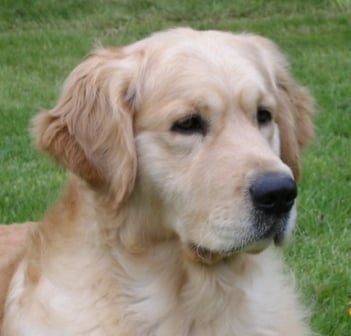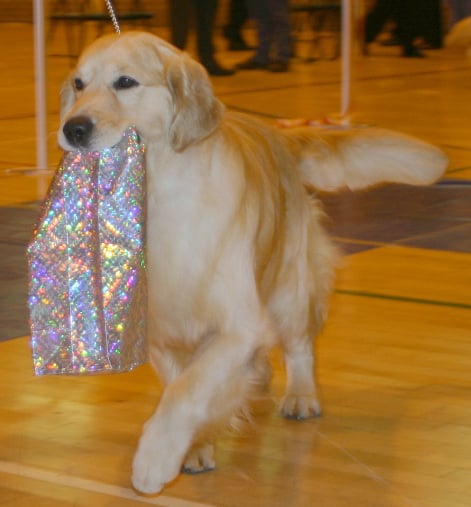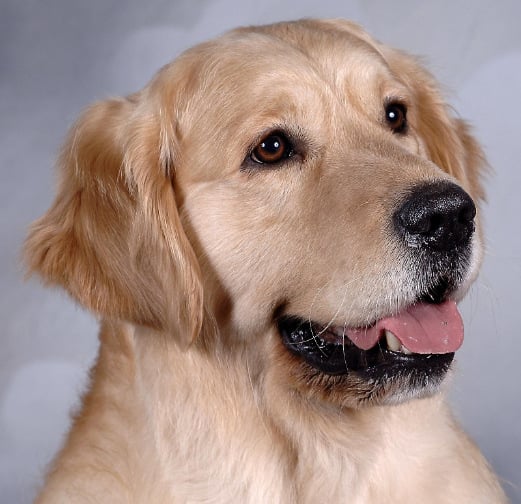 Rain always liked to carry things which included the bottle of wine given as a 1st prize from the show ring at BD&CGRC Champ Show.
Rain was an extrovert in the ring very much like his farther was & a loveable rogue as well ! Although he got very close to becoming a full Champion he just did not get that last CC needed, but he was always a great Show Dog as well as a great member of my Picking-up team, where after the drive was over and I thought all had been picked he would often appear with just one more. But since being retired he just enjoys being a pampered pooch !