Twister
Purbarn Under A Twister

[Ch Stormerick Don Sebastian (JW) (Sh CM) x Hayjoy Holly And The Ivy At Purbarn]
DOB: 5th April 2009
Hips 3 : 5 = 8. Elbows 0 : 0. Eyes Tested Clear Feb 2017. Also DNA tested Clear for both GR-PRA 1 & 2
Twister is the proud sire of not just 4 JW winners but also a Show Champion & BOB winner, as in Mandy Mcdonalds Sh Ch Lamacha In Search of Pye Sh CM & JW

2017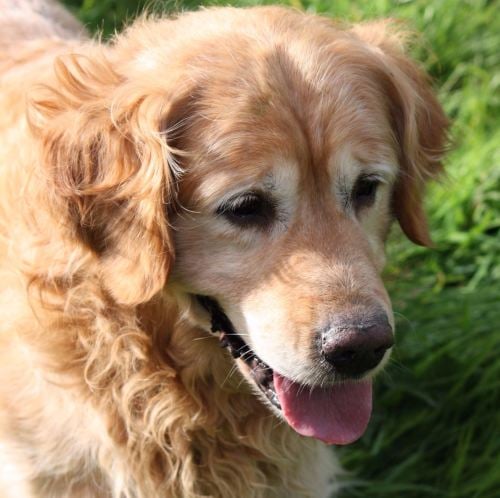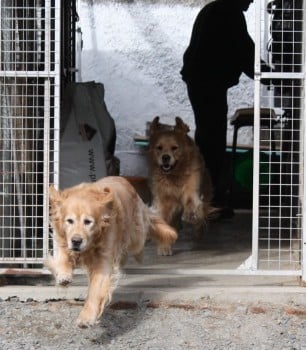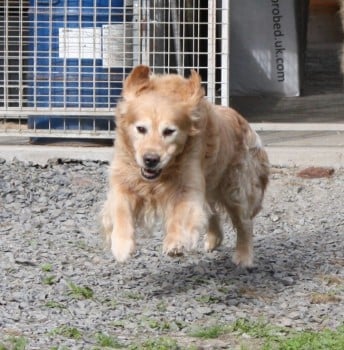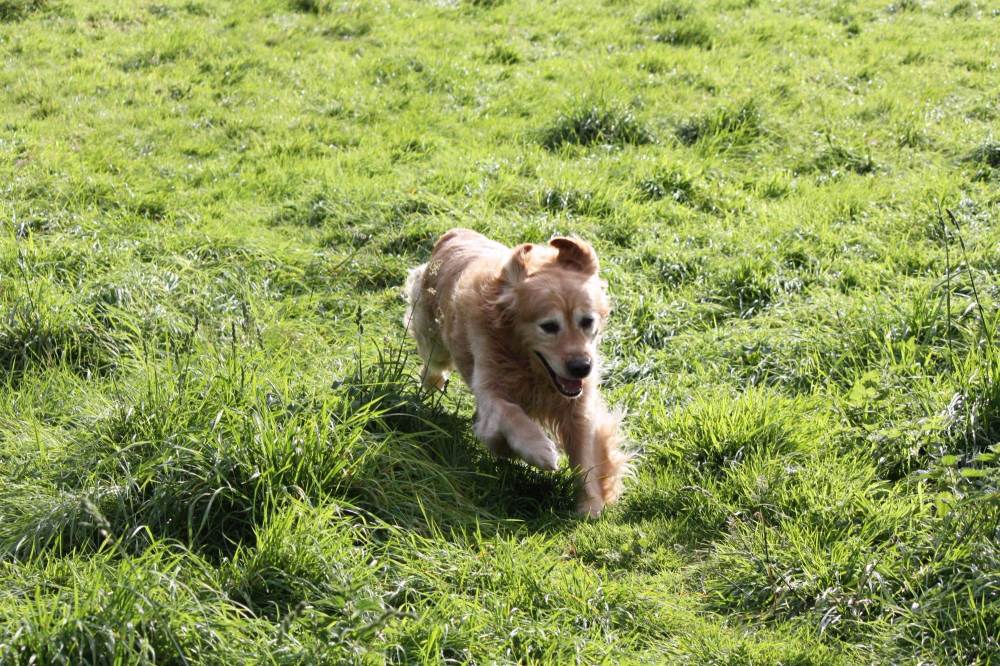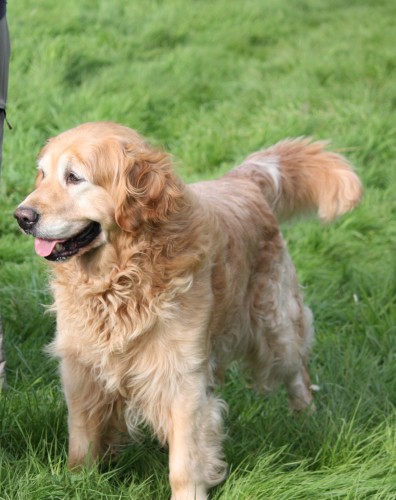 The above 5 photos were taken in August 2017 by Kirstie Halliday when Twister and the rest of the Purbarn Pack were going out on exercise, In one of the photos you can see Windy one of his son's behind him coming out of the kennel block.
Twister did not attend Crufts in 2017 giving his elder half brother Drizzle a go & the youngest member of our Picking -Up team Shade for a change.

He did a few days out picking up on the 2 new shoots we have been on over the past shooting season
CRUFTS 2016
Twister took 2nd in the BASC Bone-fide Gamekeepers Class for AV Retrievers (other than Labs) at Crufts, this was his first time back in the show ring after almost two years out of the ring.

CRUFTS 2015
None of the Purbarn Dog went to Crufts in 2015, as Rich was Judging in the BASC Rings. A great accolade !

CRUFTS 2014
Twister & Rich took 1st in the Bona-fide Gamekeepers Class & then challenged for Best Gamekeepers Dog in Show in the Main Arena where they took Reserve Best Gamekeepers Dog in Show. This is the 2nd time Twister has done this, maybe one year he will win it like his predecessor Hail did on no less than 3 occasions !
If you are clever and go onto Youtube & put in Gamekeepers Final at Crufts 2014 you can see Rich & Twister in the Main Arena strutting their stuff !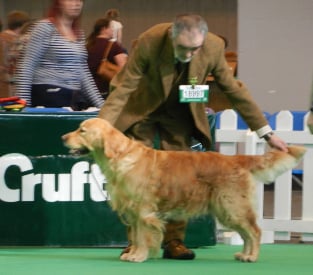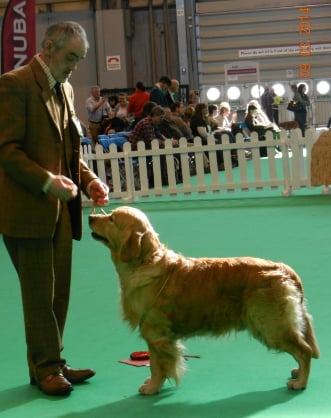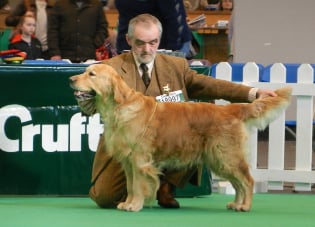 2 days after Crufts Twister & I traveled down to Leominster to mate a bitch owned by a friend who also had a Mantel Great Dane puppy of 9 weeks who loved Twister. His feet were almost as big as Twisters even at that young age ! BTW Twister has also been mated to our own Flury, so a repeate mating of Windy & Barni.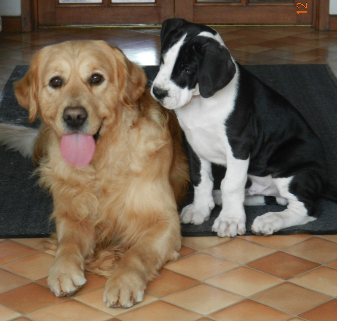 August 4th, we took Twister to National Gundog Championship Show where he was in the Limit Class & gained his Stud Book Number which in turn Qualifies him for Crufts for life.
21st July we took him to Oswestry Open Show where he not only took BOB but also 4th in the Gundog Group.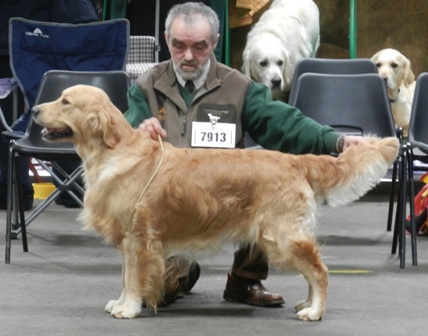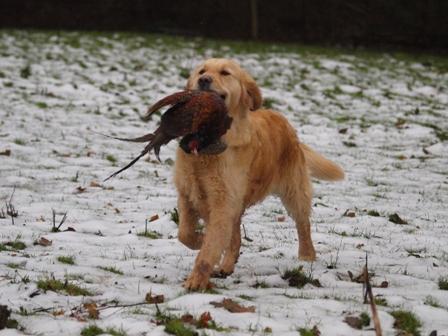 Twister & Rich in the show ring. Twister retrieving.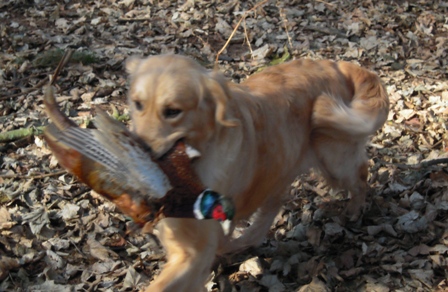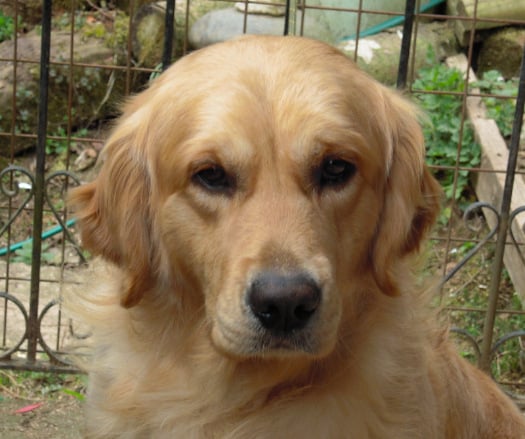 Twister retrieving his first runner. Just a lovely Head Shot.
Twister is really Richards Dog although I have shown him and worked him. He was kept from the last litter Holly had & we used Rains son to keep this line of Purbarn in his pedigree. He has the most wonderful temperament but also has bags of character too. He has been used quite a lot at stud producing some wonderful specimens of the breed 4 of which have gained their JW's including our own Windy, all in 2012. & one has gone on to become a Show Champion.
Sadly Twister missed getting his JW by 2 points, as on many occasions he was up against our Flury & she more often than not beat him, being a few weeks older than him seemed to make a big difference, but once she had her JW we kept her out of the ring to give him more of a chance. But then often there were not the required amount in the class to qualify for the points.

Twister damaged a tendon in his shoulder during 2011 & this meant he was not shown for many months, but since being back in the ring he has taken 1sts & also RBOB's, BOB's & Gundog Group placings at Open Shows, so all the hard work, both by us, him & our Physiotherapist, with Water Treadmill treatment, Physiotherapy treatment, Laser treatment & Ultrasound treatment it all paid off in the end.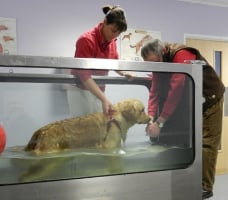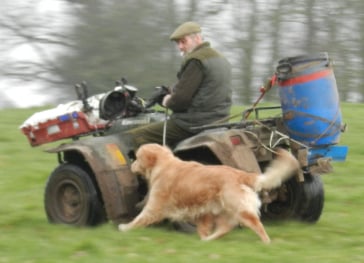 Twister in the water treadmill tank & Learning how to stretch his legs again.
Neither Rich nor I could run fast enough to get him to use his shoulder like we could with him running alongside the Quad Bike.
It was worth all the hard work time & effort as in 2012 Twister went in the Gamekeepers Class at Crufts and won the class & then in the Main Arena on the big green carpet he took 2nd overall Best Gamekeepers Dog in Show, an accolade his predecessor Hail won 3 times. There is film of this on Youtube.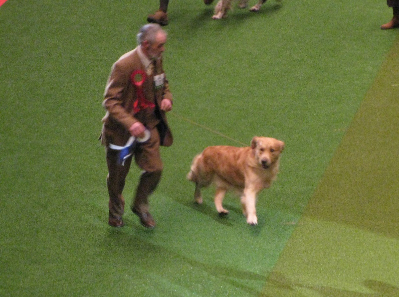 Rich & Twister in the Main Arena at Crufts 2012.

The photo Below is of Twister when he took Best Dog Puppy in Show at GRCW Champ Show & Flury having taken two 1st's at the same show. These 2 were mated together in 2011 producing both Windy & Barni among the litter of 11.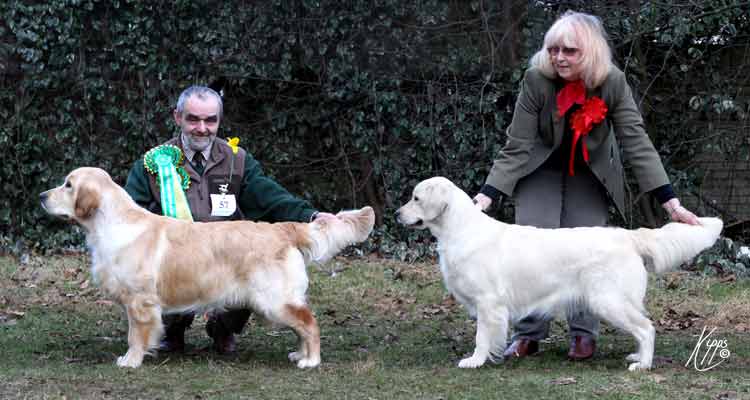 Twister qualified for Crufts at his first Championship Show & did well when he got there with a 4th in the Special Puppy Class.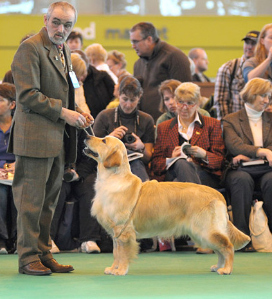 Twister & Rich at Crufts winning 4th in the Special Puppy Class in 2010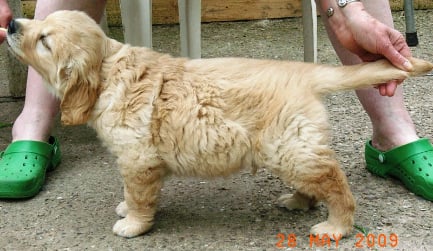 Twister at 7 weeks, more fluff than dog !