Willow
Sh Ch Hollywillow Blow In De Gale To Purbarn
[Purbarn Gales N' Golden Rain 2CC's, 2RCC's, (JW) (Sh CM) (SGWC) x Landulph's First Edition From Hollywillow]
3 CC's & 2 RCC's
DOB: 7th March 2003 - 21st November 2014

Hips 3 : 6 = 9. Eyes Checked and still Clear in Jan 2014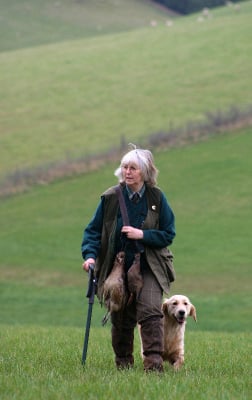 Always In My Heart
"Those we love don't go away they walk beside us every day.
Unseen unheard, but always near, still loved, still missed and very dear."
It was with great regret and many tears that we had to say Goodbye to our lovable Willow to save further suffering. She had always been susceptible to bladder stones and cystitis & was on a special diet to help reduce the problem, but it must have had an effect on her kidneys as one day she was fine & then went down hill very rapidly into renal failure within a matter of 4 days it was obvious there was nothing we could do to help her, so we had to say Goodbye.
12th -14th July 2013 Willow went to the GRC Centenary Celebrations at Cirencester Park. mainly for the parade of Champions, but she also went in the Veteran class for over 10 years and took 2nd on the first show day and 4th on the 2nd show day.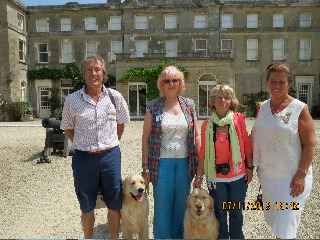 This photo was taken in front of the main house on the Bathurst Estate with L - R the now late Ches Greenwood from South Africa, Windy, Me, Willow, Sue Greenwood & Countess Bathurst. This was a fantastic 4 days with great celebrations to commemorate the 100th anniversary of The Golden Retriever Club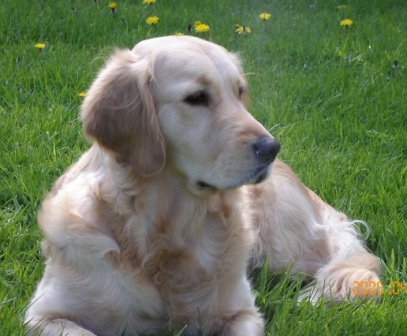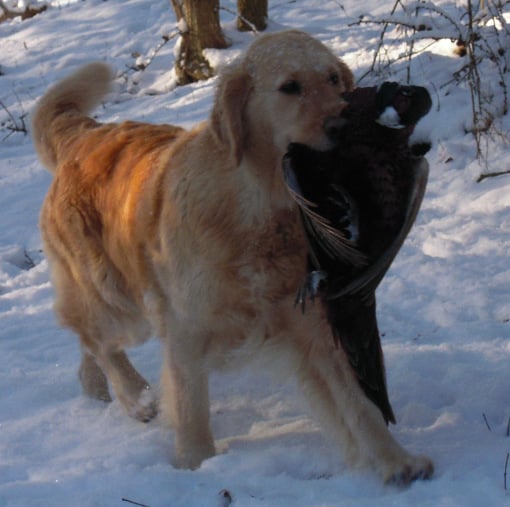 Headshot of Willow & Willow retrieving on the Pen-Y-Lan Shoot in the Snow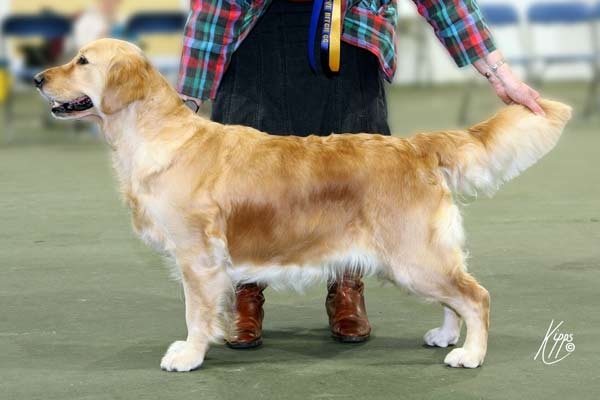 Willow having just taken another RCC, she already had 2 CC's by that time, so close but not close enough that day !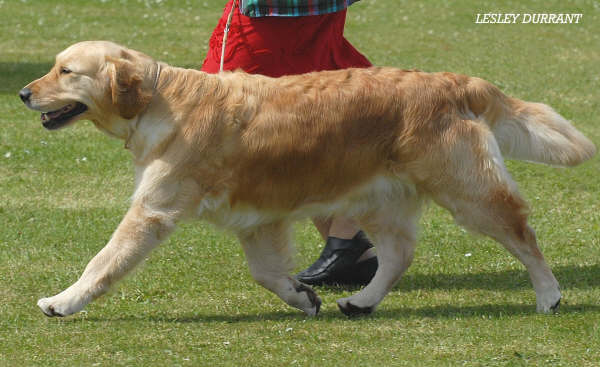 Heading for success & another RCC that day.
Totally natural stance when ont working on the Shoot where although she has never done the SGWC she excels as a member of my Picking-up team.
Willow only ever had the 1 litter due to the fact that I noted when doing an internal on her before going to be mated to Lovehayne Quintin that she had what I thought was a very bad stricture. I went to the Vets to get this checked out to be told 'it is the opening to the cervix which has not fully opened yet, which I was reluctant to believe as I had never known a cervix be that close to the outside world. However I decided that as he had also said ,when she is ready for mating it will open. I was not convinced as she must have been made very strangely to have had a cervix less that 2 inches inside her vulva. But this guy was a Vet & as such I thought he should know more than me. So when it came to mating her I told Quintin's owners what had been said & they were still happy to mate her. After a while of trying without success I was asked if I would try. I did eventually get him in, but knew he was not tied, but held them together for a short while, only to find when I let go he was stuck ! Not tied ! after what seemed like forever they did eventually part, but all I kept thinking was that I hoped I had not either put off or damaged their Champion Stud Dog. (Thankfully he was fine !) The following day I demanded to see the head of the practice at our Vets. After also doing an internal he turned to me and said 'That is the worse stricture I have ever felt ! So I said ok so what now, as if she is in whelp how can she have them other than by C-section ? He offered us a termination, to which I said only if you are paying the Stud Fee ! to which he just laughed. So I said in that case you personally will not be allowed holidays or days or nights off when she is due, as I am not letting any other Vet do the C-section ! Eventually her temperature dropped & the first stage of labour started & I phoned up to make the arraignments to take her in. The op went well & all the 7 pups were born just fine. While she was still under the anaesthetic it was thought maybe they maybe able to remove the stricture, but it was so thick with such a good blood supply to it Willow would probably have haemorrhage, so I decided there & then I would never put her through it again, which is why we kept Hazel from that litter. It taught me a valuable lesson, Never mate a bitch without having done an internal first, or got some experienced Breeder / Stud Dog to do it for you & don't rely on an inexperienced Vet !