Breeze
Breeze
Purbarn A Breeze Down River
(Purbarn Under A Twister x Purbarn Tell's Of Snow Flury's JW)
Scroll down to see Breeze in the Main Arena at Crufts 2019
DOB 8th May 2016
Hip's 23-14 = 37. Elbows 0-0. Eyes Clear 2017 Including being genetically Clear for both PRA 1 & 2.
[We are disappointed with Breeze's Hip Score, but she has a lot more good things about her & the Vets think it was down to trauma when she ran down a bank too fast and ended up in a heap at the bottom and was lame for a days after.
** Breeze has now had puppies by Shade. 4 Bitches & 5 Dogs were born on October 1st 2019 **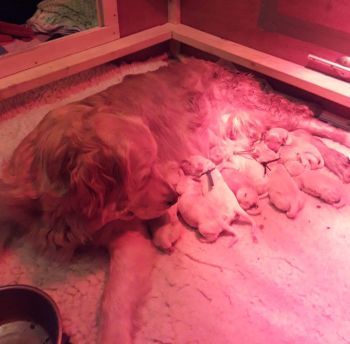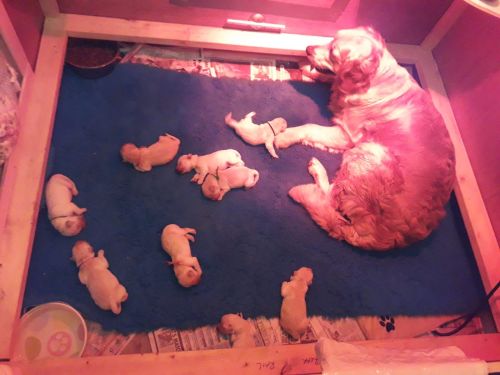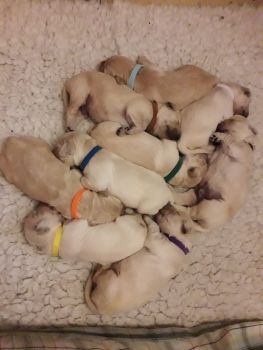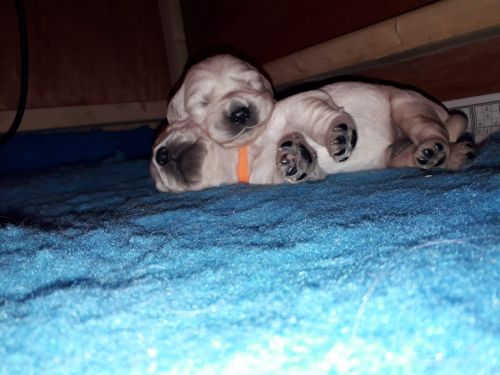 These photos of Breeze & her babies have been taken during their first 3 weeks. If you think you maybe interested in one please ring 07970694593 ASAP as I don't have many not yet been spoken for & Deposits paid.
Breeze only found her way onto our website in early 2017 due to our unscheduled move from Wrexham when her and her 4 brothers and 3 sisters were just 4 weeks old. We moved about 35 miles south-west to an idyllic spot near Welshpool. Having had no landline or internet it made it impossible to upload her before now.
So here she is :-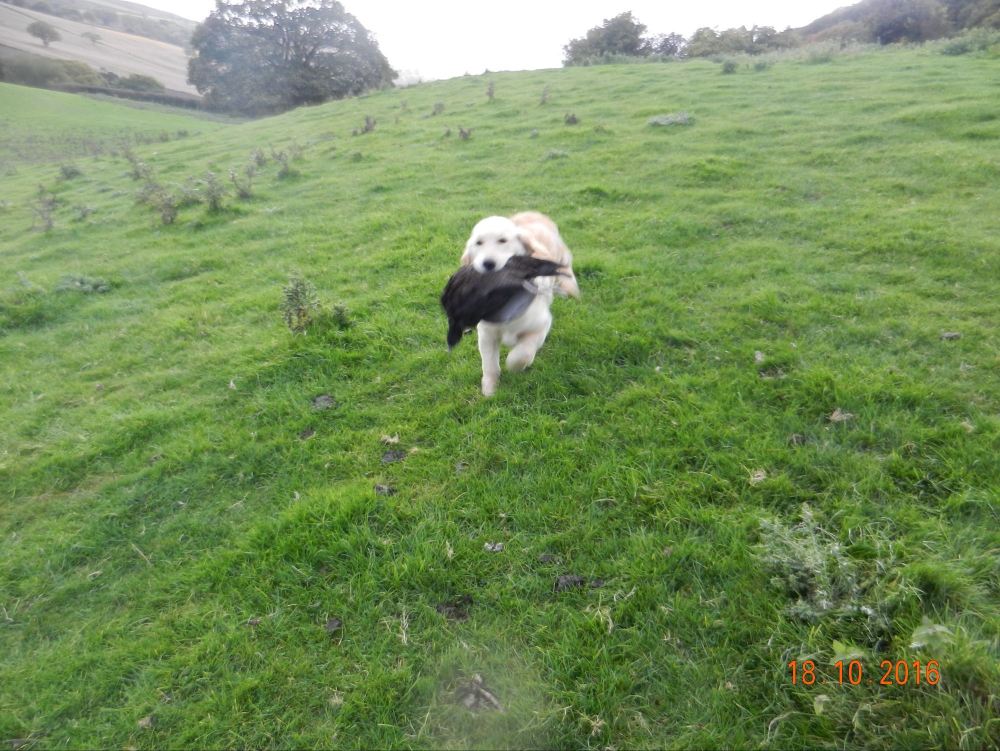 Breeze has been coming out on the shoot days ever since the 2016/2017 season started, as we could not leave her behind as we needed to feed her at lunch time. So after each drive she would be let out of the Range Rover to meet & greet with everyone. One of the Guns just chucked this menalistic Pheasant for her & without being asked she just went & retrieved it & brought it tenderly to my hand. At just 5 months old she amazed everyone with her natural ability, we have no doubt she will be a great picking up dog in the future.
We did get a few photos of her when younger which are below.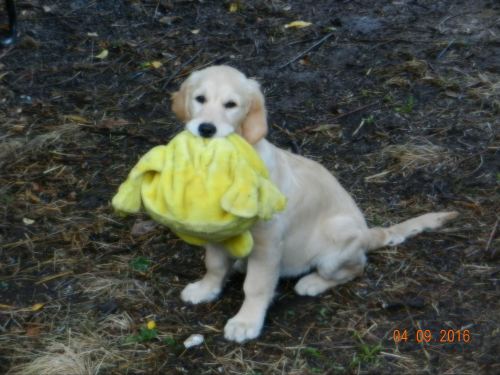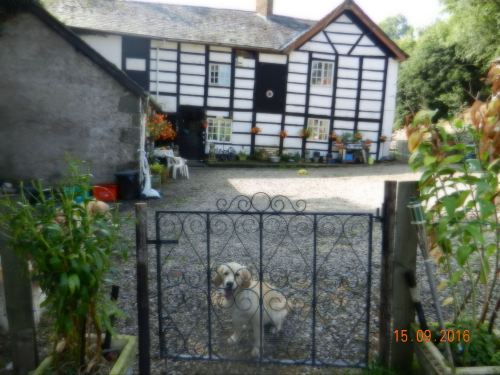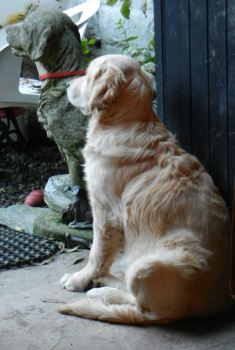 The first was taken at about 4 months with Mr Happy toy in her mouth. The second sitting by a gate with our new abode in the background & third just sat admiring the view from the back door with one of the 'Storm' statues [her Great, Great Grandfather] in the background.

2017
Now just turned 1 year old we decided to enter her for a local Open Show and having never been before I just tried standing her up at a Doggie Social the week before. My daughter took both photos the first the practice run and the second standing for her write-up, as she not only behaved impeccably she also won the Junior Bitch Class out of 7 entries, so chuffed to bits with her and thanks to my daughter Sally not only for the photos but also for moving her for me in the ring.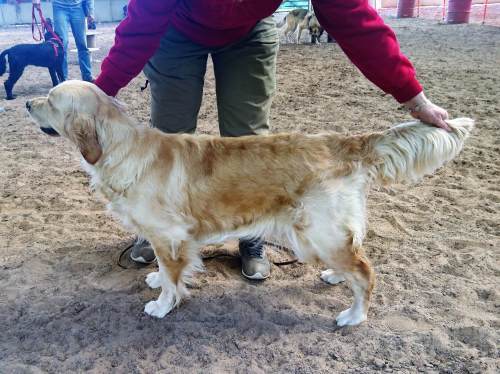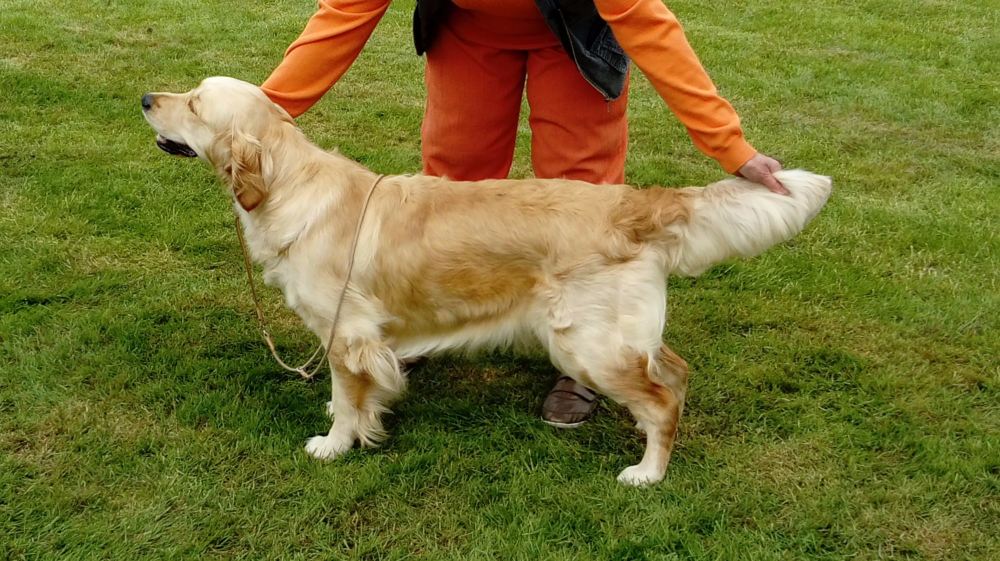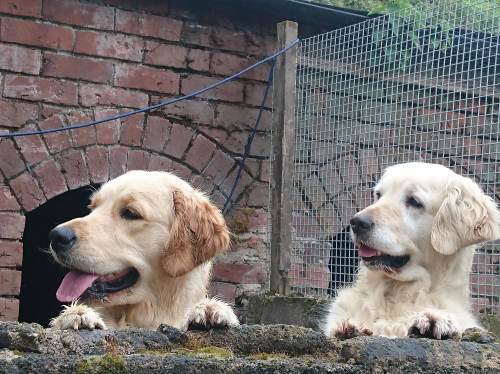 Above was Breeze & her Mum Flury looking over the Pigsty wall where they were staying while in season.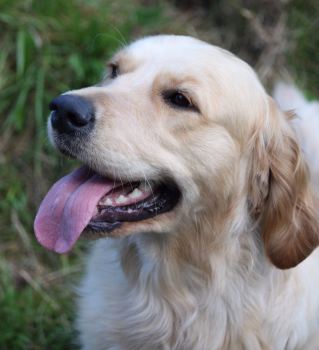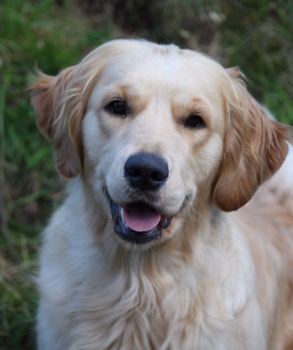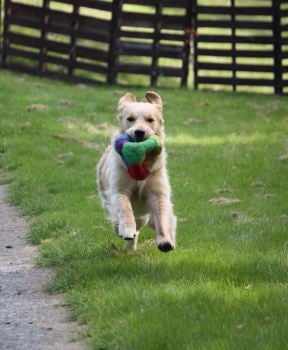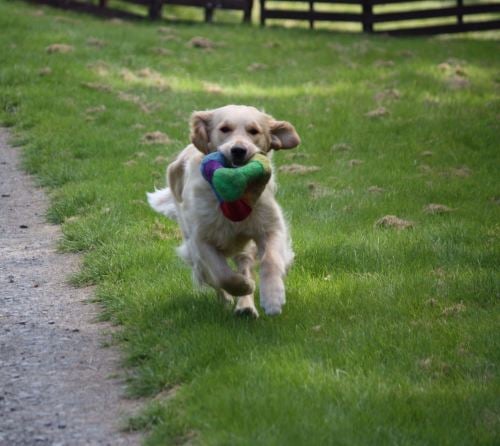 The above 4 photos above were taken by Kirstie Halliday when she came to stay with us & her 2 Purbarn Boys.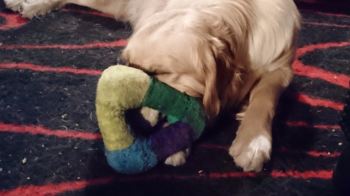 Breeze is so fond of this toy she fell asleep with her nose rested in it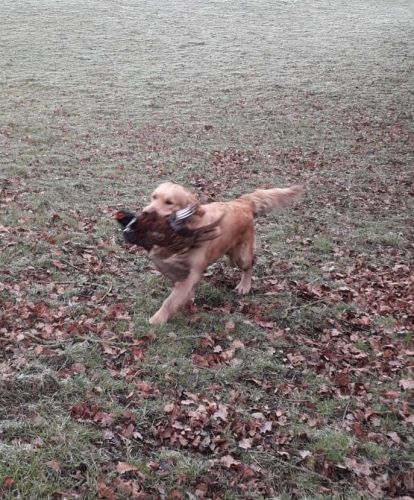 She is now fulfilling her early potential out in the shooting field, this was a very lively runner !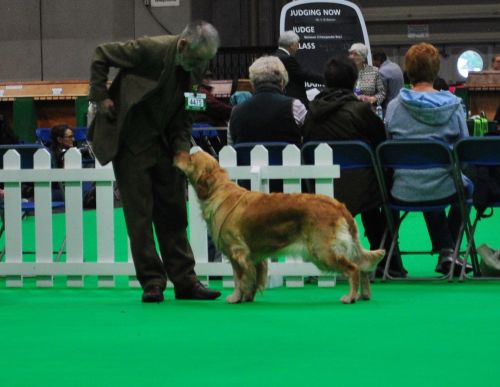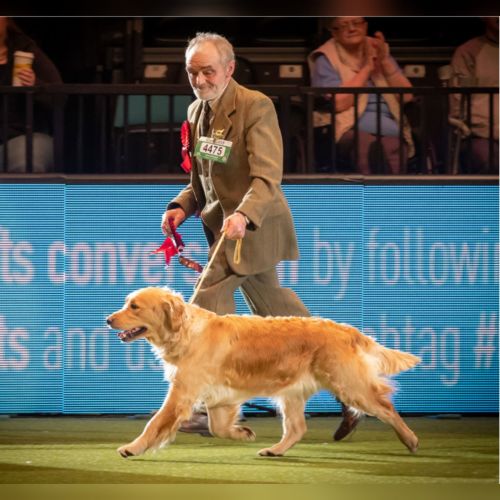 Breeze was amazing at her first ever Crufts. Unlike most of our others she had only been to 1 show before and that was only an Open Show and it was held outside, so nothing like the atmosphere of The NEC Crufts Venue ! She took it all in her stride and never stopped wagging her tail.
Breeze was entered in the BASC Retired Gamekeepers Class which she won. This then meant she would have to go in the Main Arena and challenge for Best Gamekeepers Dog In Show, still she carried on wagging and seemed to enjoy all the attention she was receiving. The Judge obviously liked her very much as she won the challenge !
Rich and Breeze can be seen strutting their stuff on YouTube [go to Crufts 2019, first day, Gamekeepers Final.]