Flury 2014 litter
Flury
All this litter have now gone to their new homes & we will not be having another Golden litter till early in 2015.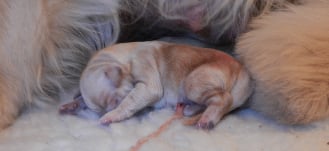 Fit to pop, but resting in-between contractions. Now we have 1st born.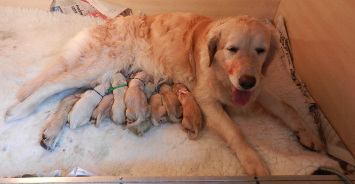 Flury looks exhausted after producing 7 dog puppies & just 1 bitch between 8:30am &12:24pm on Saturday 26th April. At least it was during the day so Jack was brought over by his mum to help me, but Flury & I had been awake most of the night before anyway. They were all good sizes with 1 just under 1 lb & all the rest over a pound in weight each.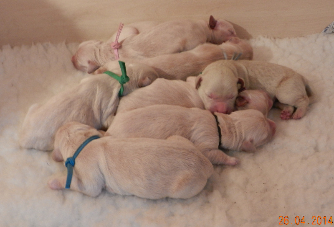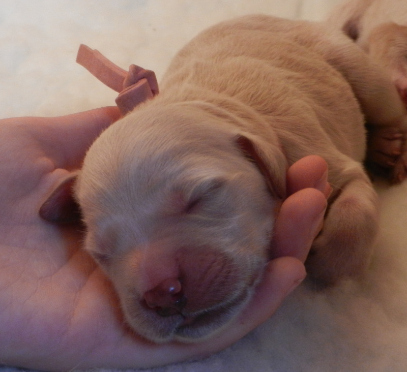 All clean & dry & sleeping peacefully + colour coded. The only bitch seems to like Jack as she fell asleep with her head in his hand.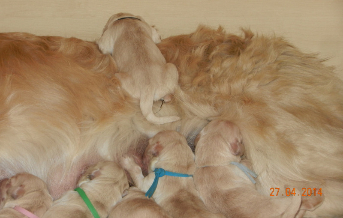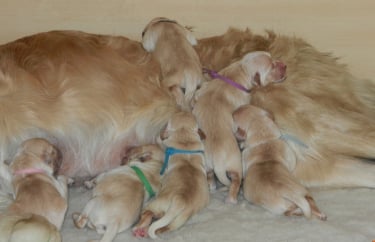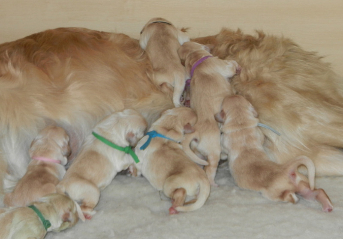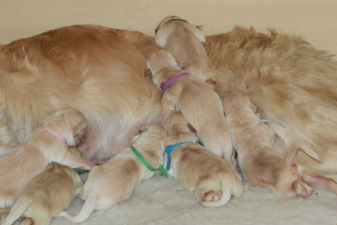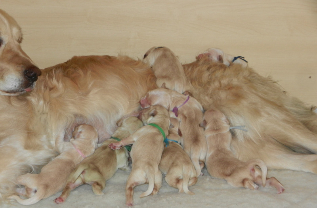 The above 5 photos were taken when the pups were just a day old and they had decided to take a master class in climbing already ! In the last photo you can see one has decided to come at it from a different angle & I am not sure Flury approves of their escapades.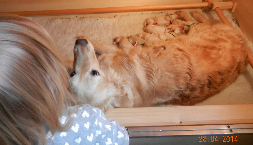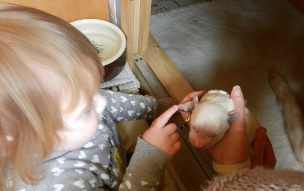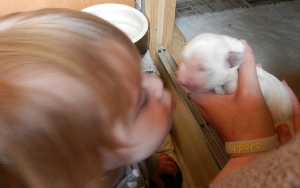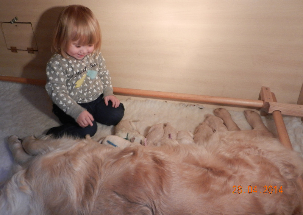 Sal brought granddaughter Jody (aged 2) over to see the puppies when they were just 2 days old. Flury just loves the Grandkids so much she was more than happy to just relax & continue feeding her brood while Jody climbed round her into the box to be nearer to the puppies. Socializing starts as early as possible here ! not just for the puppies but the Grandchildren too !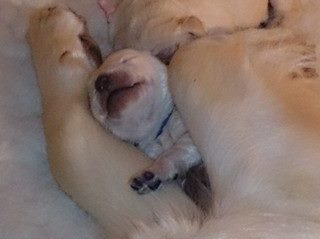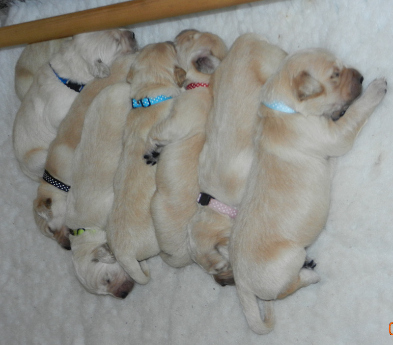 The pups are growing fast but they enjoy both a cuddle with Mum or they are quite content to be left on their own when Flury is out of the whelping box for a well deserved rest from them & their sharp little claws. Having said that they do get trimmed every week & Sal did them all the day they were a week old, the photo below is one she took while the puppy was fast asleep up-side-down on her lap, she said he was showing off his neat toenails.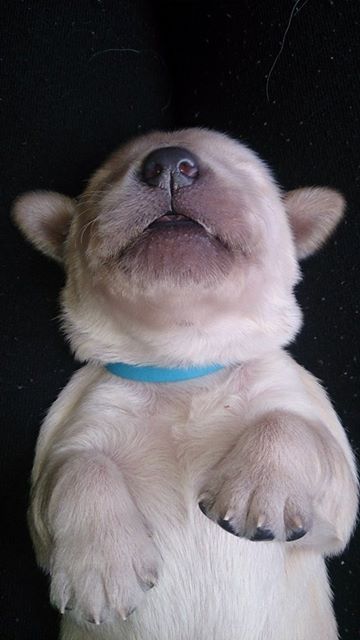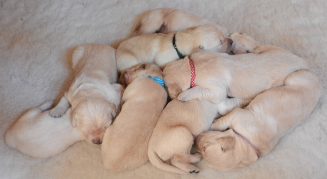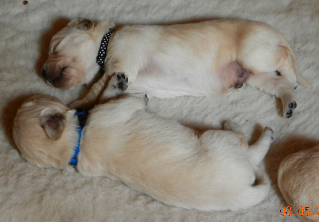 The latest in modern Puppy Fashion as we now have our fancy new identification collars on. Is it Black & Blue or brotherly love ?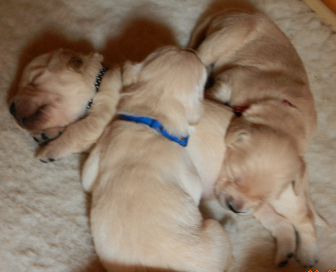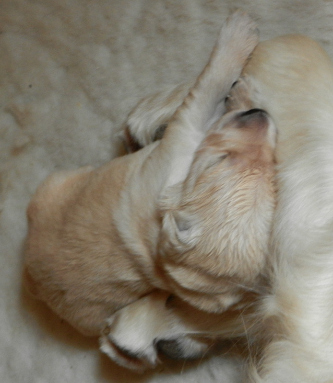 Time to snuggle up with a brother or 2, or the security of 2 big paws.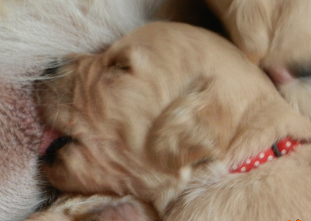 The Milk Bar hogger !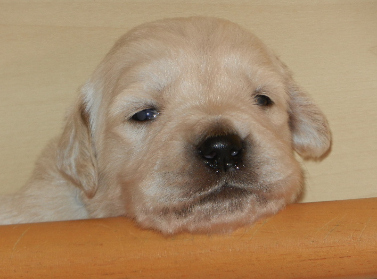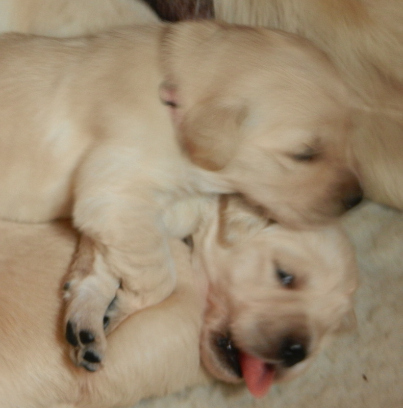 We have our eyes open now, but I still look half asleep. I can see you now, so get off me big Sis !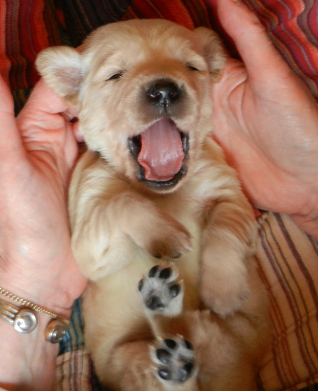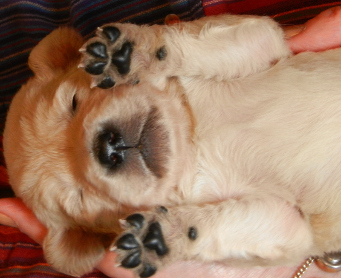 Nail trimming time again, it gets a bit boring having to put up with it every week, So time to go back to sleep.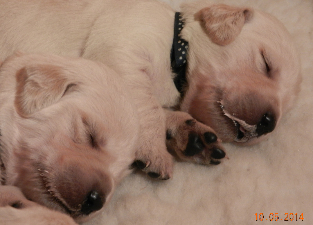 That is not milk round my chops, I like that stuff too much to waste any, No that was worming paste & I did not like it ! & that crafty woman gave it to me when I was half asleep anyway.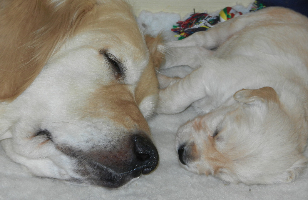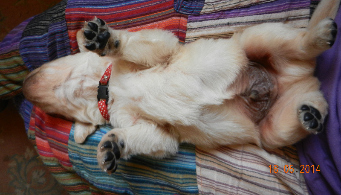 Sleeping with Mum & then crashed out after having his nail trimmed again. I think this is what is known a Laid Back !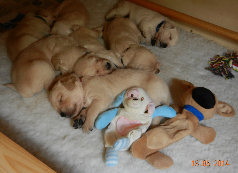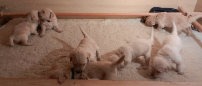 Yet again sleeping but this time with soft toys which new owners are now starting to bring for the pups & then playing again.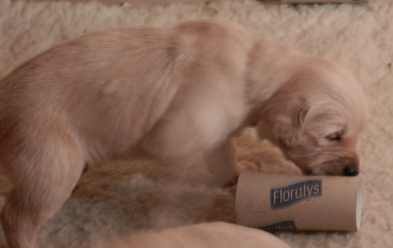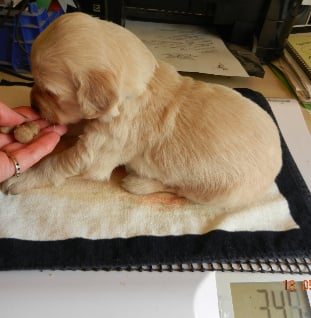 I am not an Adrex Dog, but it might have been fun if the paper was left on the roll !
The best way to keep them still on the scales is to feed them, they are growing well.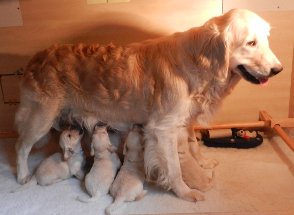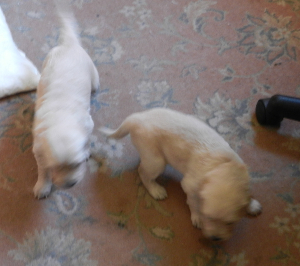 Everything is now starting to happen, playing. eating solids & standing room only at the Milk Bar, Oh & escaping from the whelping box! So tomorrow they will be moving into the big pen in the middle of our sitting room floor, where there is more room & a TV to watch !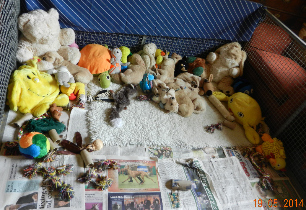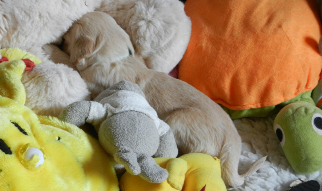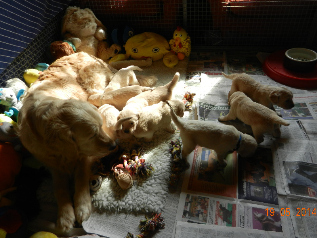 Well they are now in the big pen in the middle of our sitting room floor. You can hardly tell the pups from the soft toys all around them, but they seem very happy and content & seem to love snuggling into the soft toys. Flury still goes in as & when she needs to or wants to, even though they are now on 4 solid meals a day as well. They now get the morning sun rather that the afternoon sun.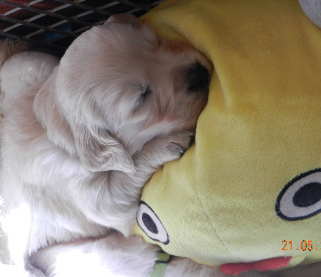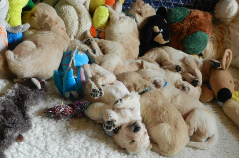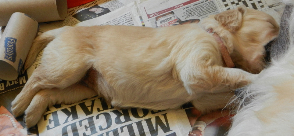 Sleeping is still the main pastime, but Miss Pink is a Crafty Bitch & takes advantage of the Milk Bar while the rest are in Nody Land !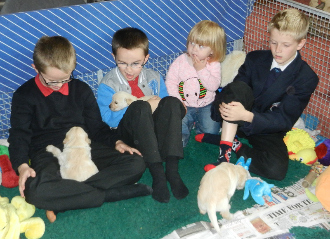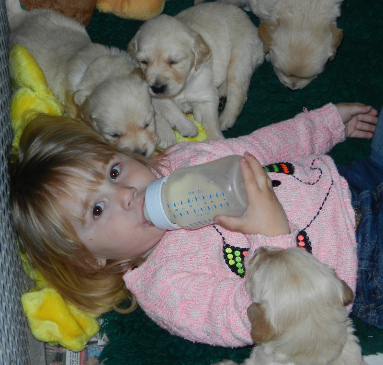 From left to right Marcus (10) Dylan (8) Jody (2) Jack (12) our 4 grandchildren socialising with the pups after School . Jody would have gone to sleep with them, but they realised she liked milk too & wanted to get to the bottle.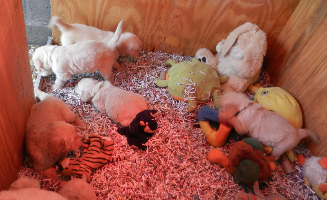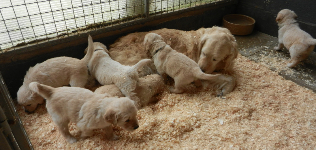 Well our next move has come & now at 5 weeks we have even more space to play. 1st we were put in the shredded paper under the heat lamp with the toys we are already familiar with, but it did not take us long to find we had loads more space outside our bed in the woodchips, where we found Mum to play with too, although she does not spend that much time with us now as she is not too keen on our teeth & claws.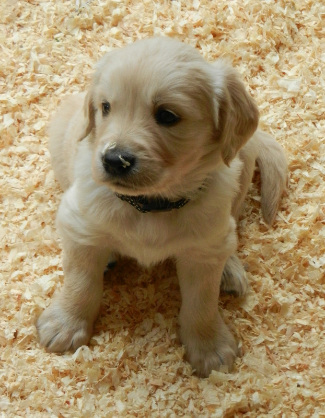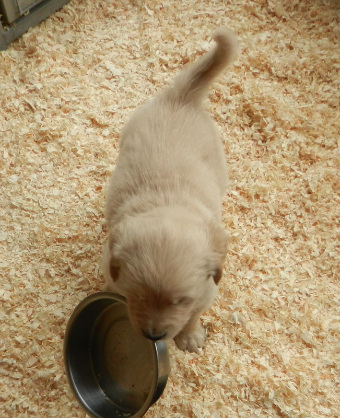 Having been playing in the woodchips I have them stuck on my lovely black nose. & I have learned to retrieve my bowl when I have finished eating its contents.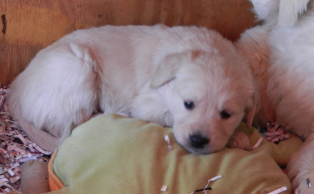 Then it is back to snuggling up with a familiar soft toy ready for another kip.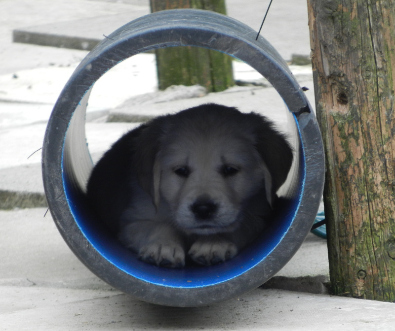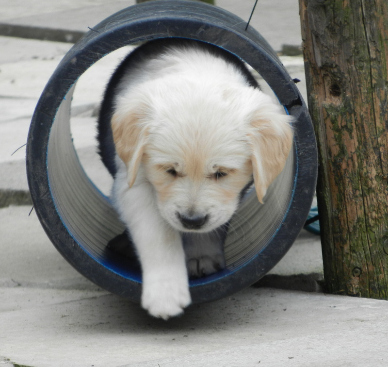 Running up & down the big tube is fun, but it is also somewhere shady when it is sunny.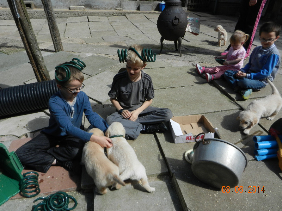 Playing with the Grandkids again.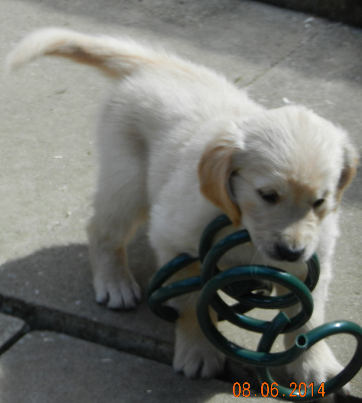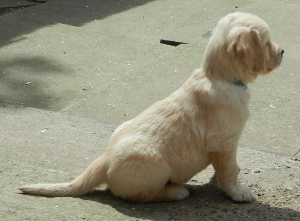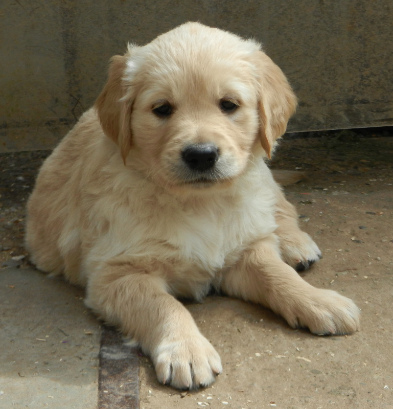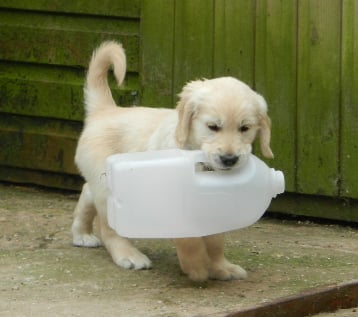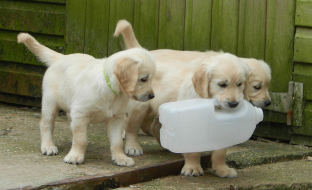 Just playing, sitting & watching or lying in the shade.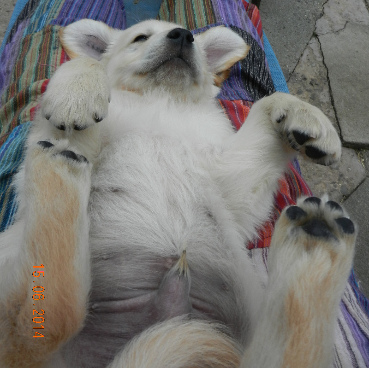 Nail trimming time again, but I don't fit on the lap as easily as I used to. Oh & if you look closely I now have a Tattoo Number in my left ear for identification.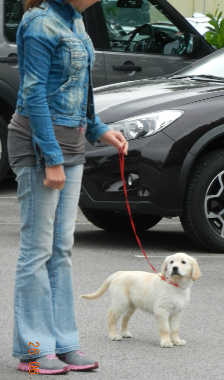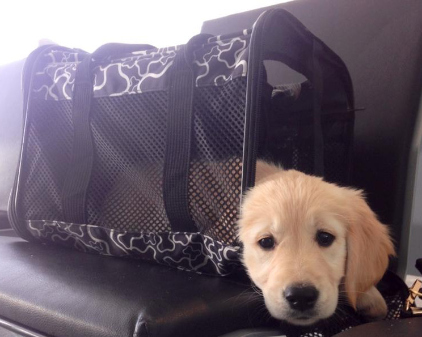 Above is Sunny the puppy who traveled the furthest of all her siblings. She first traveled by car to Manchester Airport where she had her first experience of walking on a light lead to relieve herself before being put into the carry bag which was carried by her new owner & she was able to be on the seat beside her during the flight in the plain to Sicily. It always amazes me how they cope with long journeys, but they do & become very well-adjusted members of society be it here in the UK or overseas.
All of the puppies have now been chosen and gone to their new homes.'Below you can see'Milo' playing with his Great Grandfather 'Rain' & Great Aunt 'Willow' & below that at Puppy School with 2 other brothers 'Finn' & 'Douglas' who had not at that time left for their new homes + other budding students at Puppy School.