Mea
Purbarn Meant To Be Wiv Me

& She Was !
[Ch Catcombe Corblimey (JW) x Purbarn Another Confusion]
2nd June 2004 - 10th November 2016
Hips 4 : 6 =10. Eyes Checked and still Clear 2016.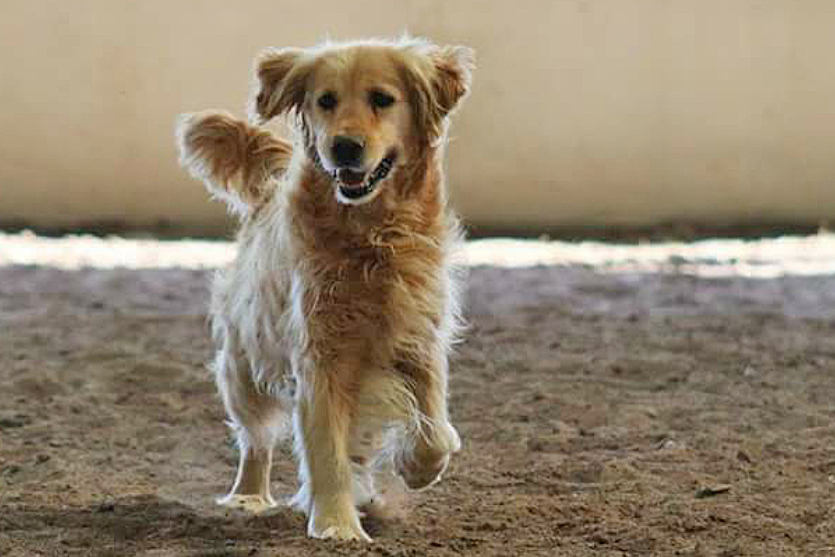 This photo was taken soon after her 12th birthday still enjoying life to the full !
Mea was one of life's survivors some called her our little Mirical Mea and many of the Veterinary profession who have met her were amazed at her resilience & remarkable survival. It all started when her mother Connie was scanned and it was noted that there was a lot of fluid surrounding the single foetus. We were advised by Barbara Wiseman of Wisescan Animal Pregnancy Scanning, that we should keep a very close eye on Connie as this could well develop into a full-blown Pyometra. We did but everything seemed normal and I had felt the pup moving. Eventually we took Connie back for another scan when she was almost 8 weeks in whelp. To everyone's amazement the singleton puppy was still alive and kicking and we could see the heart beating. But Barbara advised us to have a C-section done 2 days before her due date as the build up of fluid/puss in her uterine horns would have killed the pup if the bag was to burst. So I phoned the local veterinary Practice to pre book. When the day arrived I phoned the Veterinary Practice to find Pete Howman, our favourite Vet, was off on an emergency, so it was suggested I went to the main practice. This should have been no problem, but I had never been there before so none of the staff there knew me. They were not happy to go ahead and do a c-section if the bitch was not in difficulties and definitely not without scanning the bitch first and told me that there was no possibility of there being a live puppy if the bitch was suffering from a Pyo. I had to explain Connie had already been scanned and she had a singleton puppy in there, which was seen live and kicking just 5 days earlier, but also this puppy had survived so far in the middle of what was thought to be a Pyo. Their mouths dropped open as they exclaimed yet again this was not possible, I assured them it was and continued to insist they did not delay in doing the C-section. They insisted that they scanned her again, to which I just said, well I won't be paying for another scan ! At this point I think they might have been getting a bit fed up with me and said ok we will do the C-section, but can we have your phone number ? to which I replied What do you want that for ?'to which they replied So we can call you when she is ready to come home. Oh Boy they did not know me - a dogmatic character ! (no pun intended) I told them straight I will not be going anywhere, you are going to cut open my bitch to get out this puppy and I will be right here to take it from you so I can help it survive and get it ready to meet its mum when she is all stitched up again. So in the end that was what happened. The op went well and Mea came out just fine. Connie was spayed at the same time, to start with they did not want to do that either saying she would lose too much blood, but they eventually realised it was necessary as she would probably have ended up with septicaemia if they had not. So eventually Connie was brought into the adjoining room where Mea was introduce to her for the first time. I put Mea to the milk-bar while Connie was still coming round and Mea had that will to live right from the start and was so strong she climbed straight over Connie's back and down the other side. I put her back to the milk-bar and this time she latched on and there she stayed for the next half hour, then it was time for the journey home. So survive she did thanks to Barbara's help and advice + the Vets who did the C-section and Mea and Connie's resilience. Mea's full KC name was thought of by my daughter Sally and a very apt name it was too !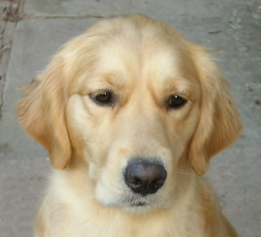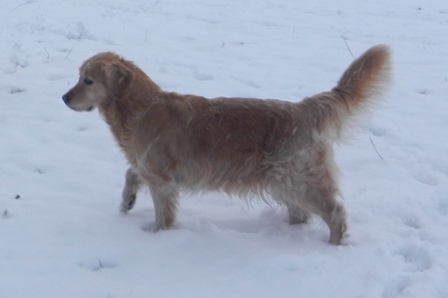 Mea continued to do well having passed her initial Vet Health Checks and had no abnormalities that could be either seen or heard, she was declared to be one fit and health puppy ! Eventually we decided to start showing her and she qualified for Crufts in puppy class and also took BOB at Open Show level, but where she really found she excelled was in the Shooting Field. We then decide to have a litter from her and she was mated to our Hail, in fact we mated her on more than one season, but sadly she never seemed to take. Having almost given up hope when she was almost 3 years old we decided to try one more time and to our joy it worked, but there was only one puppy in there, so we just hoped and prayed the same problem did not happen to her as had happened to her mother. Eventually we got to her due date but nothing happened and after a couple of worrying days it was decided we would have to do a c-section to get this singleton puppy out. Again I contacted Pete and thankfully this time he was able to do the C-section for us. Both mother and daughter survived the ordeal and when Maddy [the puppy] was only 11 days old she and Mea made the journey from Tenbury Wells, Worcestershire to North Wales where we were moving to, due to a job change for Rich. Then only 3 days after arriving a friend with a litter of Spaniel pups rang and told us his bitch had just died and her remaining 2 pups after a difficult time were now looking for a foster mother. He asked if we thought Mea might take on the 2 pups who were about the same age as Mea's singleton. We said John could bring them up, but if Mea would not accept them he would have to take them home again and hand rear them himself, as we had not got the time to hand rear 2 pups.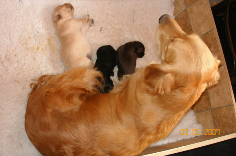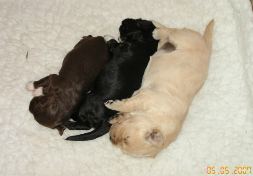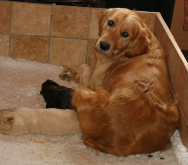 Well John brought the 2 puppies up from Cirencester and we put Mea in the garden while we put the 2 spaniel puppies in with Maddy, Mea's singleton and rubbed them all together. We then let Mea in. It was amazing as the quizzical look on Mea's face was as if to say 'I only went out for a pee and now there are three !' But Mea was so sweet and accepted them with no problem and climbed straight into the box settled down and let them go straight to the Milk-bar, where she proceeded to give them a good licking, so she then had one biggish Golden pup then a slightly smaller Black Spaniel bitch and then a tiny Brown Spaniel bitch to look after and all 3 went from strength to strength. Eventually Maddy (the Golden puppy) went to live in Essex with our friend Pat Keeble and has excelled in the Obedience Ring and has also taken many awards at shows including BOB's and 1sts at Champ Shows and qualified for Crufts. Below is Maddy having just taking 1st in Obedience class at SGRA Champ Show.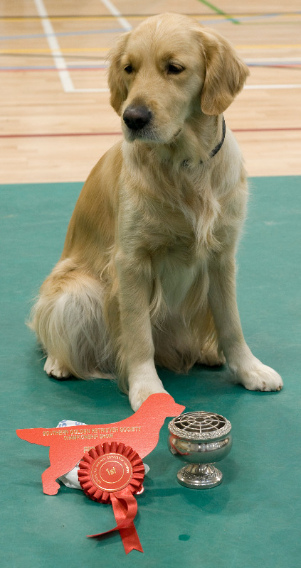 The black Spaniel pup went back to John, he decided to name her Jenny (apparently after her saviour, I said she should have been called Mea then). Anyway eventually he worked her on the shoots and like her predecessors she worked well. The Brown pup went as a pet to a Veterinary Nurse.
Mea's life was seemingly normal and uneventful other than on a couple of occasions when out working she refused to to go after a couple of runners, if I had known then what I know now I would have known why, but then I had no idea till on Christmas Eve 2007 when Mea was just 3 1/2 years old she came in from exercise and looked very poorly, her head was down her breathing laboured and her stomach distended. I told Rich this would not wait till after Christmas & I dashed off to the Vets. Well after examining her from head to foot and eventually listening carefully to her with a stethoscope, the Vet stood up and gave me the shock of my life as he said 'She has Heart Failure and has weeks rather than months to live'. I said how can that be she is only 3 1/2. He just said it happens. I traveled home in shock with some tablets for Mea and tears in my eyes. I phoned Pete Howman (the Vet who had done the C-section on Mea when she had her singleton), to find out if he could look back through his notes to see if there was any note of her having a heart problem at that time and he said at that time her heart was fine. So it was a misery as to why it had happened. We did not enjoy Christmas much that year and my Daughter, Sally and I spent most of the time searching the internet. We eventually came across a Cardiologist called Jo Dukes-McEwan at Leahurst Veterinary Hospital, Liverpool & as luck would have it, she had her e-mail address beside her profile.I decided to e-mail her and I told her the full life story of Mea's life up till this devastating news. To our surprise she replied to us 2 days later saying she was very worried for our bitch and if we got our Vet to refer Mea she would see her at Leahurst in the first week of January. We got our local Vet to do the referral and were given an appointment. Mea at that time had a heart rate of over 250 beats per minute, but also very erratic, [it should be about 70 bpm]. She was throughly examined and eventually admitted and we had to come home without her, not knowing at that time if she would survive or not. After numerous phone calls and update reports we were able to go and pick her up 5 days later + a bucket full of drugs & a massive bill ! The drugs had to be given at even intervals 4 times a day, so this meant during the night as well and I would get up at 2am to give her one lot. She had many more trips to Leahurst even coming home wearing a very fetching camouflage bandaging covering a heart monitor so they could see what her heart was doing on a normal day at home (well normal for us that is). We had always said to Jo that we would not wrap her up in cotton wool and if she wanted to come out on the shoot we would let her as we would rather see her out doing what she enjoyed most in life than be stuck at home stressed out and fretting knowing both us and her mates were out enjoying themselves. I had decided that I would rather she died out enjoying herself rather than stuck at home alone. So armed with extra bandages, in case the monitor were to slip and pen and paper to write down what she was doing throughout the day, so they could tally this up with how her heart was behaving at any given point while she was wearing the monitor we headed out for a day on the shoot. The day went well and she very much enjoyed being out on the shoot again ! When we took her back to Leahurst the following day to have the monitor removed and I presented Jo & the other Cardiologist staff with this long list of times & activities performed + photographic evidence, they were astonished, as they said we have never had so much feedback as most people wrap their dogs up in cotton wool and won't let them do much more than go for a pee and a poo in the garden, the rest of the time they are being kept mollycoddled in the comfort of the house. Eventually she was reduced down to tablets just twice a day and that routine continued and she continued to go out on the shoots every time I did as she seemed more stressed when left at home. It was eventually noticed that when she came in season and had to be kept separated from the boys in the Purbarn Pack she became more stressed and her heart rate would increase. So Pete Howmans and I came up with the idea of giving her Delvasteron to stop her seasons, well she could not be spayed as her heart would not have coped with the anesthetic. So from that day on she was kept on this drug as well as all her other medication.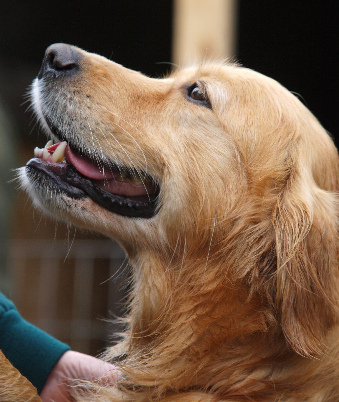 This photo of Mea was taken on a shoot day by David Tomlinson, who writes for Shooting Time. He had come on our shoot to write an article on the Shoot & about our Show Bred Goldens who also do what they were bred for originally, Working as Gundogs .
Mea to everyone's surprise continued to survive. Our Shooting friend Pete and Vet gave me a stethoscope so I was able to check her heart rate more easily and I would let other people listen at times too and everyone was astonished. We found out that her heart got into a right state missing beats and then going extremely fast and then odd beats the more stressed she got, so to lessen the stress every time I went out Picking-up Mea was able to come too and was allowed to do as much or as little as she wanted, as she was far less stressed that way, her heart rate was more normal - although we know Mea's Heart would never be normal - when out in the shooting field than it ever was first thing in the morning when she knew it was a shoot day. So if she died out on the shoot doing what she enjoys more than anything else, so be it, and she had more years than any of us or the Veterinary profession ever thought she would ! We knew she had been on borrowed time almost all her life, but she has been able to enjoy her life to the full !!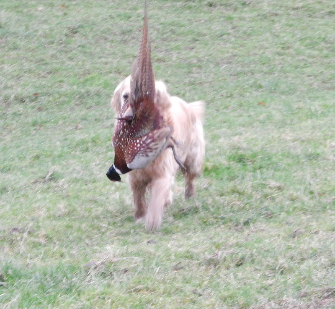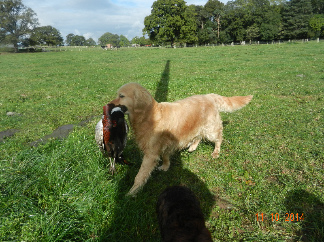 I took these photos of Mea one in December 2013 coming back with a very strong runner which she had chased across open grass land for about 300 yards. A great retrieve even for a normal fit healthy dog ! & the other early in the 2014/2015 Shooting Season. So she was still doing well then as long as she kept taking the tablets ! Our little Miracle Mea !
This is a favorite photo of Marcus and his best friend Mea on a shoot day.
Marcus and Mea had a very special bond, they say Autistic children don't have empathy but he did for her, we even found a few times when Mea fainted when out on exercise and Marcus was extremely worried about her and when he found she had been spitting out some of her medication into obscure places, it was Marcus who was able to get Mea to take the tablets without having to force them down her throat. She would normally have them in her food, but sometimes she was clever and would find them and spit them out. At one point when we had thought Mea had not got much longer Marcus insisted his Mum brought him to ours so he could give us an old duvet cover of his so she could be wrapped in it at the end.
2015
I was asked to go to Leahurst with 3 of my dogs for a training day for Veterinary students in June and we took Mea along as it was a good opportunity for Jo Dukes-McGwigan to see her again as she had not seen Mea since 2011. I was so pleased that Jo looked suitably surprised and amazed to see Mea looking so well and thoroughly enjoying her day out and all the attention she was receiving.
But by the start of the 2015/16 shooting season Mea's abdomen started to look as though it was getting bigger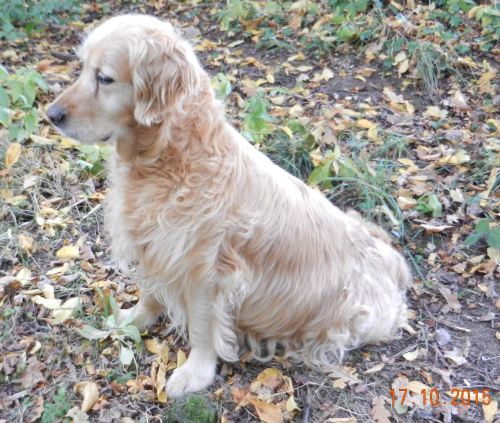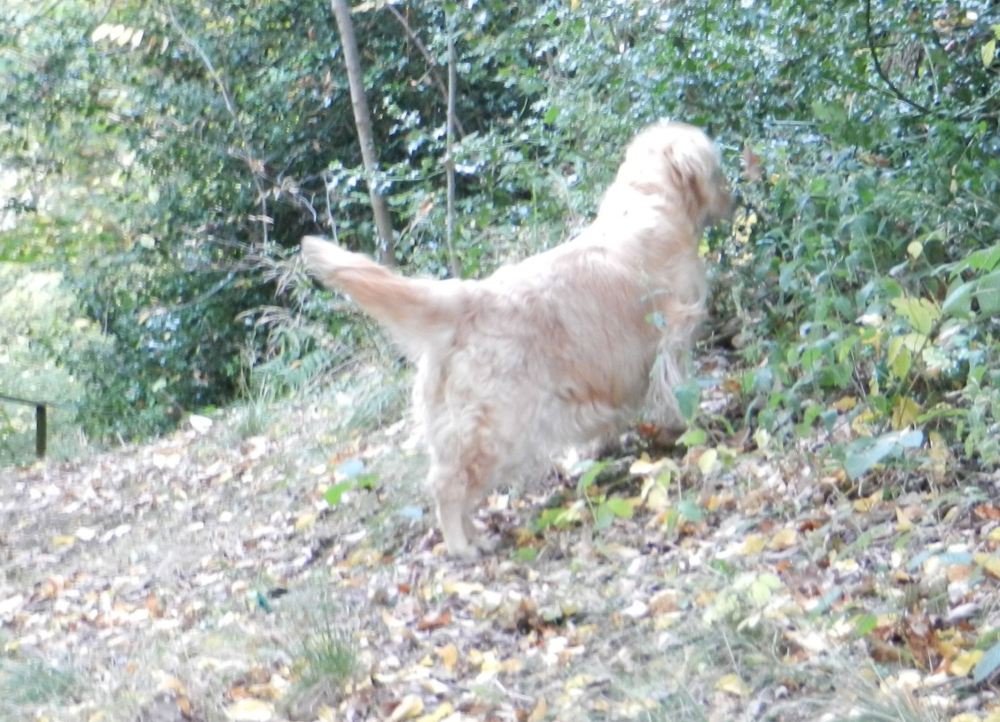 Although Mea looks happy and alert in these photos she had some sort of growth in her stomach or was retaining fluid and it was getting bigger more rapidly than any of us would have liked. But due to her heart problem we would never be able to put her through any sort of operation as she would not have survive it, our thoughts were as long as she was not suffering or in any sort of pain we would let her continue to enjoy her life to the full as these photos were taken just before she went to see if there was a pheasant in the bushes, and she was still enjoying going out on the shoot
When Mea was 11 1/2 years old, we got a new member to the 'P' Pack 'Shade'. They were lying in the shade of the shed together. (no pun intended)
Mea continued to amaze the Veterinary Profession and ended up looking as though she was not just 9 weeks in whelp but 12 weeks in whelp as in the photo below, which was taken in November 2015. This bulge hung down just like a bitch due to whelp and it was solid and when trying to lift her into the car she felt extremely heavy .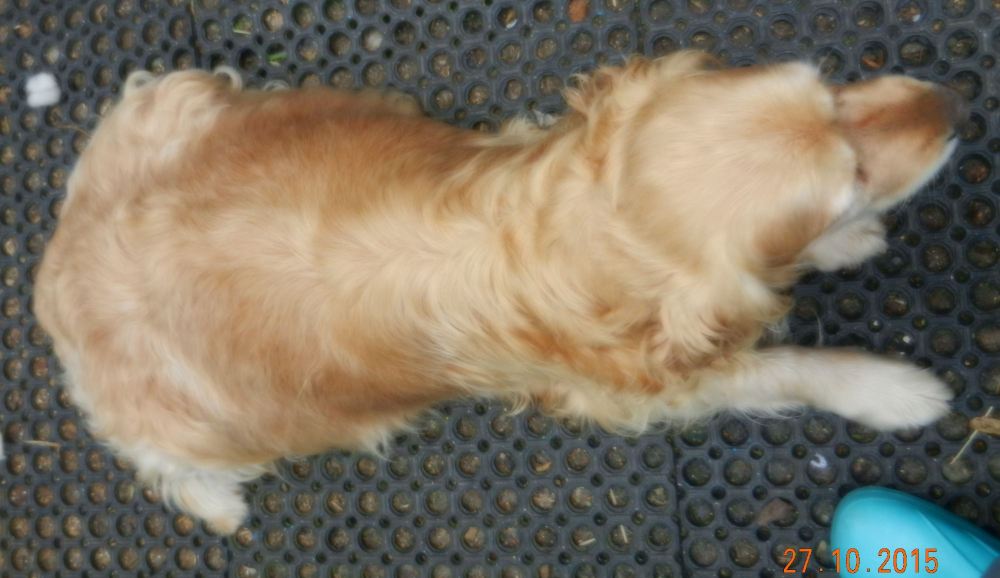 Then as we thought it must be like Holly, who we had scanned and found she was retaining fluid, we though Mea was the same, but when we had her scanned it was found there was a big mass in her tummy. We then had Pete our Shooting friend and Vet again shooting at our's and he checked her over and though it was most likely to be Liver Cancer. As we all tend to talk among ourselves we mentioned this to a friend Nada who owns a Purbarn Golden in the Chez Republic, who told us to try some Capsules that another friend Susanne Bona and owner of another Purbarn Golden in Germany (Susanne is also a Vet) might be able to get for us. Anything was worth a try ! We were sent some and Mea started on these along with all her heart medication that she has been taking for the past 8 years. She started having these Capsules in late October and by the middle of December her tummy had gone down and she must have been feeling better as she had picked up 2 pheasants when out on the shoot, So we are convinced they must have had some effect.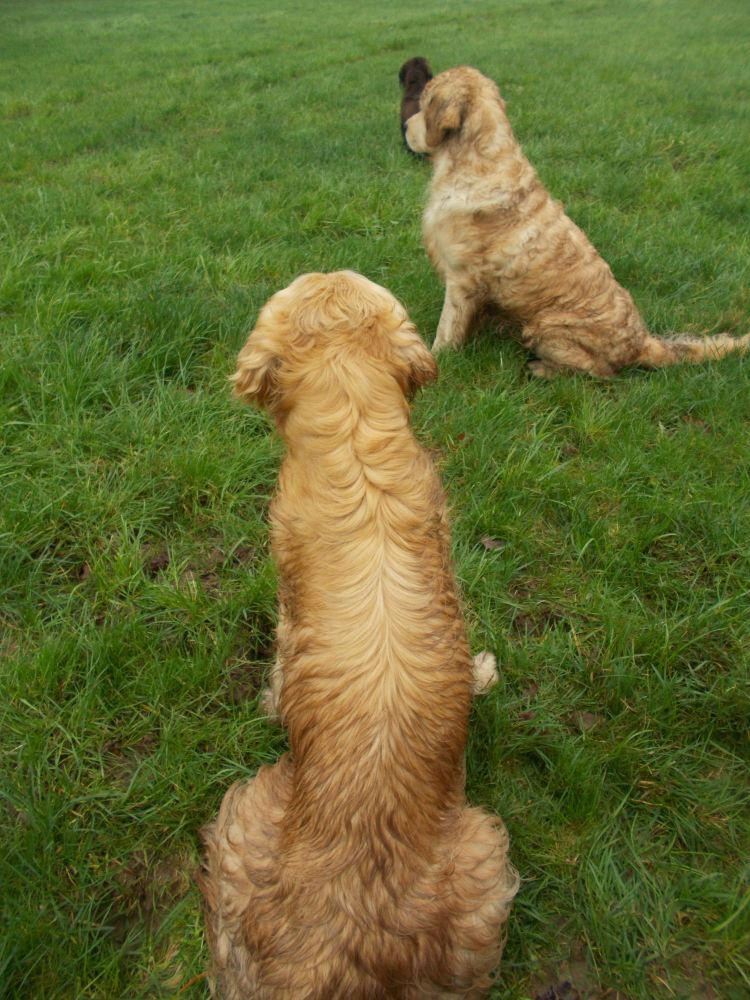 Look at the difference !
2016
Mea continued to defy all the odds and enjoyed her days out on the shoot's. We did think the stress of moving home in May/June time might have caused her a big problem, but other than her tummy getting bigger again and then again going down she continued to enjoy life to the full and with 14 acres for all the dogs to run in she enjoyed going mousing and trying to dig for moles as well as going paddling in the river Banwy which past the old water mill. We of cause had to register with a new Veterinary practice when we moved and having had one recommended by someone local we went to see the practice and the owner Anna. We found Anna to be very helpful and someone we could get on with and she suggested she come out and not only do a Vet Health Check on the litter of 8 pups who had moved with us, but also come and meet the rest of our menagerie. So she met Mea for the first time and was amazed at her story. But with all the upheaval of moving we forgot to get Mea's top up dose of Delvasteron and had to make an appointment to go to the Vet's. But by the time we did we found she had actually come in season, so although this was not ideal it was decided to give her the jab anyway. This was given to her and at the time I remembered Anna saying that is the last of that drug we have on the shelf and I must order some more. A few days later I had reason to speak with Anna Vet on another matter , but just as I was going to hang up Anna said she had a big apology to make as she had made the biggest mistake of her whole veterinary career, I of cause asked what she was talking about ? She told me that when she had been re stocking the selves with the drug order she had found they still had a bottle of Delvasteron on the shelf but next to it there was a gap where another drug had been and she was horrified to have to tell me she was sure she had given Mea the slow release and long acting steroid drug instead of the drug to have stopped her season. Well I did not quite know what to say at that moment in time I was in shock. I was told that they would treat Mea for nothing if she needed anything and they would immediately take bloods and send them off for analysis. As soon as I came off the phone from Anna I phoned Pete, he said it was very unfortunate this had happened but that I should recall how I felt when I was on steroids, which I had to agree had made me feel great with loads more energy. Meanwhile Anna spoke to a Cardiologist as well and I suggested she contact our friend Pete Vet too as he was the one who had been seeing Mea more regally than anyone else over the past few years and sending us the prescriptions for her drugs so we could order them from PetDrugsOnLine. At the time this was extremely worrying. The few people that I told said I should sue the practice for negligence, but as it happened it gave Mea a new lease of life and she was cantering about like a spring lamb even running after runners when out on the shoot although she was not fast enough to catch them one of the others usually got there first, but she seemed to be very much enjoying her life. The only down side seemed to be that she needed to go for a pee more often and this meant either we had accidents over night in the house or we left the back door open, which was not a problem in the warmer weather, but as the nights got colder we just had to cope with the pee on the slate floor in the kitchen which was easily mopped up, but she was eating better than she had in a long time dancing about when Rich was getting the feeds ready. She even came to a Doggie Social run by Karen Boyce of Beastley Thoughts Dog Training where the first photo on this page was taken, she was really happy and chasing about after a little Scottish Terrier she had befriended.
At the start of November her stomach started to look as though it was getting bigger again and we noted she was beginning to slow down again and her breathing was becoming a bit laboured. One morning she only got about a 100 yards from the house before she sat down and waited for the rest of the pack to get back, She was panting as though she had been running, but I knew she hadn't been running. I encouraged her to follow me inside and checked her heart rate which was almost 200 bpm. I phoned Pete to ask his advice and he suggested we up her dose of diuretics, which we did, but things did not seem to be improving, it was then suggested either by Anna or Peter that we give her another diuretic drug, of which I still had some in the dog medication cupboard so we gave her those too, but even though she would still come for walks again she was deteriorating and I just knew it was not going to be long before we were going to have to use the duvet Marcus had given us all those months before.
Eventually one evening she fainted in the kitchen and she started struggling for breath and I just knew I had to make that call I had been dreading for so many years. But thankfully Anna was on duty and she came out as soon as I called her.
The tears flowed freely that night not just from my eyes but from Anna's also as she said it was a privilege to have known such a remarkable dog and that I should write her full story, which is what this is.
When I brought out the duvet of Marcus's I told Anna the story of how this duvet was just for Mea from Marcus and she suggested we take a lock of Mea's hair especially for Marcus, as a parting gift from Mea to him, which is what we have done.
Mea stayed in the kitchen that night wrapped in Marcus's duvet. The following morning Rich had to go out early and was not going to be back till late morning, so I decided I was going to have to start to dig the hole for her final resting place on my own. But then I remembered Rodney who had a digger and had come and dug the pond for us when we had first moved here. I phoned him to ask how much he would charge me to come and dig the hole for me. He said he would do it for nothing, but the digger was behind a load of railway sleepers on the Light Railway Line which comes right past our house with the old steam trains. So I said not to worry I would go make a start on my own till Rich got back. But about 20 minuets later I was surprised to get a call from Rodney to say if I would like Kevin the Deputy Manager on the Llanfair to Welshpool Railway has said as they would be coming right by our house on our way to do more maintenance further up the line in about 20 minuets and all the lads would stop and get off the train and come and dig the hole for me if I would like them to. I could not believe such kindness and generosity and could not thank them all enough when they left. Then only a few days later I was out picking-up on a local shoot and one of the Guns came over to me just before the start of the first drive and asked if I was ok, I said yes thank you, wondering why he had asked, he then said you probably don't recognise me but I was one of the guys who came from the train to help dig the grave for your very special dog. Oh boy he set me off again. Everyone has been so kind and supportive as Mea is sorely missed and has left a Very Big Gap in our lives.
RIP Mea you were a little Mirical from start to finish and touched so many hearts along the way !!
Fly high over the rainbow with those pheasants you so loved to chase.