Hazel
Purbarn Nuts Hole Hazel Nuts
[Ch Lovehayne Quentin (JW) x Sh Ch Hollywillow Blown In De Gale To Purbarn]
3rd July 2005 - 10th September 2017
Hips 3 : 4 = 7. Eyes Checked and still Clear in 2016

Hazel was Qualified for Crufts for life with her Stud Book Number.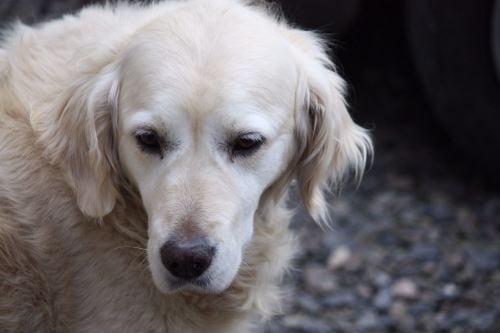 This photo of Hazel was taken on 31st August 2017 by Kirstie who owns 2 of her Grandsons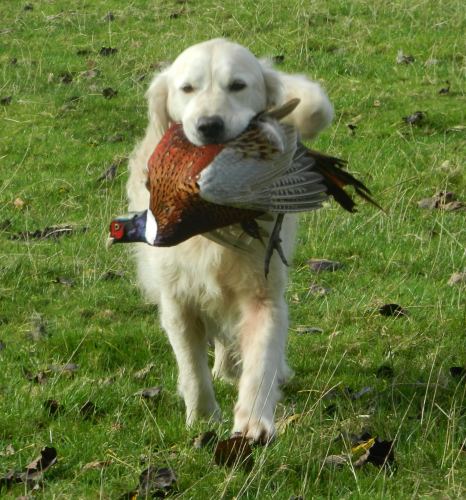 Hazel Passed Away in her sleep after a short but rapid increase in her size. originally we thought she was just getting fat, but it became obvious something was rapidly growing inside her. She continued to go for short walks and eat all her food. She was given pain relief, just incase she was in pain, although she was not one to ever complain. Rich was pu checking on her and after making a cup of coffee he noticed she had gone. I was so pleased she went in her sleep and we did not have to make that final decision.
Hazel was one of my best picking-up dogs, her marking ability and her nose were second to none. In many ways it was better for her to have gone before the start of the 2017-18 Shooting Season as she would not have liked the idea of being left behind at home when the others went out to do the job she so much enjoyed and excelled at.
Hazel insisted she was able to go picking-up again during the 2016/2017 shooting season, but on some of the steep banks I could see she was struggling and so she only came out every 10 days on a small shoot where it was not so hilly. She very much enjoyed her days out but with so much arthritic change in her stifle joints now I can't see her managing another season which she won't be happy about, but she will continue to have plenty of fun time on our 14 acres and maybe go swimming the river on warm summer days.
This was probably one of the last times out on the shoot during the 2014/15 season as she first damaged one cruciate ligament and then with the extra strain the other went also and the day before Christmas Eve 2014 poor Hazel had to have an op to repair both at the same time.So 2015 was spent recuperating and having lots of Hydrotherapy treatment and Physiotherapy treatment. We feel it has been worth it as she is now back out doing what she does best picking up ! Only doing half days in October 2015 but hopefully as she gets fitter she will be back to full fitness.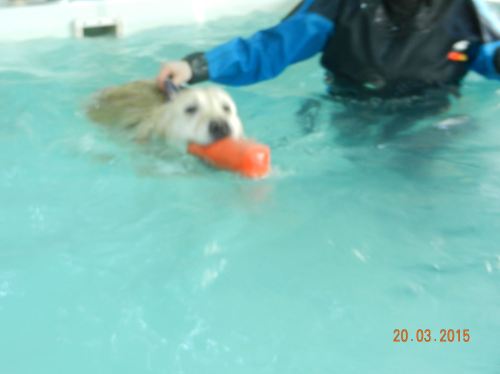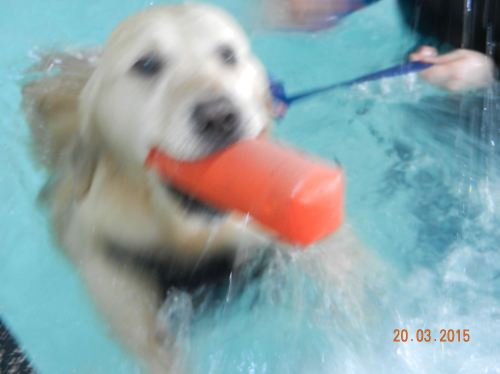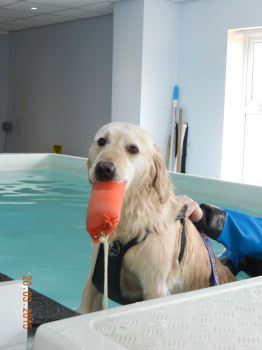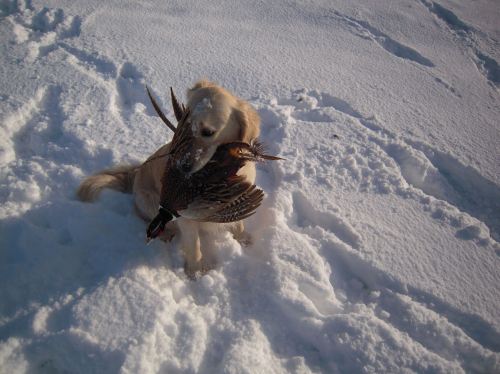 Hazel has not been in the Show Ring for a while now, but her favorite time of year is the Shooting Season & having picked up on our Pen-Y-Lan Shoot all her life she knows all the places where she can either get under or over the fences & has often had the Guns exclaim what a fantastic retrieve that was ! when she has arrived back with a very strong runner which may have dropped into thick cover in woodland over a field away, she is a dog who I can always rely on to keep looking even when I think it can't be found she will just turn up with it after I have started to walk back to the Game Cart, so I can off load the birds we have already picked. A Brilliant Blond !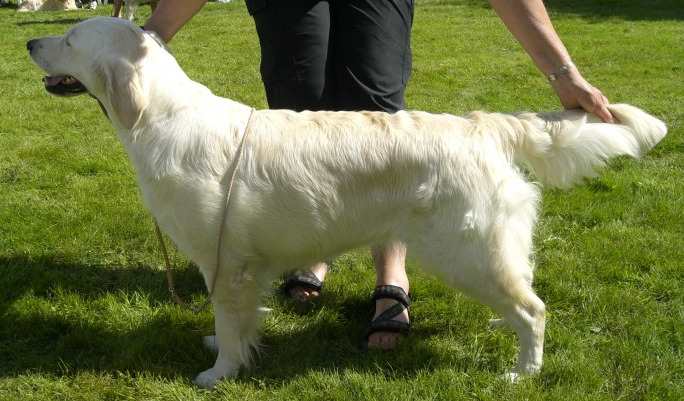 Hazel in her youth up at Guisachan in July 2006, where she won under John Tiranti.
She has become one of my best Picking-up dogs, she maybe a bit of a blond bombshell but she is no way a dumb blond ! She never seems to miss a trick and often turns up at the end of a drive with a bird I never even saw fall , bit like her grandfather Rain !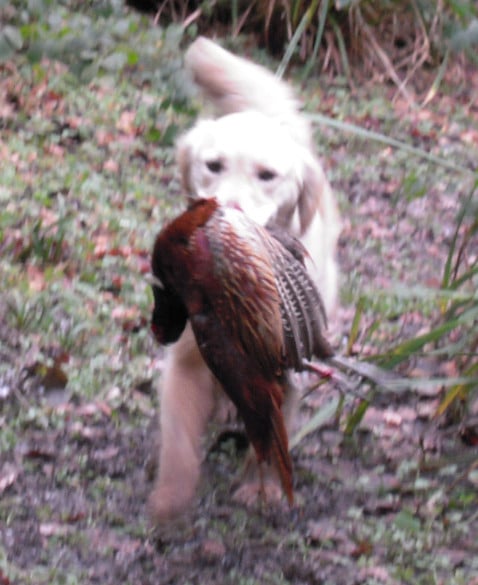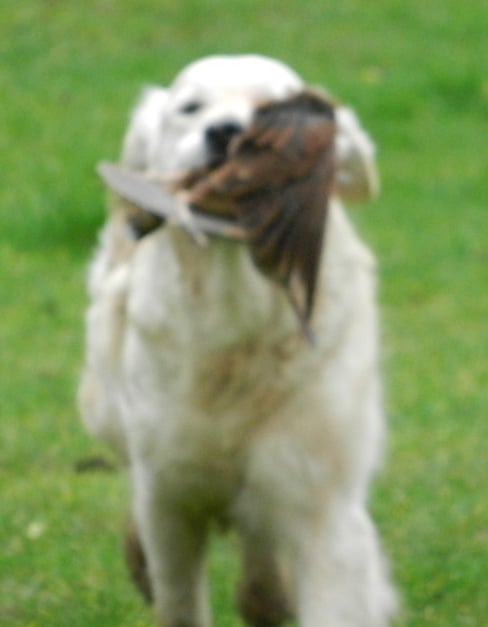 Pheasant, Woodcock, Partridge or Duck she is not bothered as long as she can come out on the Shoots Picking-up !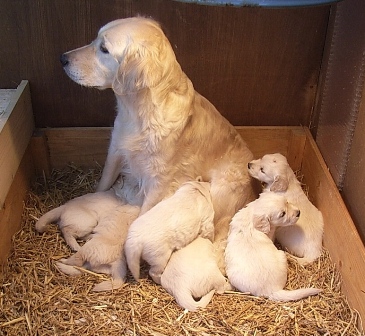 Hazel has produced over the years some great puppies our Flury being one of them. She also has a brother living in Sweden with Lisbeth & Tomas Larsson 'P' Nuts In A Fruit Cake (Frankie) who is a Blood Tracking Champion and has produced some lovely puppies with the biddable disposition that both their Sire & Aunt both also possess. Many of Hazels offspring have ended up with a very pronounced Occiput which can be clearly seen in theses photos below, but don't worry about it, they do seem to disappear in time, but the ones with them seem to have turned out to be extra clever, we do wonder if it is a bit of extra room for a few more brain cells ?