Twig
Twig

[Bring Um On Bib (Working Cocker) x Patchinghall Tess (Sussex Spaniel)
DOB:24th March 1999 - 28th January 2014

Twig has had her eyes checked for any defects throughout her life & has always been Clear
Twig was from the 3rd litter between Ellie (Sussex Spaniel) & Bib (Working Cocker Spaniel)
Just a couple of weeks before Christmas 2013 one of the mamory tumors, which had been giving her no problems suddenly decided to grow very rapidly & in the space of a couple more weeks had grown from a conker size to the size of a small melon! Being over Christmas & the New Year we had to wait till just after to be able to get our Shooting Friend Vet to take a look at it to see if there was any hope for her. So I took her down to him on 3rd Jan 2014 to see what could be done for her. Well she had still been going for walks & eating well + her heart was still as strong as ever, so with Pete saying he was confident that he could remove it + a couple of others close by & give her another year to 18 months , baring in mind it is a long lived line with her elder full brother going onto over 16 years we felt it was worth giving her every chance. Only a couple of hours later Pete phoned me to say all had gone well & she was now on a drip & sleeping. But only an hour later he phoned again to say he had just gone to check on her again to find her up on her feet barking at the cage door, as if to say 'Can I go home now?' I picked her up at 5:30pm & brought her home & although she has a belly full of stitches she is barking to go out for walks with the rest of the Pack ! Although she is confined to our yard for the time being, much to her announce !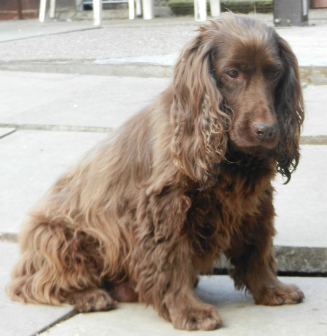 This photo was taken when she was almost 14 years old, she never seems to have gone grey & nobody seems to think she is the age she is !
& the one below was taken when she was about 5 years old.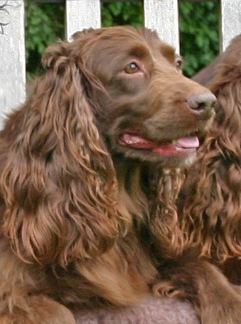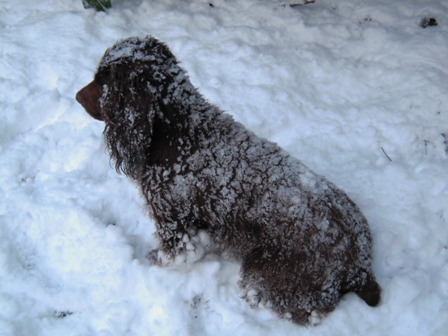 Out working & looking more like a snow dog & retrieving all sorts during her time out on many different shoots.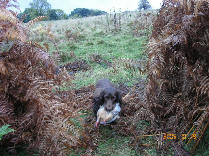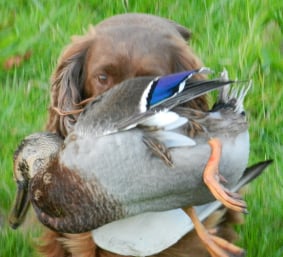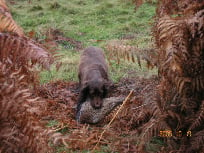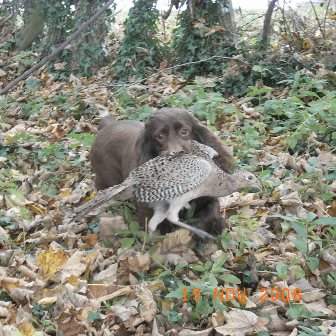 The photo below is one taken of Twig & her elder full brother Tucker.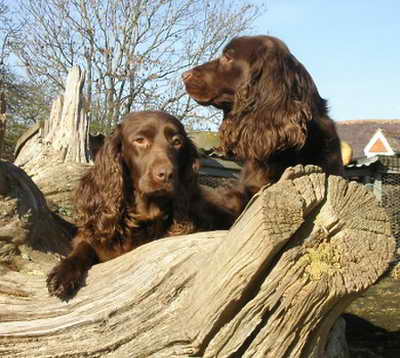 Twig has been a great mother & has produced some fantastic litters from which we have have kept 2 sisters Tillie & Teal from 2 different litters. Both have turned out as well as their mother & their uncle both out working & as mothers. Many of the pups have gone to Shooting homes & become as versatile as the rest of the Chocdrops both before & since. Some have excelled at obedience & agility & many more just as the most loving and affectionate family pets.