Flury
Purbarn Tell's Of Snow Flury's JW

[Purbarn Persistent Drizzle (SGWC) x Purbarn Nuts Hole Hazel Nuts (SBN)]
DOB: 6th February 2009
Hips 6 : 6 = 12. Elbows 0 : 0. EyesClear Feb 2017 Also DNA tested Clear for both GR-PRA 1 & 2

2017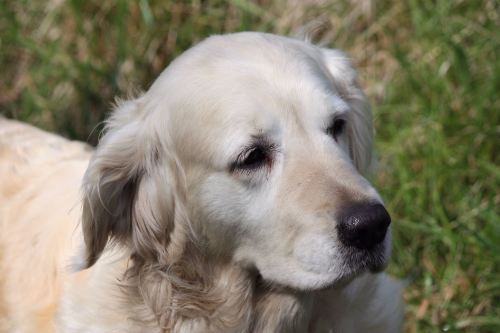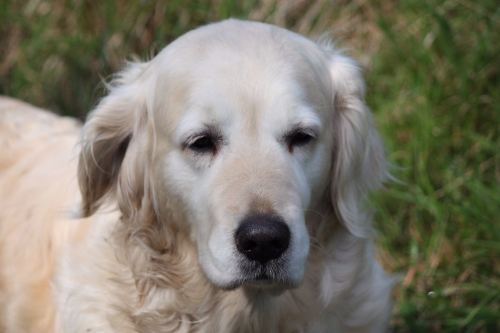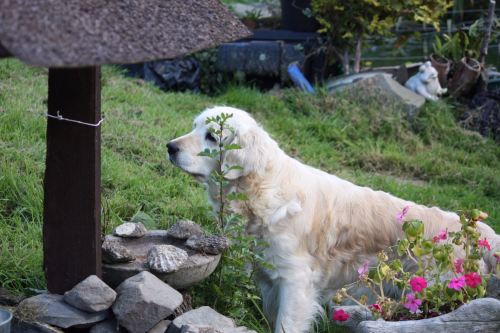 The photos above were taken by Kirstie Halliday in August when she came to stay with her 2 Flury sons & her Mam Pauline, for a couple of days. We are not sure what Flury was watching stood by the well, maybe she was making a wish.
We mated Flury to Twister again in 2016, it was bad timing with Crufts just 2 days after she was ready for mating and the outside dog we had wanted to use was not local which would have made it all very complicated. Just after Crufts we were told the Shooting Lease was not being renued on the estate where we lived and we would have to move. So Flury + her 8 puppies made the journey south to our new home near Welshpool when they were just 4 weeks old. We kept Breeze from the litter.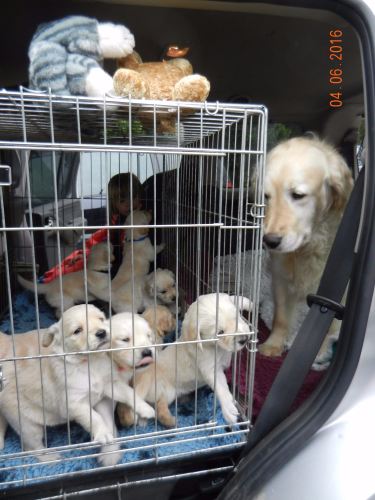 On the move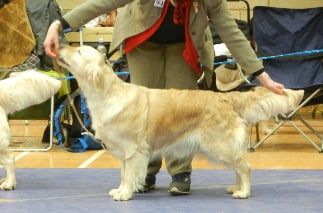 The photo above was taken in the ring at SWGRC Champ Show 2015, it just shows how our Blond Bombshell has darkened down and matured !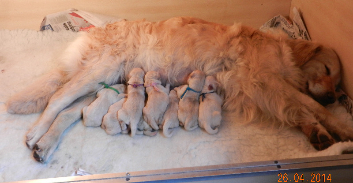 Flury & her 2014 litter sleeping after a long night. (more photos will be under Puppies).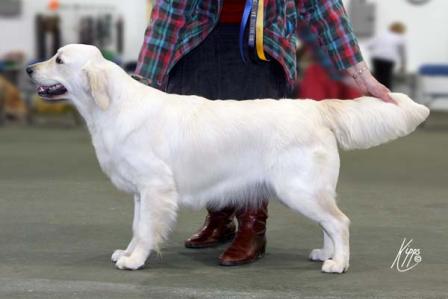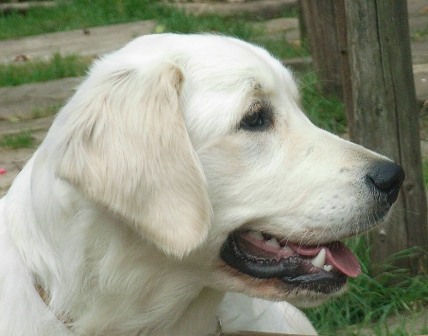 Flury having qualified for Crufts for life with her Stud Book Number (SBN) & she went to Crufts in 2012 & took a 2nd in a very large Grad class of bitches under Isobel Cuthill. Sadly I do not have a photo of her on that occasion.

In 2011 Flury had her first litter by Twister which produced 11 lovely puppies including both Windy & Barni making them my 14th generation down. Having been out in Austria Judging I only just got back in time. There are a couple of photos here but some more of the litter can be seen under Puppies.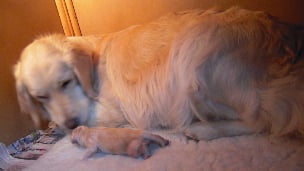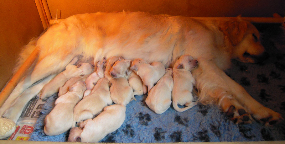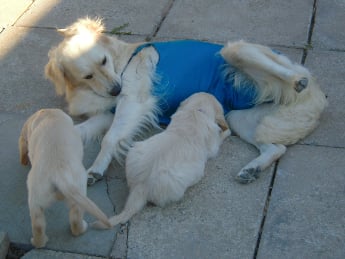 Flury with her 1st born & feeding her compleat brood & then Playing with a couple of them in her Boob Tube when her 1st litter was about 6 weeks old. Flury was a wonderful mother & I am looking forward to having another litter from her in the future.
Below was the first retrieve Flury made out on the shoot.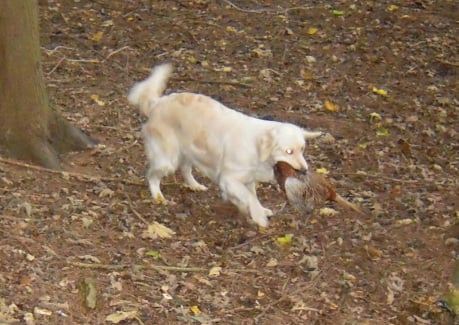 Below is a photo of both Twister & Flury. It was taken at GRCW Champ Show where Twister took Best Dog Puppy in Show & Flury won 2 classes. At the time Twister was almost 1 year old & Flury was almost 13 months. Both are now darker in colour than they were when this photo was taken.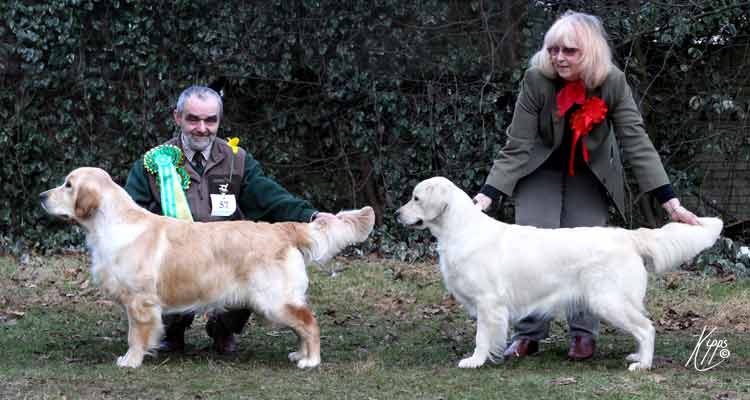 Flury is the 13th generation down from my foundation bitch Prue. She is a sweetheart so loving and a beautifully made bitch too ! She gained her JW at just 13 months even though she was out of the ring for 6 weeks after badly cutting a pad (which needed stitching), during her first outing on the Shoot. She took many Best Puppy's at Open Shows and many 1sts at Champ Shows too, but her best win was taking BPIS at Midland GRC Champ Show the same day as her Grandmother Willow took the RCC.
Below was Flury at just 6 months, her first ever show, where she qualified for Crufts with a 3rd in MP & at her 2nd show she took 1st.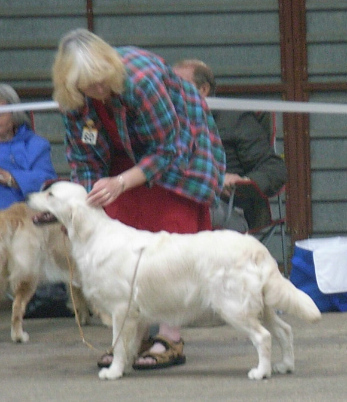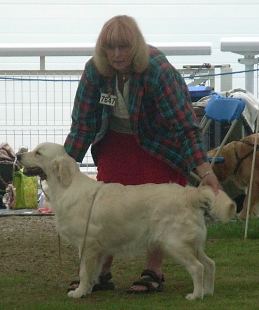 Below is Flury as a 7 week old puppy.