Constructed by Grandson Jack Frankland !! [when 10 he is now 17]. LATEST UPDATES - Breeze Has had Pups by Shade Born 1st October 2019
***Please note even if there is a drop down menu there may also be info if you click on the 1st bit of the menu***.
Also if there is no pedigree on the Goldens individual page there is a link on the Links page to Standfast Data, where you can view all Goldens Retriever Pedigrees. Or you can use K9Data.
Please if you send a message via this website & the Contact Page, Please make sure you put your contact details in your message, or I can't reply to you.
This Is The Site For
The Purbarn Dual Purpose Golden Retrievers & a Pure Bred Sussex Spaniel
*** Stop Press ***
*** We have Golden Retriever Puppies Born 1st October 2019 ***
Please Ring 07970694593 if you are interested to know more.
************* We moved in 2016 *************

We now live near Welshpool with 14 acres of land, so much nicer than where we were before! This is a view from on the bank above our pond of Koi & other fish. To the left is the Llanfair to Welshpool Light Railway with the old Steam Train. This is only a tourist attraction so only runs during high days & holidays & only coming past at most 10 times a day & no faster than 5mph. To the left of that is the River Banwy which is great for the dogs when the river is low, but it can come up very high & very quickly, when we get a lot of rain, but thankfully it also goes down fast too. Our black & white house is a Grade 2 Listed Mill House. We love it here & so do all our animals. When we first saw the place it was in much need of a great deal of TLC , as it had not been lived in for over 5 years & prior to that was only used as a holiday let, so everywhere was very overgrown with brambles & stinging-nettles, but we are beginning to tame the land & putting it to good use & have added some cade lambs to our menagerie.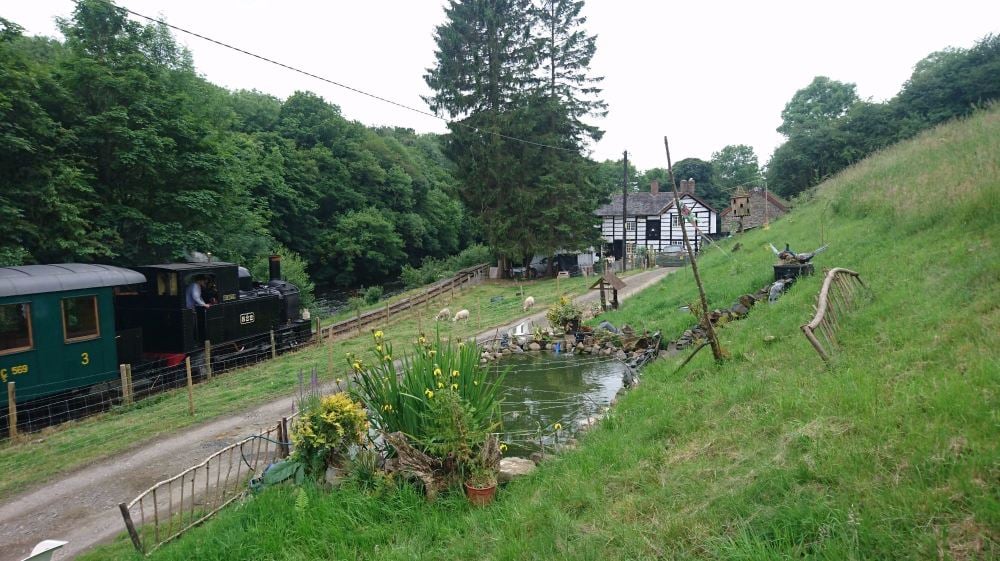 Crufts 2019
Breeze, Shade & Micky do well in the Gamekeepers Classes. Take a look on their pages. [We never entered any Breed Classes in 2019] .
Before we start we would like to mention that we are not members of the Kennel Club Assured Breeders Scheme. This not because we do not do all that is required, in fact we have been asked by the KC to join, they said we need more people like you to join. Our answer is ; No not at this moment in time, because there is in our opinion, too many people becoming members & then not doing what is expected, including Puppy Farmers & we do not wish to be clubbed together with the likes of people like them & living in North Wales it is a large problem. We have people both here in the UK & Overseas who have come back to us over & over again, not just for puppies but also to use our Stud Dogs, many of which have links to their websites on our links page.

The Purbarn affix was made up from Purleigh Barns the name of the Cottage where I lived when I got my first Golden Retriever in the early 70's. Most of the Golden Retriever stock we have today descend from the 2nd Golden I bought who was Perimay Prunela of Purbarn & we bred the 14th generation down from 'Prue in 2011 & we repeated that mating again in 2014 & 2016 as it worked so well.
In the intervening years all Purbarn stock has been worked on Shoots wherever I have been living at the time and / or shown, with varying degrees of success & all breeding stock have had all Health Checks done including now DNA tests for GR-PRA 1 & 2 for the Goldens & all the younger stock have been x-rayed for Elbows & Hips & All have Clear Eye Checks [2016/17]
All our Golden's have their health checks done after a year old (the results of which can be seen on their individual pages and the Spaniels also have both Hips & Eyes checked including Micky the Sussex Spaniel.

We have made up one Champion & one Show Champion & 3 others have gained CC's &/or RCC's but they have all been our Champions in what ever they have done in our eyes ! Some of the Purbarn stock have had success overseas too, with a South African Champion Purbarn Hailing Hard, Canadian Champion Purbarn's Forcast is Tranquil also a Swiss Blood Tracking Champion Purbarn Nut's In A Fruit Cake.& by our Stud Dogs there has also been a German & Luxemburg Champion, Amarine Dream On & an Irish & International Champion Weisford Charlies Chocolate Factory & more recently in the UK Sh Ch Lamancha In Search Of Pye JW & Sh CM. Many others have gained J.W's (Junior Warrents), Sh. CM's (Show Certificates of Merit) STB No:s (Stud Book Numbers). Others have gained SGWC (Show Gundog Working Certificates) 1st's in Working Tests & in the Obedience classes, while others have competed in FT's (Field Trials) gaining COM's (Certificates of Merit). Some have also gained GC (Good citizens) Bronze, Silver & Gold Awards. Most of our own stock work throughout the Shooting Season, both Picking Up & / or Beating, so the line is a very versatile line. Also my first Home Bred Bitch from Prue gained a COM in a FT (Field Trial) at just 16 months & Cindy (Purbarn Cinderella) also won the Gold Trophy at Crufts in 1987.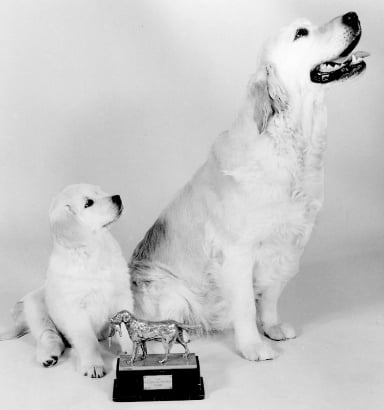 The photo above is Cindy with the Gold Trophy + Kizzie ['P' Kizzie Ina Tizzie] at 10 weeks old.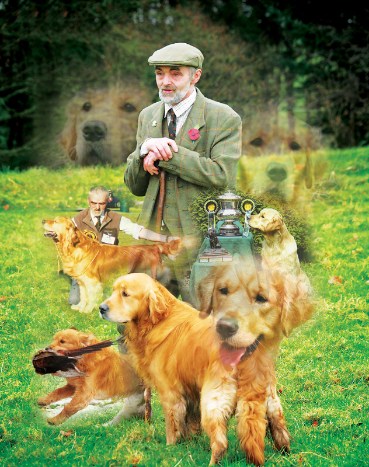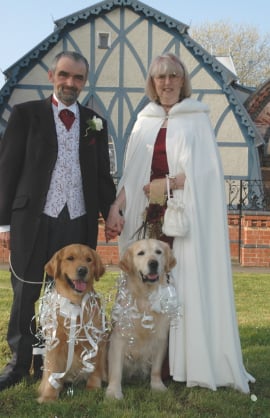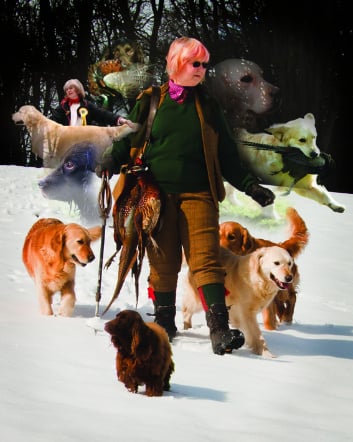 These 3 pictures are 3 specials, which we wanted to include on our website. 1st is a montage of Rich & Hail. 2nd is when we got Married in 2005 with Hail & Storm as page-boy's. We had been working all our dogs together for 11 years prior to that. 3rd is another Montage of Jen [me] working in snow Twig, Willow, Twister & Hazel + Tillie, Storm, Crea & Windy added in.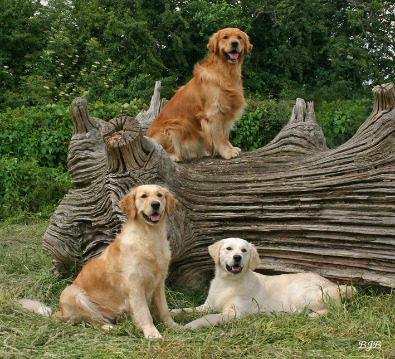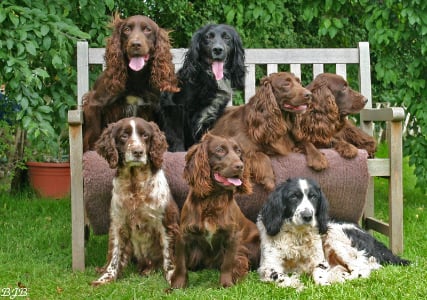 Sadly none of these dogs are with us any more, but we do have a mixture of the shades of Gold allowed within the Golden Retriever Breed Standard.
[The photo of the 3 Goldens was used on the front cover of one of the European GRC's magazines].
The Spaniels were a mixture of Working Cockers, Working English Springers & Sussex Spaniels.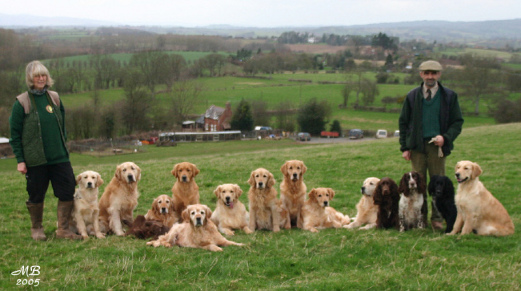 This was Jen & Rich + the Purbarn Pack as was in 2005, just too good a photo to be left out of our Website. Sadly not one of these dogs is with us now, but we have many of their descendants.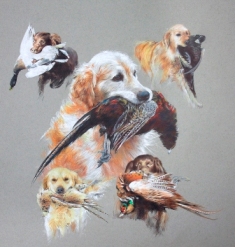 The Gunroom Portrait.
The original of this now hangs in our diningroom It was all done with coloured pencils and every hair shows it is stunning !!
The Gunroom Portrait (above) & both the Montages were done by Phil Burbridge. (his link is on the links page).