Teal 2014 Litter
Teal
We have now found forever loving homes for all the puppies from this litter.

This will be the last Chocdrop litter bred here as both Teal & Tillie are too old and we do not have any young stock to carry on the line.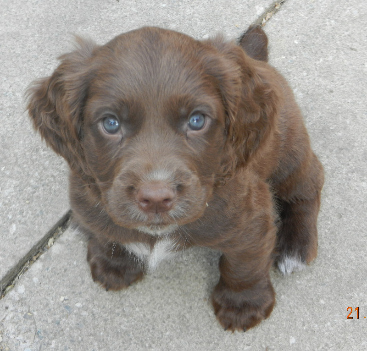 Teal was scanned with 10 and true to form had one more hiding somewhere which had not been seen on the scan, so we have 11. Also true to form with this line they were born early by 5 days so she ended up with 6 Bitches & 5 Dogs, born on 3rd August.
If you think you might be interested in a puppy from this litter they - if they are anything like their predecessors - should be great little characters & very versatile making great family pets who will play with the kids in the garden & on walks, do obedience, agility & / or work as a Gundog out on a shoot (Teal is a great Beating dog as well as very sweet-natured with the Grandchildren when at home & her elder full sister Tillie is a fantastic Picking-up dog as was their mother Twig & Uncle Tucker)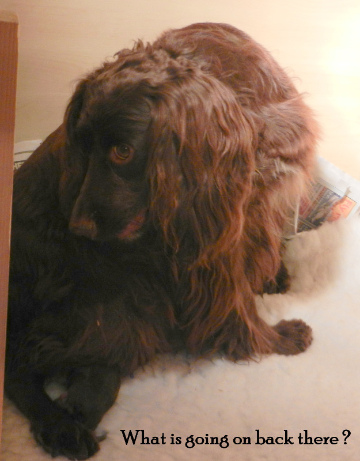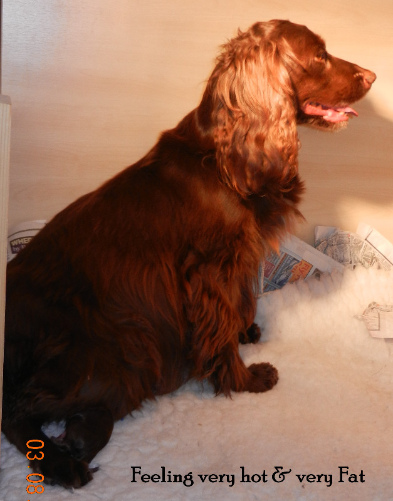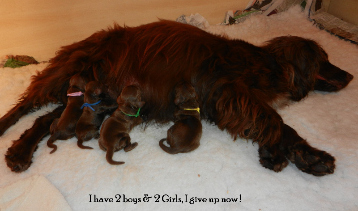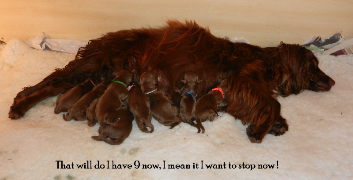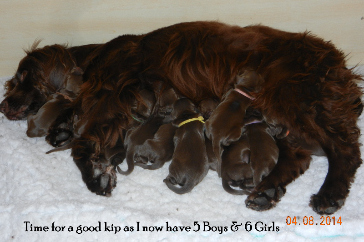 Well the birthing process is finally over & we have a lovely litter of 11 clean dry Chocolate puppies on a clean dry Vetbed. All puppies are colour coded with a different coloured collar for each one, this is so we can identify each one at a quick glance.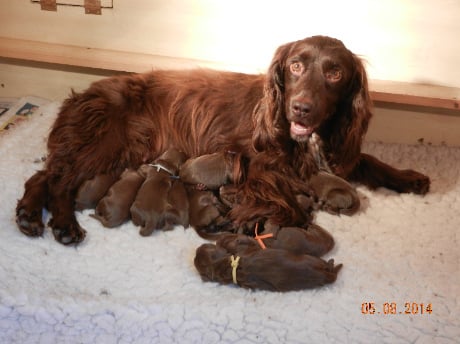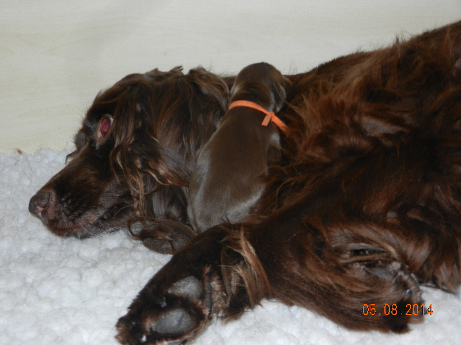 Please don't look so surprised I did it didn't I ? & now the kids are taking over holding me down for another kip !
Well we are a week old now and the following photos show us all being totally chilled out !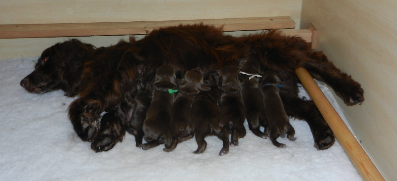 Sleeping is the name of the game for all at this stage ! Teal included !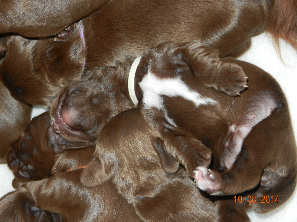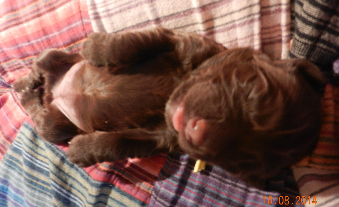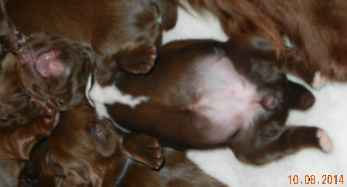 The middle photo was just after having the weekly weigh-in & nail trim, totally laid back & chilled out !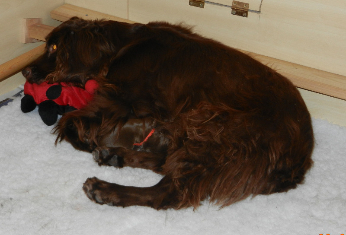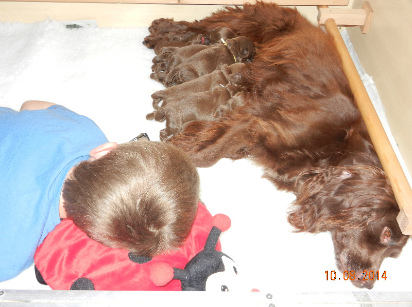 The soft Ladybird toy seems to be a hit with both Teal & Marcus as a pillow.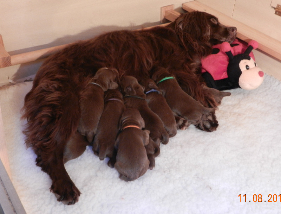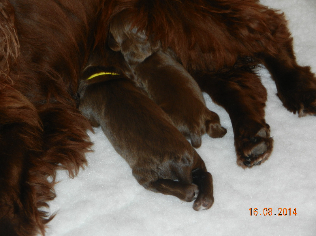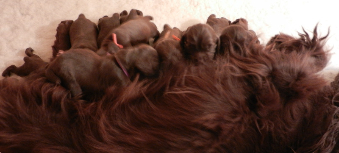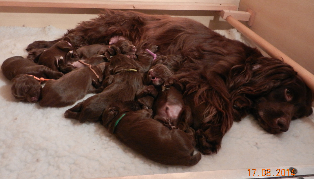 Little & Large at the milk-bar. When all try to get to the Milk-bar it is, get in however you can. All chilled out together .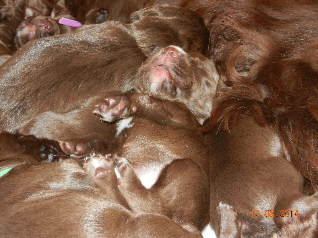 Laid back !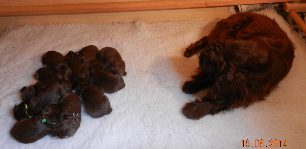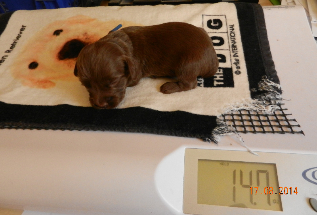 At almost 2 weeks they have had their fill & The first born at 2 weeks being weighed, having more than doubled his birth weight !
Well they are growing & changing by the day & so much has happened in the last week & we are now 3 weeks old.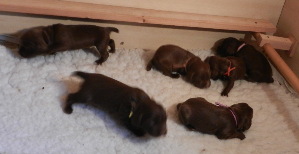 Our eyes have opened & we can now see, we have also found we have legs that work for moving about & we have found we can escape from the Whelping Box. So an extra board has had to be added at the front of the box, so it won't be long now before we are moved into bigger more secure quarters.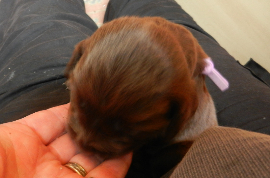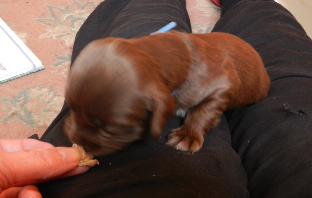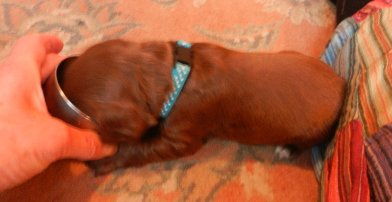 We have also found solid food is great but some of us still think it needs sucking more than chewing so we need some help at the moment, having no teeth yet does not help !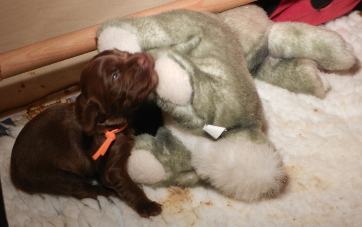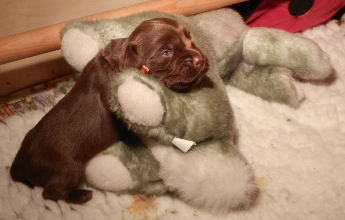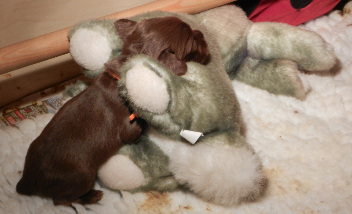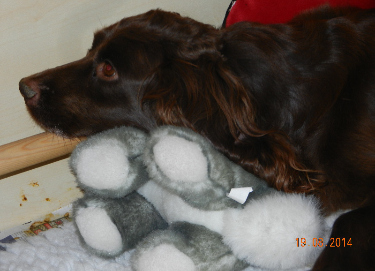 Killing the Rabbit seemed to be a good idea, but I gave up eventually & fell asleep on it, but them Mum took it as a pillow.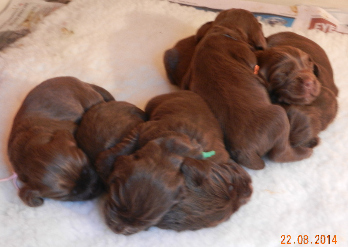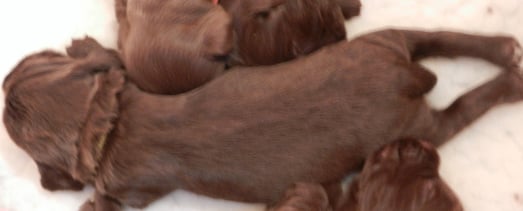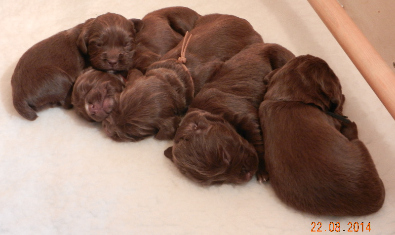 Sleeping is still the best pastime ! But we are told we are growing when we are sleeping.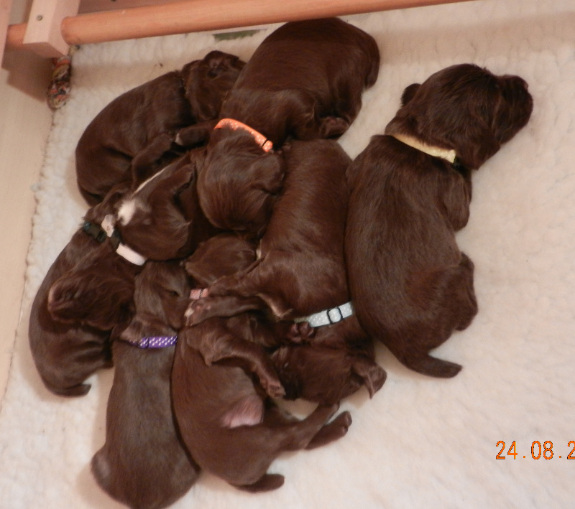 We must be growing well as we now have the new fashion accessory proper collars.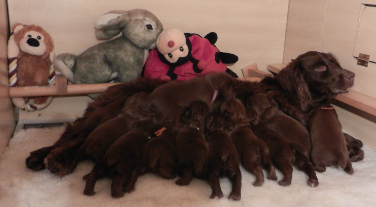 It is exhausting work being a Mum to so many, I can't even hold my own head up any more !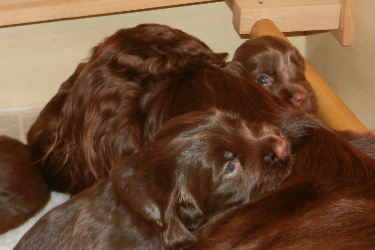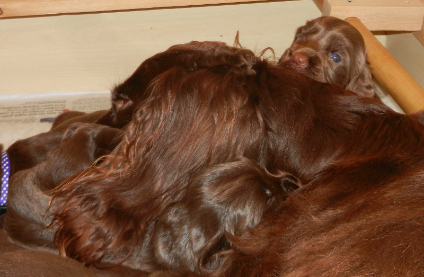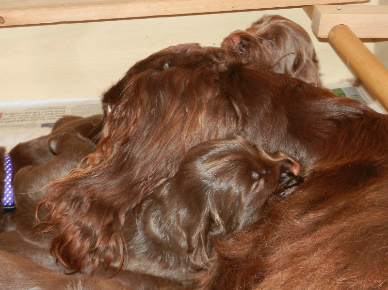 Lets play hide & seek, No lets go to sleep again, Oh ok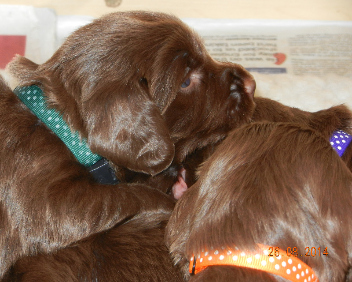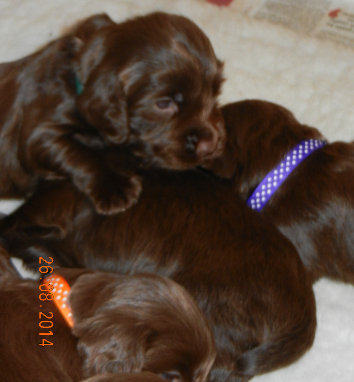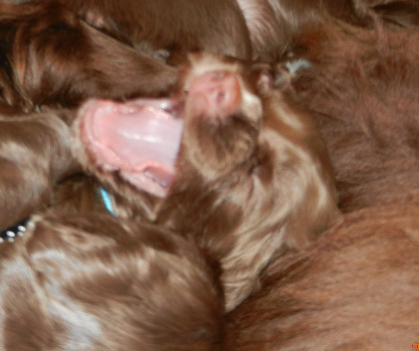 Showing off our new fashion accessory, of cause there has to be one who just laughs at us !
Now we are 4 weeks old, the photos below show us between 3 & 4 weeks, now in the bigger Puppy Pen in the sitting room.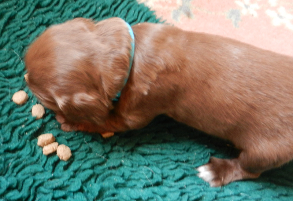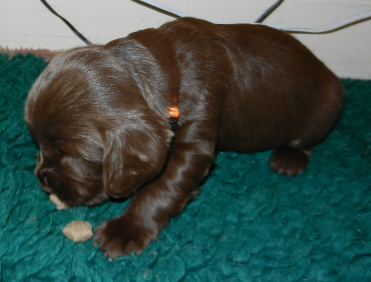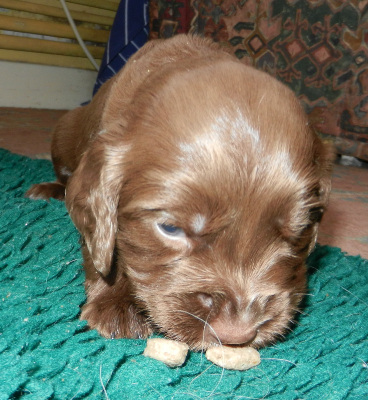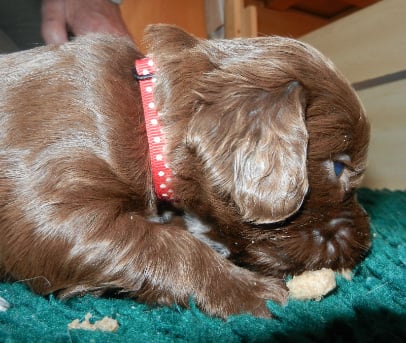 We've still not quite mastered eating the solid food without help from a bowl, but we seem to manage much better when fed on the Vetbed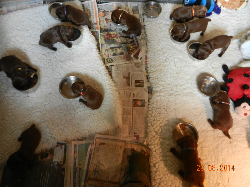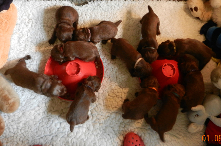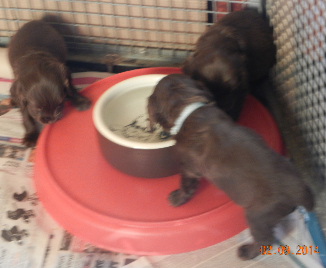 All 11 of us tried feeding in separate bowls, but it was not a great success so going to 2 big bowls seemed to work much better ! and we are mastering drinking water too, but sometimes we get our paws wet as well as our noses !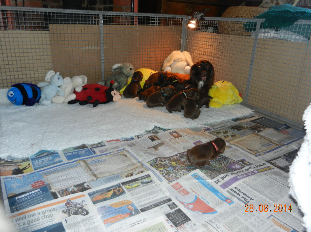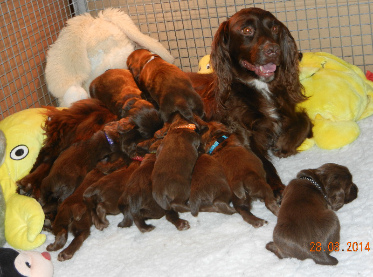 Mum seems happy with the move & is very comfy between the soft toys.We've now got loads of room to play in, but early on some of us got a bit lost.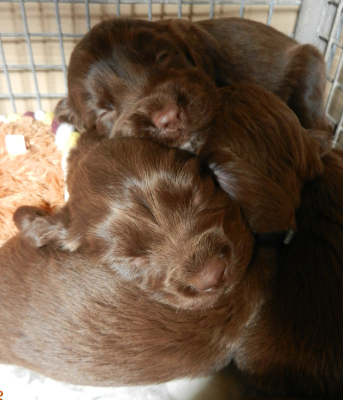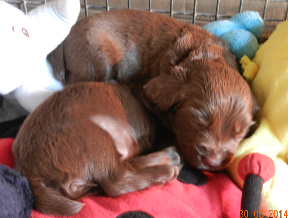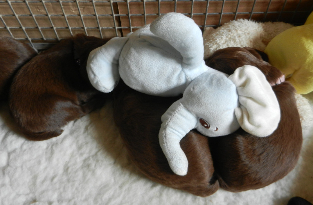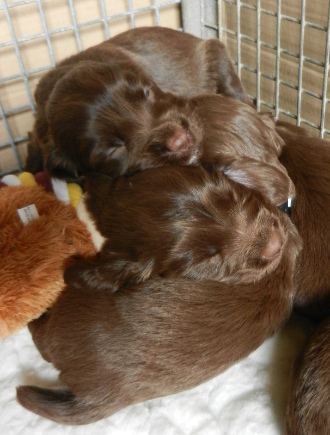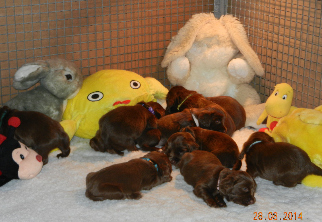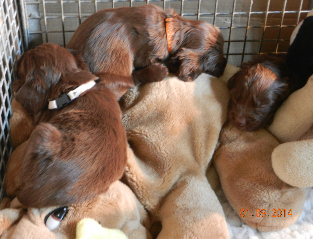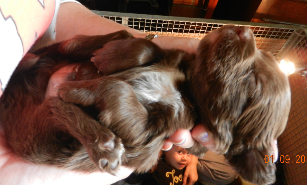 Sleeping is still the favoured pass-time. Snuggling up with a sibling or with or under a soft toy is the best way to sleep.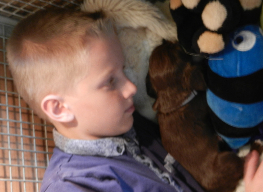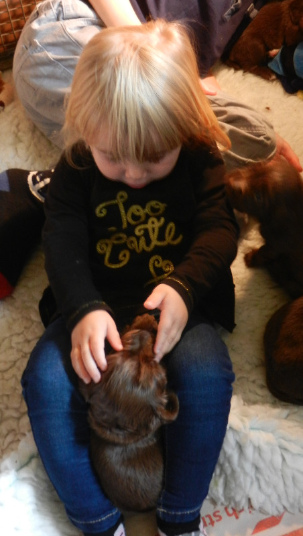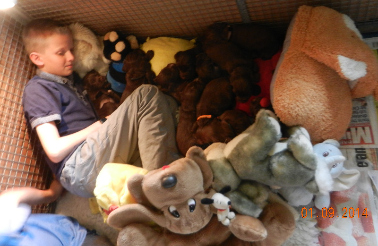 Jack & Jody love the puppies, Marcus & Dylan put all the soft toys round the puppies to keep out the drafts, so they said.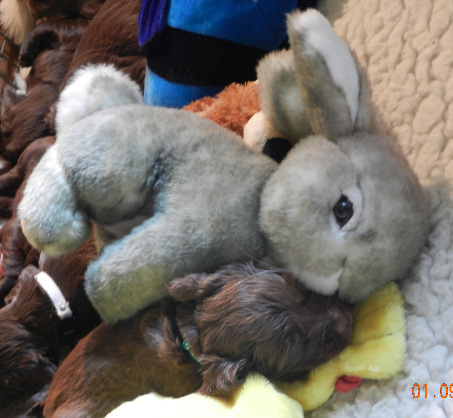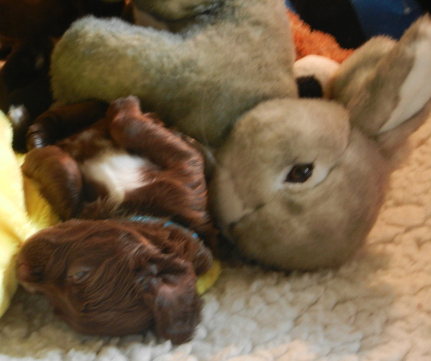 Snuggling up with a big bunny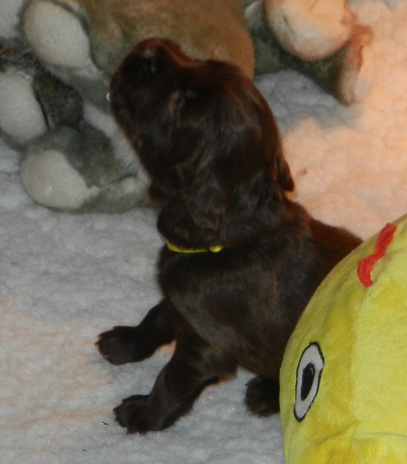 When awake some are learning to howl when the others won't play with them.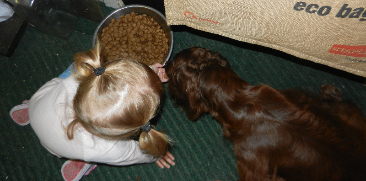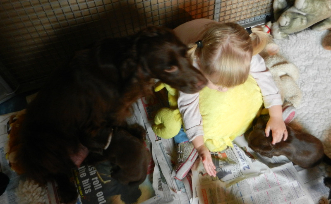 Jody (aged 2) loves to feed Teal from her bowl , but Teal also loves Jody too & has no objection to her playing with her Puppies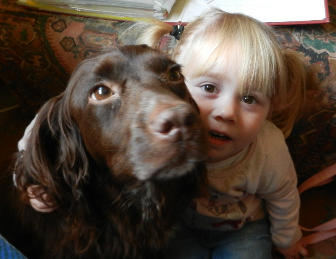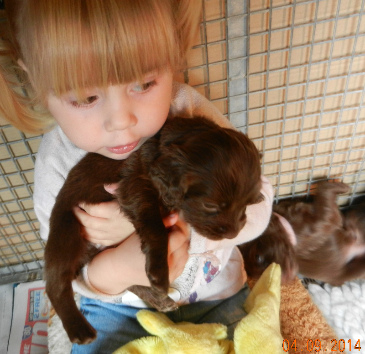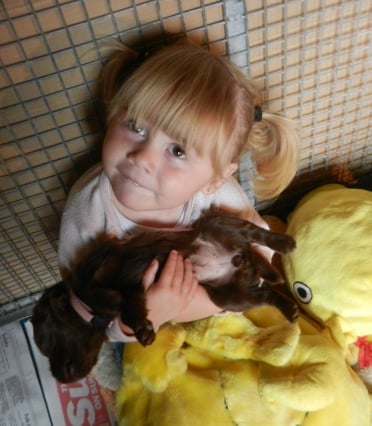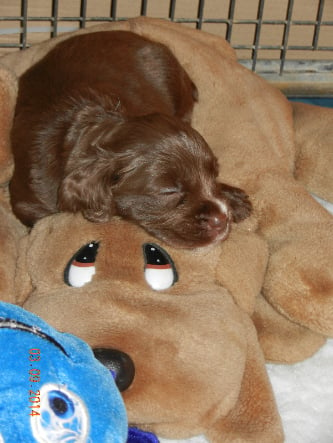 Just a cute photo !

Well they are 5 weeks old on 7th Sept & will be going out into the kennel soon, so the next bunch of photos will be of them in a new environment !
Sadly I have been out of action for a bit & had a spell in Hospital so the updating of photos did not happen when I expected. The pups have been well looked after in my absence by Rich ably assisted by my daughter Sally & the 4 Grandchildren. I have now got a few photos of them enjoying a different environment, well I say enjoying, it was all rather scary at first, but the Grandchildren helped them over the initial fear !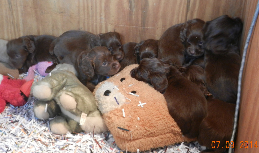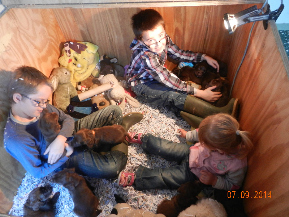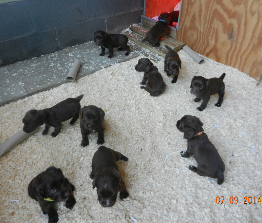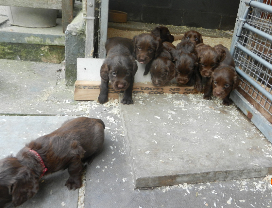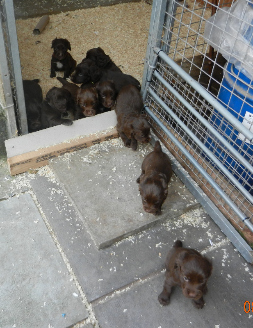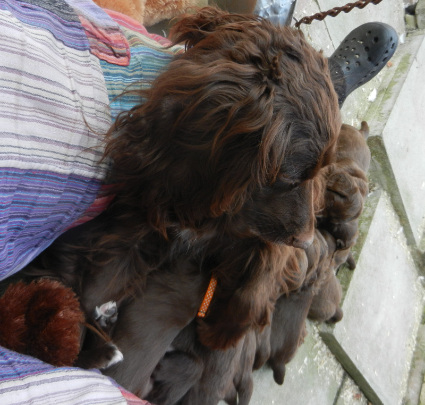 The best way of getting them out was to have the poor long suffering Teal lie on the floor between my legs so they would realise that if they came out they would get a go at the Milk-Bar, it worked as now they are all over the place.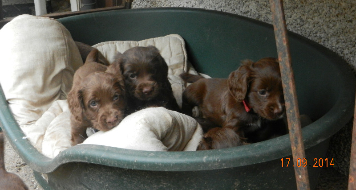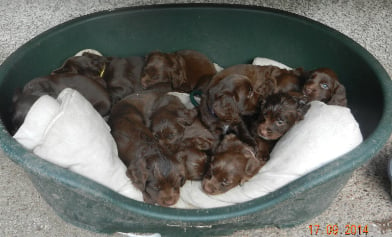 Some discovered an old dog bed with a dirty old duvet in seemed a great place to play, but then they all decided it was a good place to sleep too !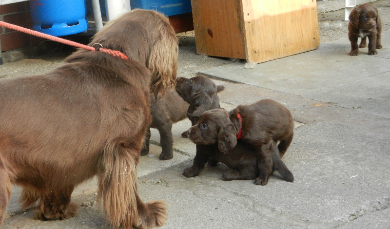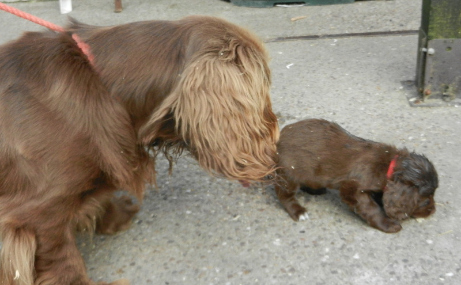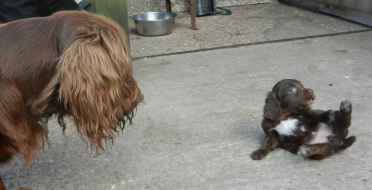 Dad Mikki [not to be confused with our Micky] meeting his offspring for the 1st time & one took a shine to her Dad & he licked her on her head, she then became totally submissive.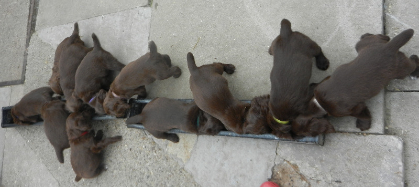 Feed time seems to be a matter of the more of your body you get in the trough the better chance you have of getting the lions share, although human intervention seems to put pay to that escapade normally !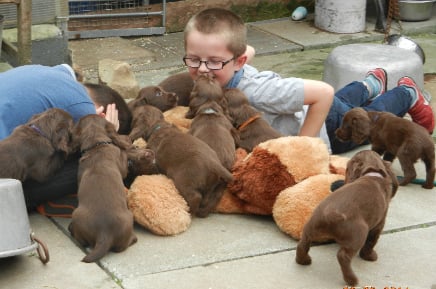 But playing in the yard with the Grandchildren & a big soft Toy Dog is the best pastime ever.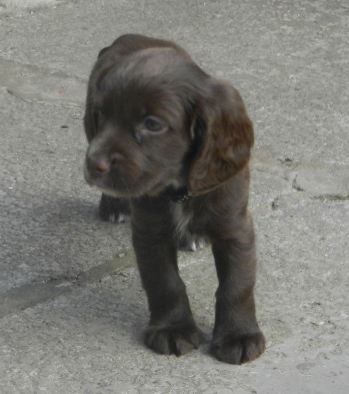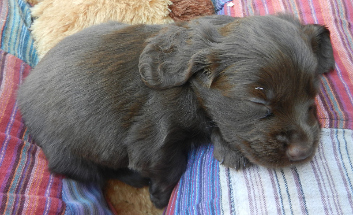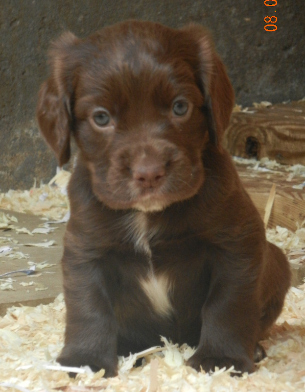 Trying to get them to stay still long enough for an individual photo has never been easy, but I did get a few when awake ones !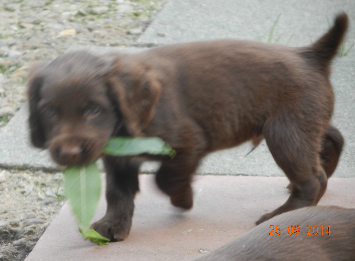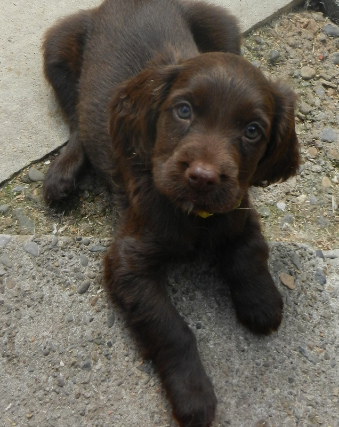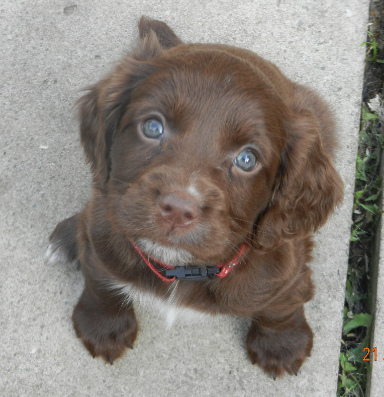 & socializing with Rain, he is great with them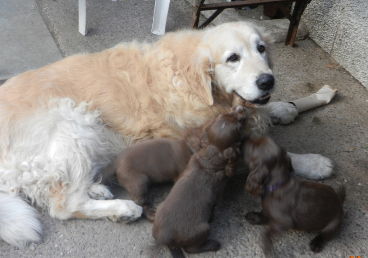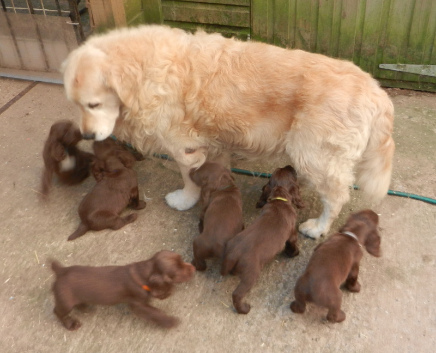 Oh & we are never asleep when it comes to food time, we make sure it is gone in seconds !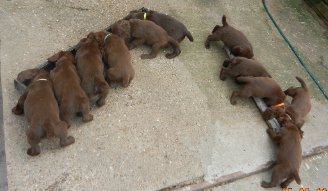 All are now spoken for !