Truffle
Truffle

[Tucker (half Sussex & half Working Cocker) x Bridie (Working Springer]
DOB: 23rd November 2004 - 14th November 2014

Truffles Eyes have been checked every year by an Opthamologist Vet since a youngster & are still Clear in 2014.

In the summer of 2014 Truffle became rather ill & it was found he had an Auto Immune Mediated Anemia, for which he was put on high doses of steroids, which eventually seemed to have the desired effect, but sadly he became poorly again in November and when coming in from the field he got knocked over & could not get up. The Vet thought he may have damaged his spine as he could not move & if we tried to move him he was screaming in pain, so we felt it only fair to save him from further suffering to say goodbye to him.
Truffle started late in life as a Stud Dog like his Grandfather Bib & was mated to Teal producing his first & ultimately his only litter in 2013. But he made up for lost time with a litter of 12 !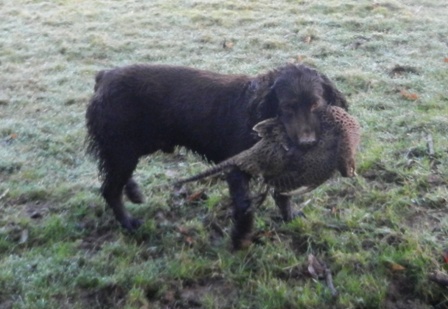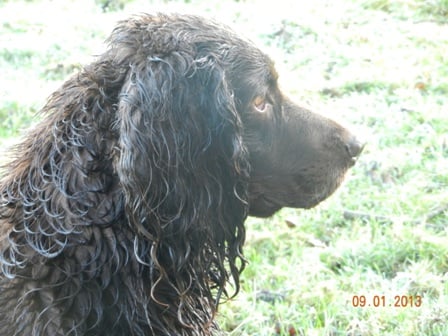 Both these 2 photos were taken of Truffle out picking up during the 2012 / 2013 shooting season.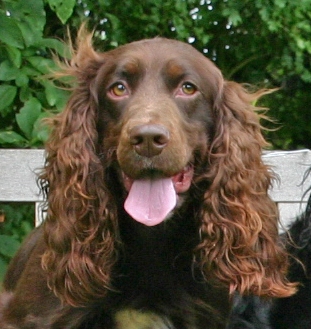 Truffle having a bad hair day.
'Truffle' was an accident, but he turned out ok. Both 'Tucker' [his Sire & the first ever cross between a Sussex Spaniel 'Ellie' & a Working Cocker Spaniel 'Bib' producing the first ever Chocdrop litter] & 'Bridie' [his Dam & an unregistered Brown & White Springer Spaniel] shared the same kennel together & although none of the other dogs in the pack were taking any notice of 'Bridie', 'Tucker' had other thoughts & they were found one morning rather more attached than just close Friends & the result was a litter of half looking like 'Bridie' & half looking like 'Tucker'.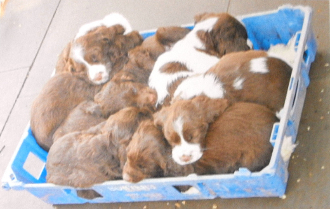 Truffle was one of this lot snuggled up in an old bread tray together, they destroyed every cardboard box they were given so this seemed like the next best thing & they seemed to like it.