Aurora
Golden Tunes Over The Rainbow Into Purbarn
[SWED Ch Gildas Baryshnikov x Stanroph Stefania]
29th September 2009 - 31st August 2018
Hips 7 : 7 = 14. Elbows 0 ; 0. Eyes tested Clear Feb 2017. Also DNA tested Clear for both GR-PRA 1 & 2
Sadly we had to say Goodbye to Aurora in our opinion far too young, but after she was diagnosed with Liver Failore. She coped extreemly well for just 4 weeks still enjoying her food & her short walks, even digging up mice nests, but sadly the buildup of fluid in her abdomen started to press on her lungs & when lying down she was starting to find it hard to get her breath, so to save her any suffering we let her go Over The Rainbow Bridge.
Crufts 2018
Aurora's first time with Rich at Crufts in the Bona-fide Retired Gamekerpers Class where she took 2nd.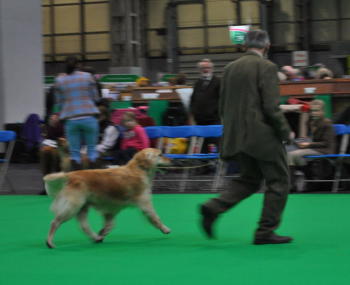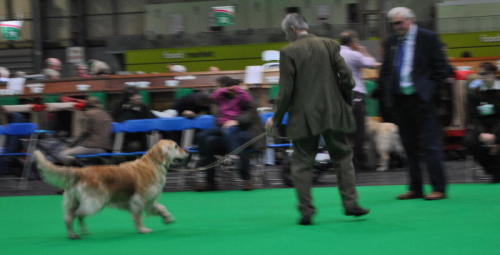 2017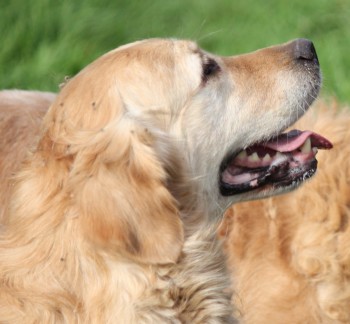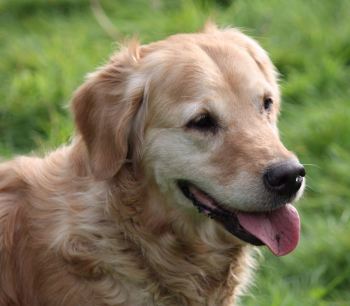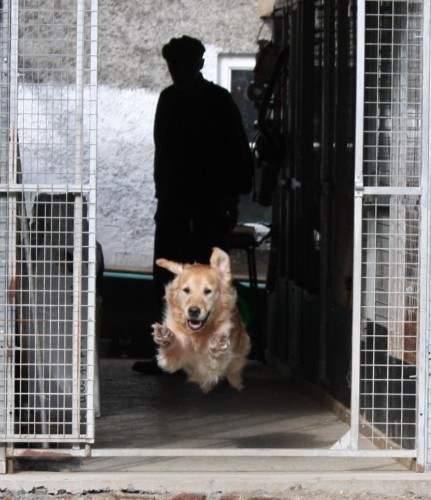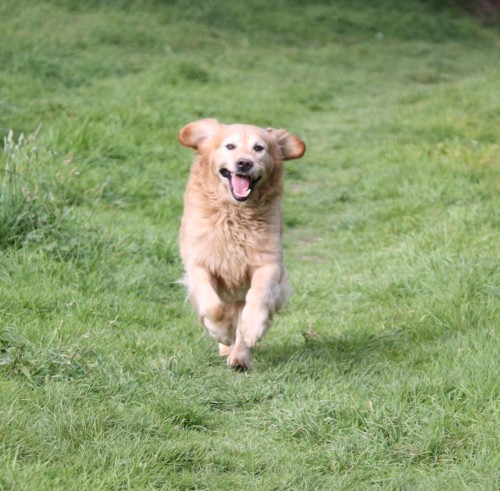 Great ! time for exercise !
The above 5 photos were taken in August. I just love the photo of Aurora taken as she was coming out of the kennel block and captured in full flight by Kirstie Halliday.
Aurora had puppies born 2nd Jan 2017, to our Twister again. Sadly she had to have a C-section and due to her uterus rupturing she also had to be spayed, but this is no bad thing as now she can join the picking-up team more often as seasons won't stop her.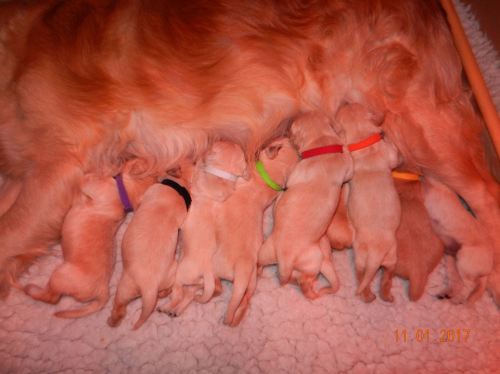 Aurora did a few days out picking-up early on during the 2016/2017 shooting season before coming in season and being mated. She has become very good at game finding with a good nose and extremely fast.
On the 15th March 2015 we took Aurora to SWGRC Championship Show under Mary Neil (Moloko). We decided Rich would show her as he can keep up with her when she moves. So we were both delighted when she took 2nd in Open Bitch Class, this in turn gives her, her SBN (Stud Book Number, which in turn qualifies her for Crufts for life) (the photo was taken when standing for the critique to be written)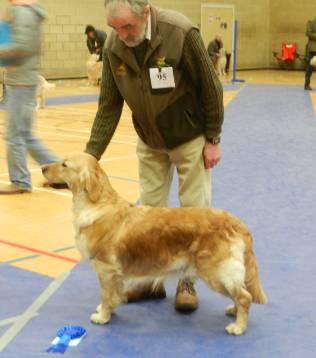 Due to a very odd moult during 2014 Aurora remained out of the ring for most of the year, we did manage a few shows where she got a couple of places. We also had her out on the shoot where she is very keen & it is easier to keep her from running in during the drive by keeping her on lead, but Dylan could not hold her so she was tied to the Shoot Truck (in the photo below) till the drive was over !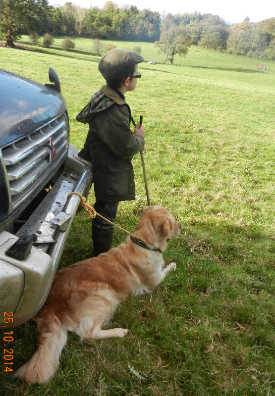 Time seems to fly by and Aurora has been with us over 2 years now & has settled into life as a Purbarn Pack member well & is now back in show condition after her litter in 2013. So we took her to Manchester Champ Show on 19th Jan, where she behaved herself & got short listed into the final 8 from an entry of 28. So that will do for starters !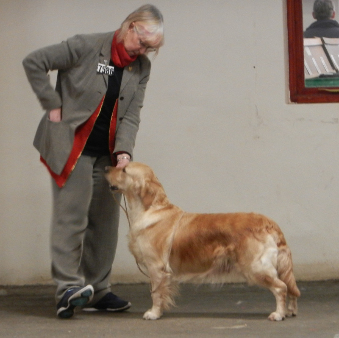 This was Aurora in the ring at Manchester 2014.
** There are puppy photos of her 2013 litter under Puppies **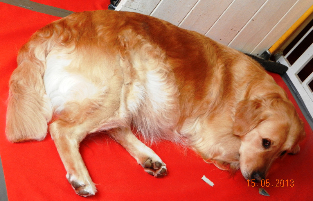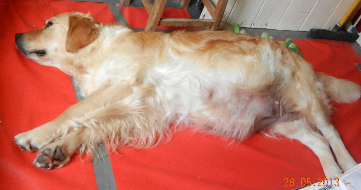 Getting fatter by the day ! getting used to my office where she eventually reared her puppies.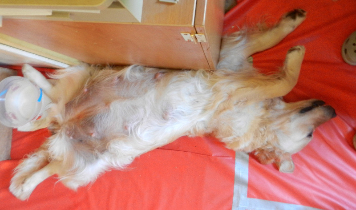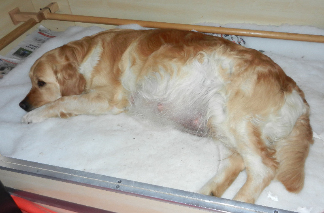 She looked more like a beached Whale than anything else as she got fatter & she decided that the whelping box under my computer desk was a good place to be.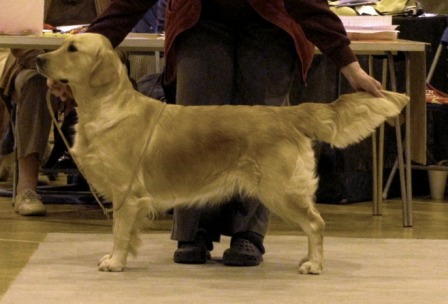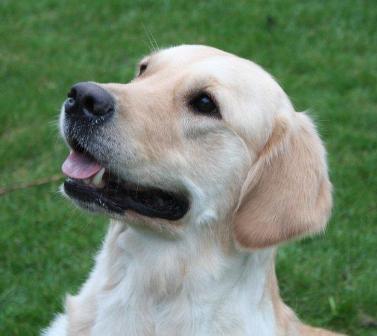 Aurora was given to us and brought over to the UK in Jan 2012 by her Danish breeders Nina & Lars Behrens Jensen.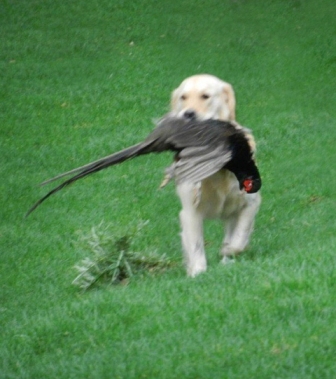 This shows Aurora is capable of doing the job she was bred for. This was her 2nd retrieve on the Pen-Y-Lan Shoot, 2 day's after she arrived here when Nina & Lars were still staying with us.

After Aurora's 1 year with us she has become very much part of the Purbarn Pack. We have shown her & she has had Champ Show placings & BOB's & Group Placings at Open Shows. But a few months after she arrived she split a claw and then after that was ok and she was able to run free again she went wild & then damaged a tendon in a front leg so was back to being exercised on lead till she had finished her treatment & was sound again. We did take her to a couple of Open Shows after that and she took BOB + G2 at one of them. Then she chucked her coat and soon after that came in season, which is when we mated her to Twister.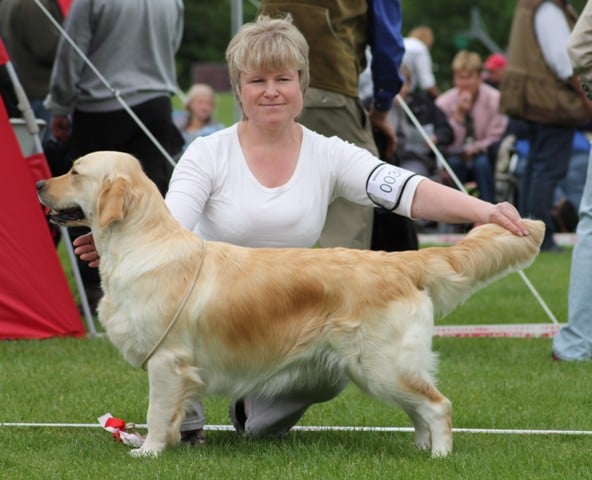 Aurora with her Breeder Nina in Denmark

I first saw Aurora when I Judged at the Danish Golden Retriever Club Championship Show in April 2011. I gave her the equivalent to our CC & BIS & one of the things I wrote in my Critique was, 'I would love to take this bitch home'. Then in the October 2011 I was asked if we would like to have her ! Well my first 2 questions were 'Why don't you want her anymore & what is wrong with her ?' It turned out that in Denmark the Danish KC have strict rules & you can't breed if the hips are C or above & she had a B one side & C the other. So it was decided the x-rays would be sent over for the BVA to score them. She came back with a 7 : 7 = 14 so we were happy and so were Nina & Lars. So after a few hick-ups with paperwork Aurora was brought over here by Nina & Lars in January 2012 & the rest is history as they say. But Rich & I would like to take this opportunity to thank not just Nina & Lars Behrens Jensen for letting us have her, but also to thank Suzanne Holten [Top Of Jutland's] for suggesting they ask us if we would like her.
Pedigree

UK Ch Chinnordale Kerriebillie JW
Swed Ch Combine Hennessy

Swed Ch Combine Flames of Fantasy


Swed Ch Gildas Baryshinikov

Trewater Overture

Gildas Sky Is The Limit
Gildas Kissing Cousin

Dreamylake Dayandnight
Stanroph So What Will Be (AI) JW

UK Sh Ch Stanroph So Let It Be (JW)
Stanroph Stefania
UK Sh Ch Stanroph So It Had To Be (JW)

UK SH CH Stanroph She's Got The Looks (JW)
Stanroph Secret Finale