Teal x Truffle Pups 2013
Teal's Litters in 2013
All these 12 lovely puppies are now in their new homes. Lancashire & Birmingham being the furthest away with many staying closer to hear in Wales. We do however plan to mate Teal's elder full sister Tillie next spring.
Teal had 12 puppies 4 dogs & 8 bitches between 11:45pm on Thursday 30th May & 7:30am Friday 31st May.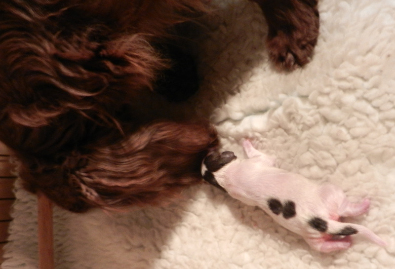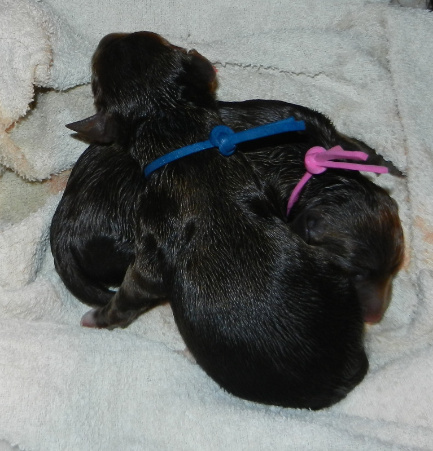 1st born was a bit of a surprise, well not really as Granny on Truffles side was a Brown & White Springer. The next 2 look black, but the Chocolate ones do when first born and still wet.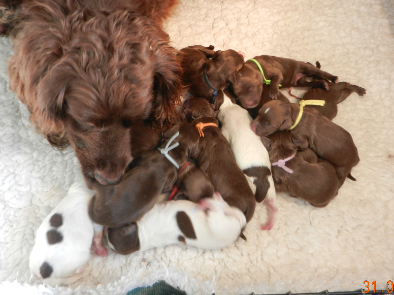 All dry and clean on a clean Vetbed.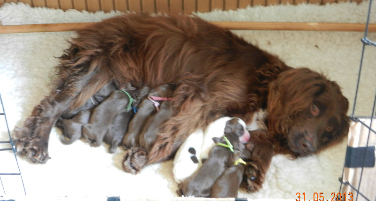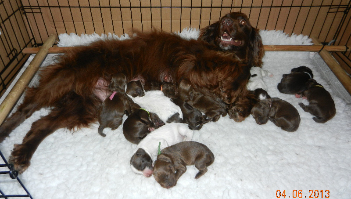 Time to relax with her brood. Poor Teal is now finding it rather hot work looking after 12 little ones & the hot spell we are having is not helping.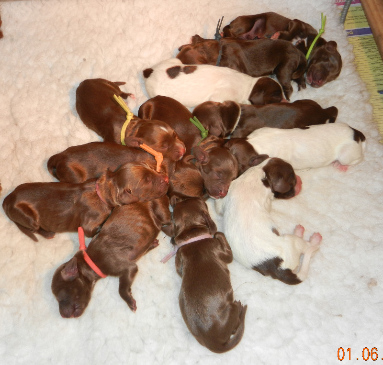 The Brood relaxing without Mum. They seem like a contented bunch.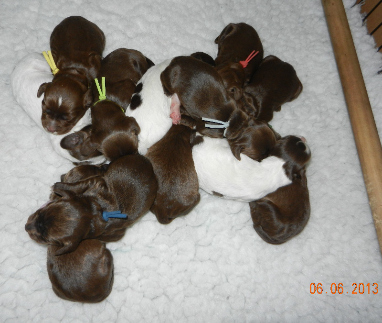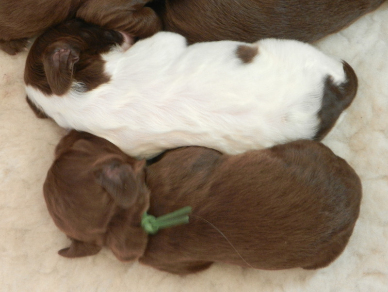 1 week old now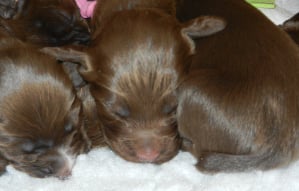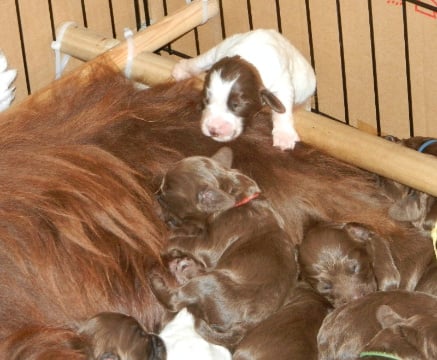 Oh so Cute. How do I get over this bar ?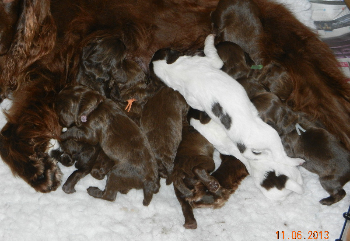 Not much room at the Milk-Bar for all any more ! But all still growing well & Teal is as usual being a fantastic & caring mother.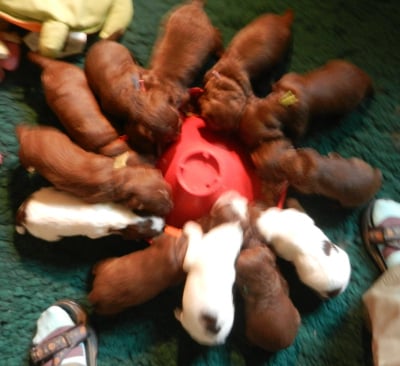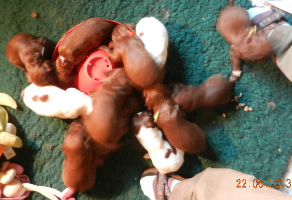 This was their first feed from the bowl very orderly to start with but it then became a free for all.
There seems not to be enough hours in the day at the moment, so as all the livestock come first the updating of the website is a bit behind, but here are a few photos to be going on with.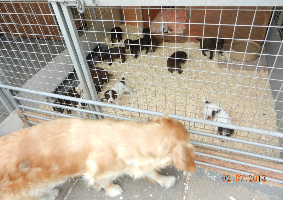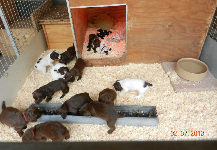 Aurora seems fascinated with the Spaniel Pups now that they are outside in the kennel. The Spaniels love their food & it is just the greedy ones having a last look just to make sure they have not left even one nodule .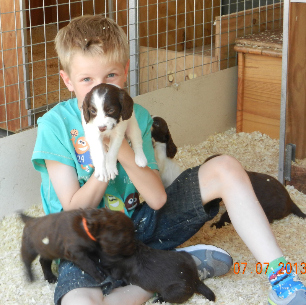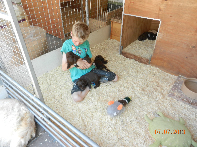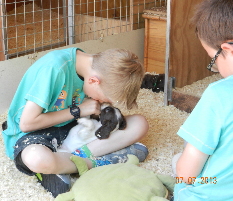 Jack playing with the puppies in the deep woodchips in the kennel, Dylan decided to join in later.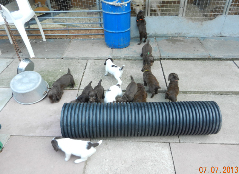 This was their first adventure outside the kennel. They have not found about the fun of chasing each other through tunnel yet, but they will ! Great experience for those who are going into homes where they maybe doing agility when older.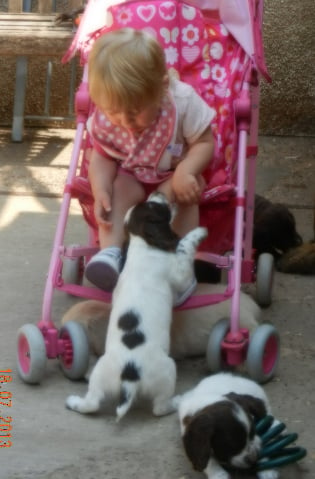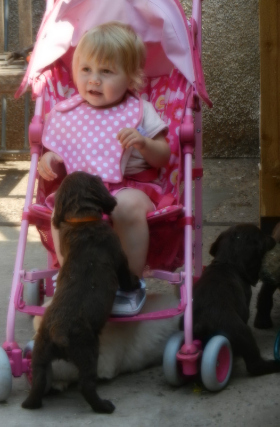 Jody loves the puppies, but as she wants to walk everywhere we dare not let he out of her push chair with them for fear of her tripping over one and falling on one, even we have problems walking with all 23 of the puppies out together ! ! BTW the Brown & White Bitch jumping up to Jody fell in love with Jody who was 15 months.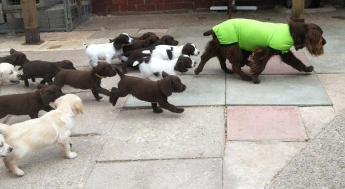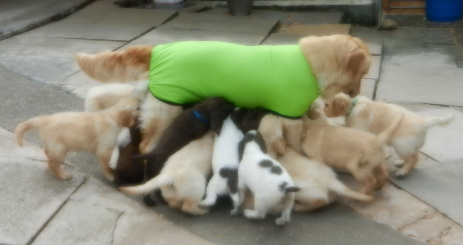 This great photo was taken by Grandson Jack on his phone, it shows Teal in her posh Boob Tube with the puppies in hot pursuit behind her. As we are now weaning the puppies and the milk supply is made on a supply and demand basis if the pups are prevented from suckling the bitches the milk supply will start to dry up more easily, but we do have to keep a very careful check that they don't get too full with milk, as we don't want her to get mastitis like Aurora did at the start. However Aurora is now happy to let them all try !
These Boob Tubes, among other things, can be bought from 'Wagware' & are made to measure. The website details are on our Links list under Contacts.