Micky

Belcam Micky Taker Among Purbarn

[Sh Ch Quintic The Farmer x Sh Ch Belcam Miss Demeanour]
DOB 12th October 2012
Hips 13 : 21 = 34 [below the breed average for the Sussex breed which is 39]
He has also had his eyes checked every year as we do with all our stock & he is Clear of any defects
Crufts 2019
For some reason Jack decided he did not want to show Micky at Crufts this year, so I showed him, I knew I had not made such a good job as Jack has always done in the past & I only got a 3rd with him in the BASC Gamekeepers class. Jack very kindly told me he makes a better job than I do [very kind of him to say so !] but I agreed , so hopefully Jack will show him again in 2020.
2018 Crufts
Jack showed Micky again for us at Crufts in the AOV Spaniel Class for Bone-fide Gamekeepers. But this year they won the class beating 3 other Spaniels. This meant they were eligible to go in the Main Ring to challenge for the Best Gamekeepers Dog In Show, but Jack had said months before if he was to win the class he would not go in the Main Ring unless Rich won his class and was also going in there. But Rich and Aurora sadly only got 2nd in their class so Jack insisted Rich take Micky into the Main Ring for him. Maybe next year he will brave it, if he wins again that is. So there are photos here of both Jack showing Micky and also Rich in the Main Ring with him.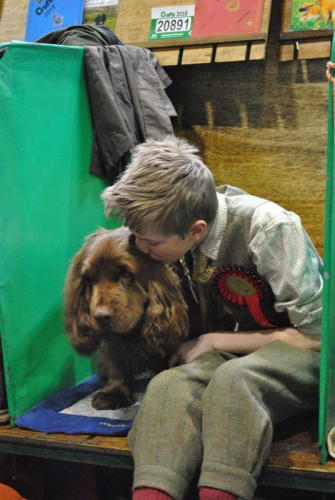 Jack and Micky have a great bond together.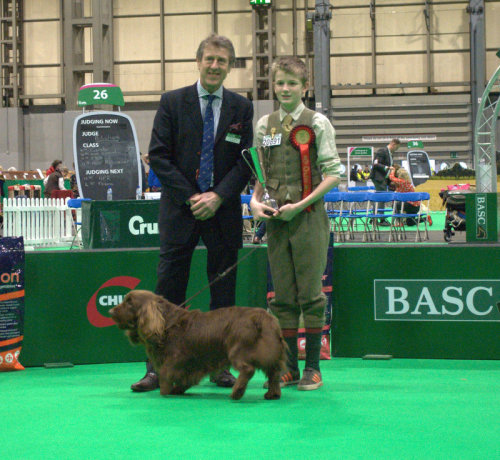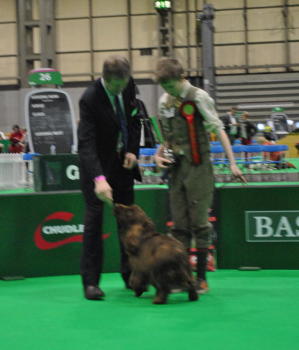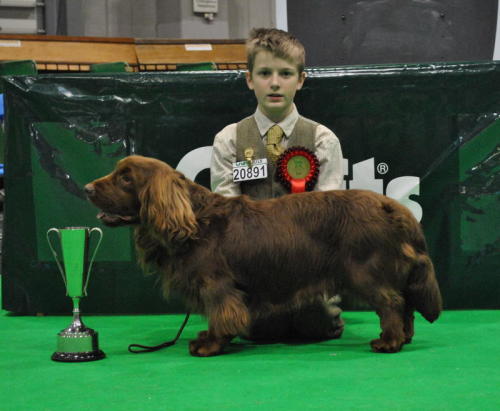 Jack being presented with his trophy and standing Micky with the trophy.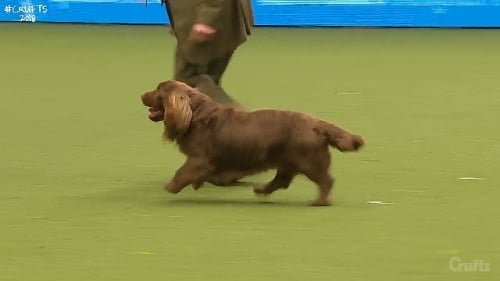 Rich and Micky in the Main Ring at Crufts. They never got anything in there but Micky behaved well for his first time in front of the big crowds.
2017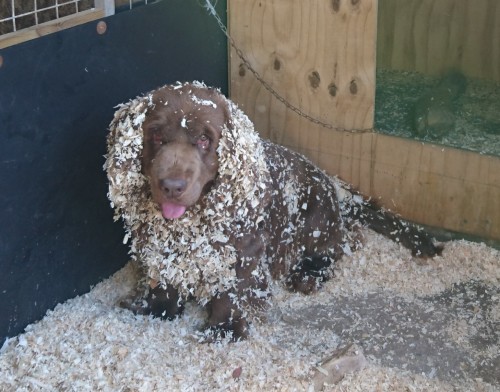 OMG !! I had just given Micky a good brush & put fresh woodchips in his kennel & he decided to have a good roll !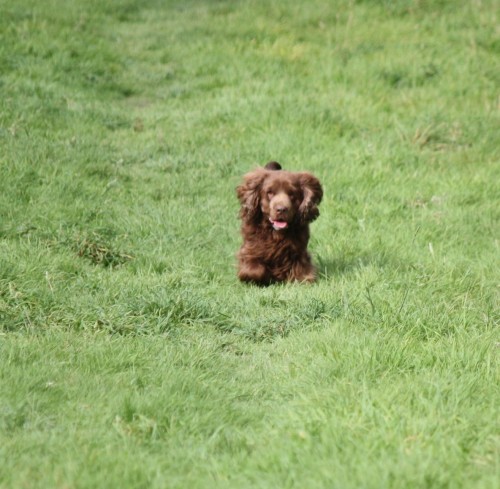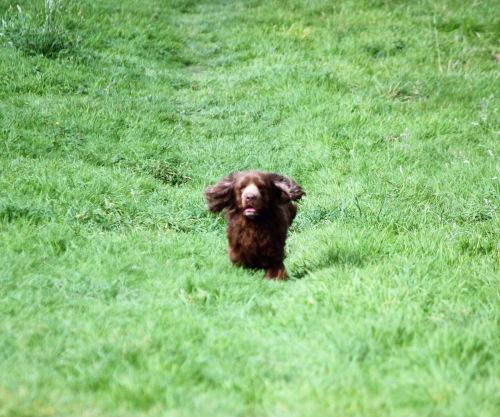 Above are 2 photos of Micky enjoying himself when out on exercise in the field, both taken by Kirstie Halliday in August.
Jack now shows Micky for us more often than not
Crufts 2017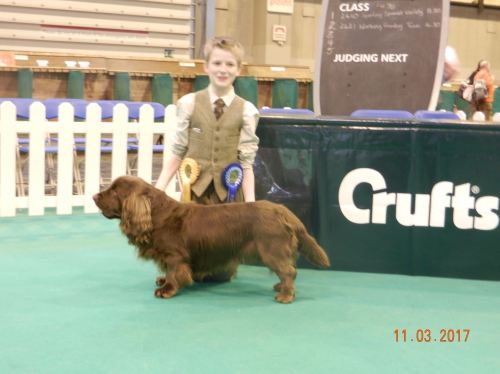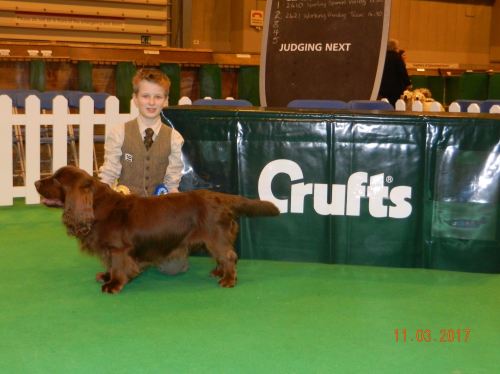 We think these 2 photos say it all ! Jack A very proud and very smart young man who has mastered showing Micky so well that he took a 2nd & a 3rd at this years Crufts in the Gamekeepers Classes. He was complimented on the way he handled Micky by the Judge. They first completed in AV Spaniel Class owned by a Gamekeeper or retired Gamkeeper [other than English Springers] and they took 2nd in the class. Then they showed in the Retired Gamekeepers Class [as Rich is now a retired Gamekeeper]. Rich won the Class with Drizzle & Micky & Jack took a very respectable 3rd behind the Spaniel which had beaten him in the earlier Class. Very well done Jack Ganny & Grampy are very proud of you & so is your mother !
CRUFTS 2016
Micky had 2 handlers at Crufts in 2016, with Rich showing him in the BASC Bona-fide Gamekeepers Class for AV Spaniels (other than Springer's) gaining a 4th. Then Jack took him in the BASC Junior Handlers Class for under 14 year olds. They did well but this was only Jacks second time doing Junior Handling where the Judge looks for all aspects of handling the dog rather than the dog itself and to whittle the quite large class down was doing some sneaky things to test the children's handling skills, this included moving one of the dogs legs into the wrong place, expecting the child to place it back in the correct position. Jack noticed her do it but though he had put the leg in the wrong position and she was just correcting it, but infact the total opposite was the case. Jack looked extremely smart in his shooting breaks and matching waistcoat. After a very early start both were found crashed out on the benches later in the day.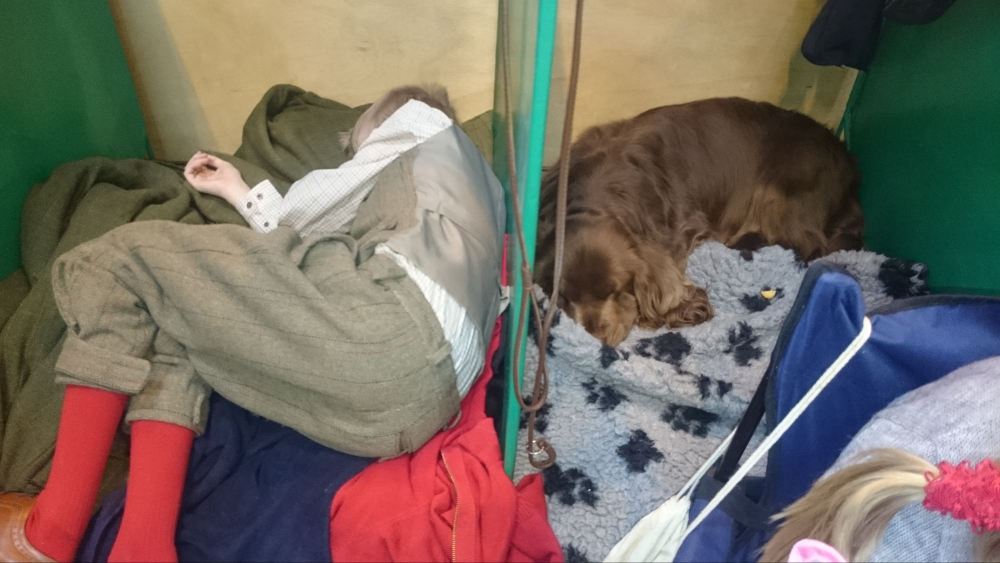 Jack continues to do well with Micky & Showed him for us at Stoke-on-Trent Gundog Open Show on 31st Jan, taking 1st in PG beating a well known face in the breed ! he then went onto take RBOB behind this persons other dog. There was then a competition for all RBOB winners in which they took 3rd.
At Manchester Championship Show on 17th Jan 2016 they again took 1st in the Limit Dog Class.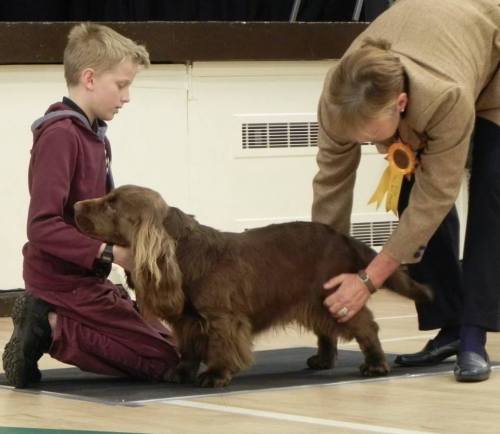 Jack showed Micky at the SSA Champ Show under Ann Moon 26th September 2015. He made a great job of it not just winning the PG class but also the JH class, I could not go as I was Judging at another show on the same day and Rich had a Duck Shoot here. We were chuffed when he came home with 2 firsts. Well done Jack ! & Thank you.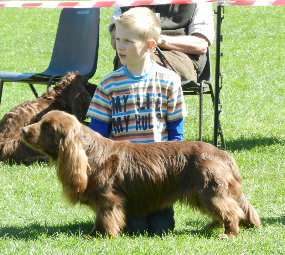 Grandson Jack came with me to the SSA Open Show on 11th April 2015. He was asked if he wanted to go in the Junior Handling Class with Micky. At first he declined, but after having a short practice outside the ring he decided he would have a go after all. He made such a good job of it not only did he win the class [out of 7 entries] but also the Judge said to us afterwards he showed Micky better than I do! Well done Jack ! Having made such a great job of showing him I have asked Jack to show Micky for me at the SSA Champ Show in September 2015 as I am Judging elsewhere that day. So Good Luck Jack & Micky !

I showed Micky in both the Graduate Class and the Not Bred By Exhibitor class and he won both. So we had a good day winning 3 1st's.
A walk in the snow drops after the shooting season was over.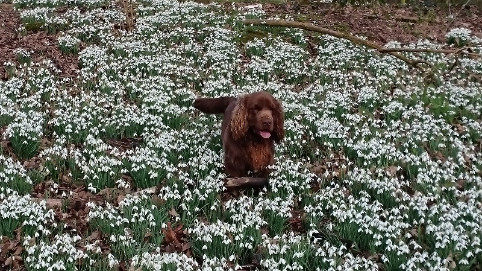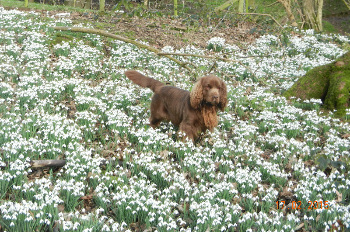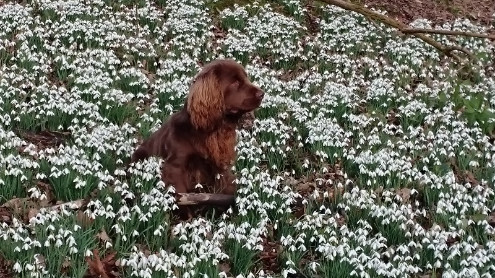 During the past Shooting Season here, Micky has been out in the Beating line with Rich & is learning the job well. The photo below was taken early in the season, before the leaves were off the trees.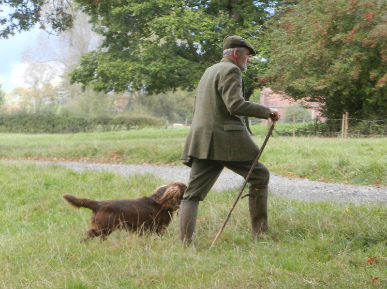 We took Micky to The Sussex Spaniel 90th anniversary Championship Show on 27th September where we had him entered in the Yearling Dog class which he won bringing home the trophy's below. We could not give him Champagne in it but he had some tit-bits from it.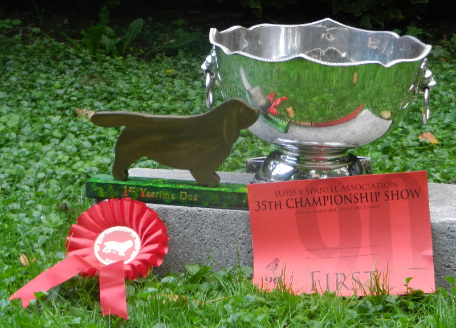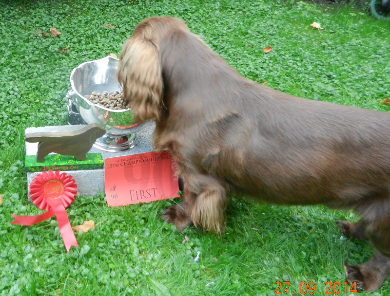 We took Micky to Shropshire Gundog on 25th May & were delighted with RBOB from a good entry for an open show of 10.

1 week after Crufts we went to 2 Open Show's where we managed a 1st & a 2nd & got some other photos of Micky winning his class.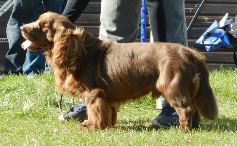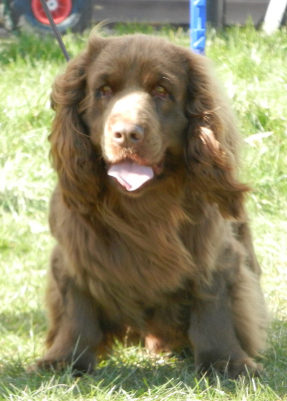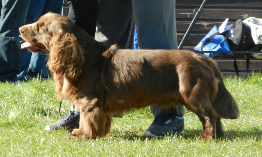 Plus one professional one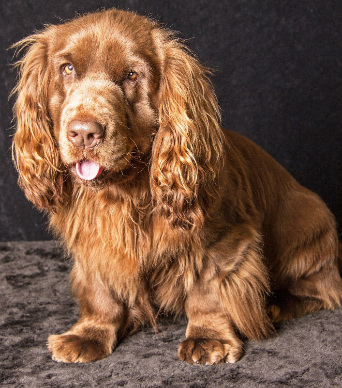 CRUFTS 2014
Micky went to Crufts for the first time & we were very pleased with him as he behaved extremely well & won his class ! Having won this year it automatically qualifies him for entry to Crufts 2015 ! Sadly because Rich is Judging at Crufts neither Micky or any of our other dogs will be allowed to take part. This will be the first time in over 30 years there have been no dogs at Crufts from the Purbarn Kennel. Photos off Grandson Jack's phone, so sadly not 100% clear.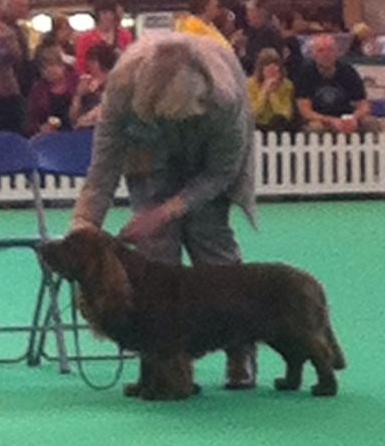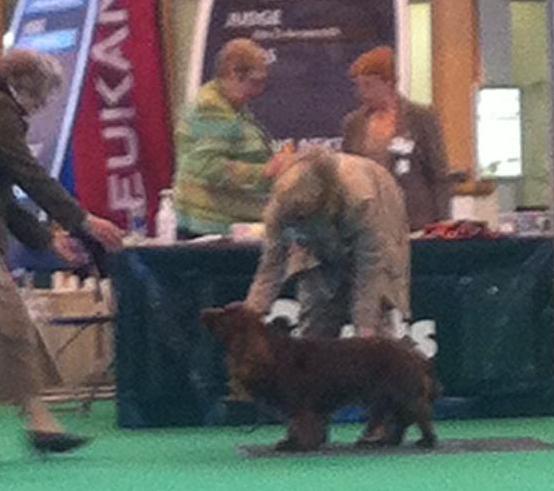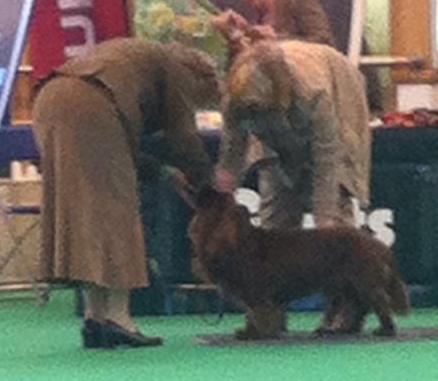 We took Micky to Manchester Champ Show 19th 2014 Jan where for the first time all the 3 brothers from the litter were in the ring together. Micky took 2nd, behind one brother and infront of the other one.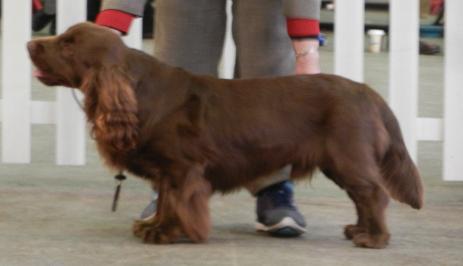 Since Micky's first experience on the Shoot he has been going out with Rich & the Beating Team & thoroughly enjoying himself !
Saturday 16th November Micky came out with me & my Picking-up team of dogs & he experienced his first freshly shot pheasant, which one of the others had just brought me. It is clear from the photos he was not quite sure what to make of it. He will learn he has time on his side and plenty of opportunity to come out on our shoot.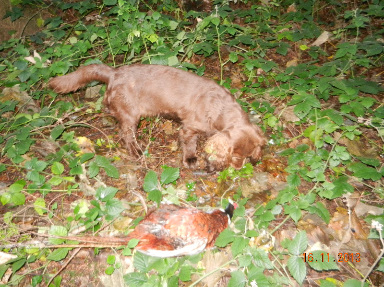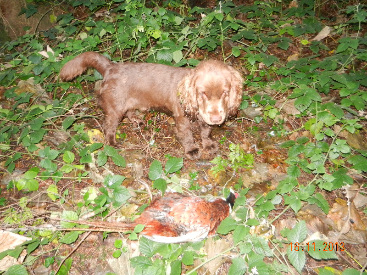 10th November Micky took his first Open Show Best of Breed [BOB]! & he was not even 13 months at the time ! He was up against some much more mature dogs than himself including an overseas Champion & some well know Sussex exhibitors, so we were thrilled ! Below is a photo of him in the BIS ring. (sadly the lighting in the hall is not good for photos)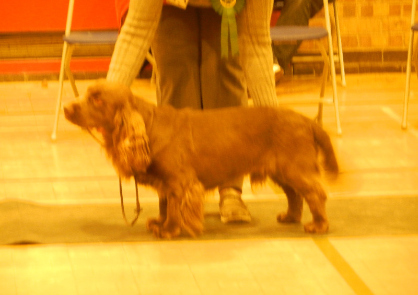 This is a photo of Micky sleeping when back at home after having his Hips x-rayed. The anaesthetic took the wind out of his sails, but he was back to his bouncy self again by the following morning !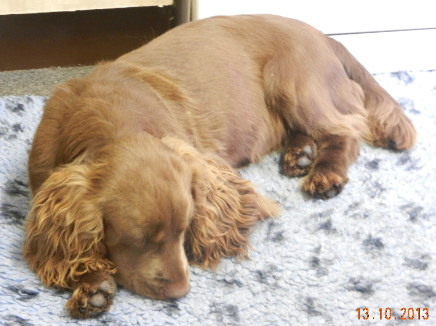 On 27th October we took Micky to Midland Counties Champ Show where he qualified for Crufts 2014 by taking 2nd in the Junior Class , which we were very pleased with as he was the youngest in the class at just over 1 year.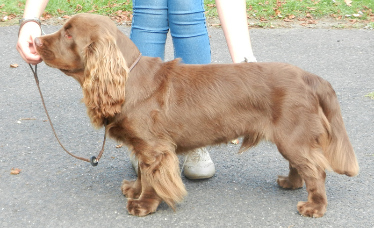 September 28th we took Micky to the SSA Champ Show where he took 2nd behind one of his brothers, we were not surprised as we are still newbies in the breed. But we were very pleased to have many say to us after the class we had you down to win that class. We did get Bethany [a friends Granddaughter] to stack Micky for us for some photos & then as she made such a good job of it when we let her take him in the Junior handling Class which she took 1st in with him.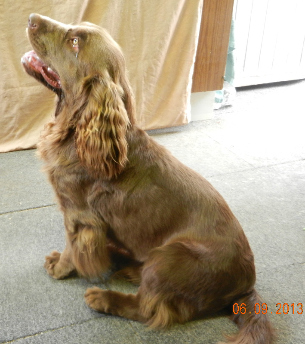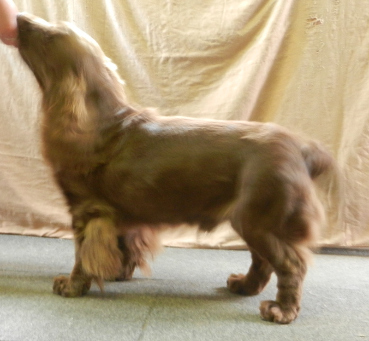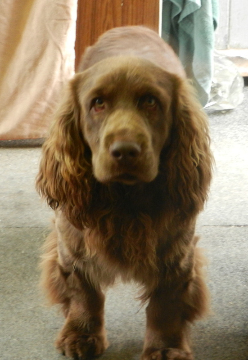 Trying to get Micky to stand still for a photo at home is nigh on impossible ! So as his tail was wagging so much the middle photo is a little blurred, but does show his outline is good. But he is now almost a year old & we are very pleased with him ! Soon he will be able to start strutting his stuff out on our Shoot, where we hope he will fulfill the dream of having a Dual Purpose Sussex again among the Purbarn Pack.

18th August Micky went to Welsh Kennel Club Championship Show under Frank Kane & took Best Puppy in Breed
4th August we took Micky to his 2nd Champ Show National Gundog where he took 2nd behind his other brother.

Thursday 27th June Micky went to Windsor, his first Championship Show. He won the Puppy Dog Class & went onto take BPIB. We were very pleased with his performance & even more pleased that both his Breeder & also the owner of his Sire acknowledged how well he is getting on.
26th May, Micky is still doing well at the shows, we took him to Shropshire Gundog Open Show where he took 1st in Junior Sussex Spaniel Class and as there were no other puppies entered he automatically took Best Puppy in Breed. But he went one better than that, as the Judge thought him worthy of Reserve Best of Breed beating 2 very much older dogs, so yet again we were thrilled ! We also had him entered for AVP [Any Variety Puppy] where he took 2nd in a class of 10 other Gundog Puppies.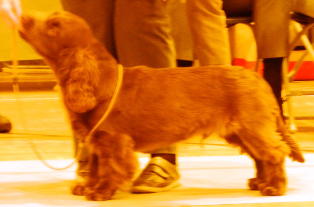 Not the best photo, but this was when Micky took 3rd in the Gundog Puppy Group, after taking Best Puppy in a AVNSC Class.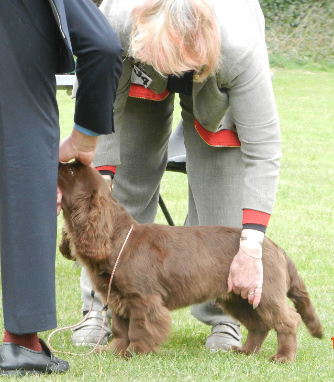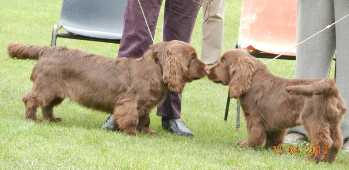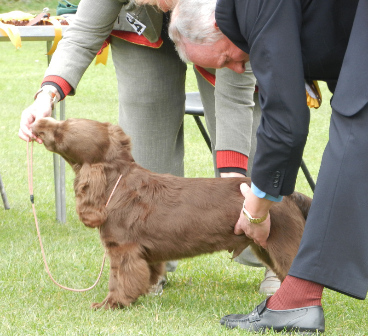 Micky at 6 months & 1 day at the Sussex Spaniel Association Open Show. The middle photo shows him with his Brother (left) in the ring who Micky beat ! Micky behaved well & got 4th out of 6 Puppy Dogs. (There were 7 entries on paper) other than his brother all the rest were 10 months up to almost 12 months, so we were chuffed to get placed with him. But we now know he needs to fill his frame.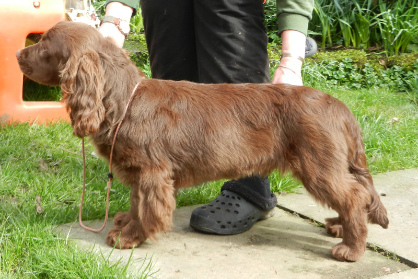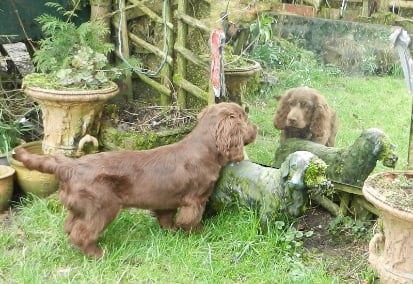 While he was still looking clean we took some photos of Micky the day after the show. Micky thinks he looks like a handsome chap !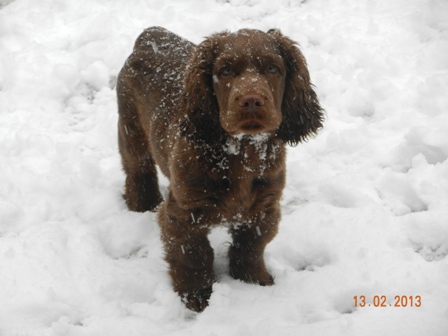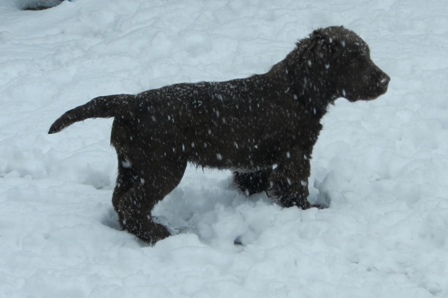 Micky enjoying the snow in February 2013.
We have always wanted another Pure Sussex Spaniel after losing Ellie [Patchinghall Tess] back in 2001, but never thought we would ever get one,but eventually we were offered one from friends who had bought Micky hoping to work him on our Shoot when John retired. But sadly for John & Ro the early retirement never happened and so they offered Micky to us & we jumped at the chance of having him. He has settled in well & became part of the Purbarn Pack very quickly.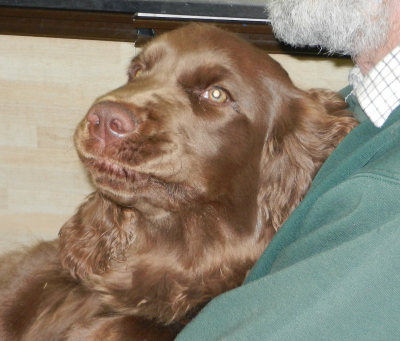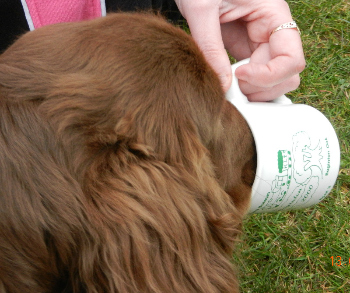 One of Micky's favourite spots is having a cuddle on Rich's lap. Look at that Sussex Smile ! & showing is thirsty work !
Pedigree

Sh Ch Norriss Mad Max At Penygader
Sh Ch Penygader Olympas By Norriss
Marquell Issey Miyake Sh Ch Penygader Sawme
Irish Sh Ch/Lux/Ned Ch Zaphod Of Tonispada At Norriss

Sh Ch Marquell Genevieve
Sh Ch Quintic The Farmer Marquell Declaration
Sh Ch Quintic Ther Rustler
Quarr Woodlander At Quintic
Quarr Spinning Jenny
Quintic Damson
Irish Sh Ch/Lux/Ned Ch Zaphod Of Tonispada At Norriss
Niriti Rainbow Dreams At Quintic
Niriti White Bryony
Oldholbans Golden Showers

Sh Ch Quintic The Rustler

Quarr Woodlander At Quintic Millcroft Fire Song Of Quintic

Sh Ch Norriss Mad Max At Penygader
Quarr Spinning Jenny

Sh Ch Belcam Miss Demeanour Twisting Gemmini
Sh Ch Belcam Bring Me Sunshine

Sh Ch Belcam I'm The Man
Sh Ch Belcam Moving On Up

Sh Ch Belcam She's The One Belcam Bold As Brass At Rebna

Sh Ch Millcroft Fire Crystal At Belcam
Quintic Pumpkin