Holly
Hayjoy Holly And The Ivy At Purbarn

[UK Sh Ch & Ir Sh Ch Gunhills Blue River x Stanroph Sandlark Of HayJoy]
24th November 2000 - 2nd September 2015

Hips 3 : 6 = 9. Eyes checked and still Clear in 2015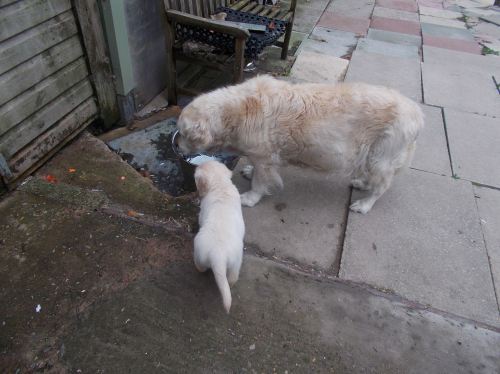 The above photo was taken just 5 days before we had decided the time had come to say a fond farewell to Holly, so she did not suffer. She had been showing Shade how to drink from the big bucket. Rich and I had decided to ring the Vet the following day after Holly had decided she did not want to go for her normal potter up the field and then refused to eat any supper, we knew it was going to end up with us having to make that dreadful call. But this morning I had gone outside to see where she was to find her quite peasfully sleeping in one of the open kennels. Just half an hour later Rich walked in the door to ask me if I had phoned the Vet, to which I replied 'No not yet', he then said well she has saved us having to do that, she has passed away in her sleep.
She would have been 15 in November 2015, but she looked as though she was about to have a very large litter. Well at her age we certainly hoped not ! She was however unfortunately retaining fluid and we knew she was very much on borrowed time, but she was still enjoying her short walks with the rest of the Purbarn Pack and still enjoying her food, up till 2 days before she left us so while she still had quality of life and the diuretics she was on seemed to be helping to reduce, or at least stop the fluid build up getting any bigger she continued to live with us and teach Shade about life in general.
RIP Dear Holly, you have given us 2 lovely boys to carry on your line in both Drizzle & Twister. Thank you !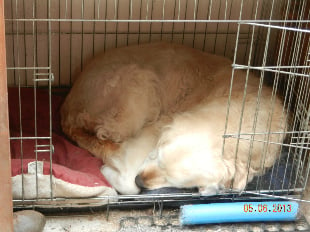 Holly getting on in years & was content to spend her time sleeping in what we consider to be a Puppy or Spaniel sized crate, but she seemed to like it !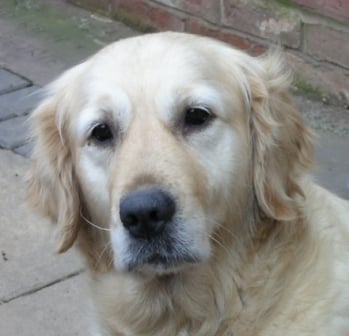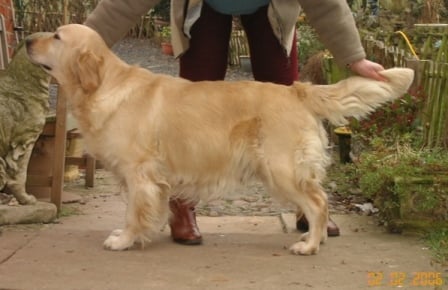 Holly was one very unlucky Bitch at the start of her life & had been in 3 homes before we were given her at just under 5 years old. I had said to her 3rd owner when he was given her could I see her papers? When he showed them to me I just said 'I wish someone would give me a bitch with a pedigree like that for nothing !' A couple of years passed & we got a phone call from him saying he could no longer keep Holly due to ill health, so would we like her. Oh yes please ! was my answer.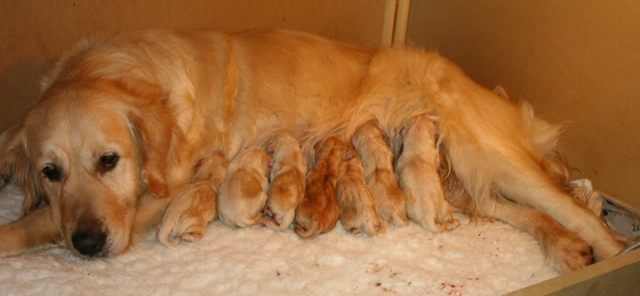 Her first litter was by our Hail & 3 from that litter went overseas & 2 became very good working dogs over here, the other 2 went as much loved family pets. Holly was never going to make a show dog but she produced us some lovely puppies, 2 of which we kept, 1 was Drizzle from her second litter & the other was Twister from her very last litter, both have been to Crufts & been placed & Twister has taken 1st in the Gamkeepers Class at Crufts as well. So Holly deserves her retirement in the house getting a bit more pampering nowadays.
Sadly she never took to working as a Picking-up or Beating dog so she devoted her life to being a wonderful mother & produced 2 litters of 7 & then her last 2 litters were just 2 in each, one of which did not survive.